The Immunity Syndrome

Year 2 - Episode 23

Original Title
The Face Of Eden
Belgium (Flemish)
Gifplaneet
Denmark
Zorans skæbne
The Fate of Zoran
France/Canada
Le syndrome de l'immunité
The syndrome of immunity
Germany
Zoran's Schicksal
Zoran's Fate
Italy
Il Lampo che Uccide
The Lightning Bolt That Kills
Japan
Mysterious Space Intelligence
Poland
Syndrom odpornosci
Portugal
O Sindroma da Imunidade
The Immunity Syndrome
Portugal
O Planeta sem Esperança
Planet Without Hope
Spain
El sindrome de inmunidad
Symptoms of immunity
Commander Koenig and company find what appears to be a habitable planet; but it is ruled by a single being who, in its efforts to make contact with the Alphans, unwittingly puts them in peril of their lives! ITC summary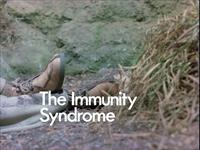 Draft script titled The Face Of Eden dated 24th October 1975. Featured Year One cast and a mostly different plot.
First draft script titled The Immunity Syndrome dated 4th March 1976. Featured significant changes and different ending to completed episode.
Shooting script dated 11th October 1976.
Pink page amendments 10th November.
Blue page amendments 18th November.
Filmed 19th November- 6th December 1976.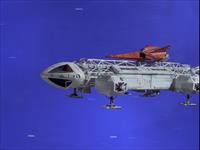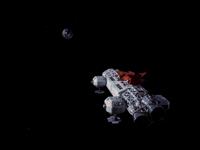 The planet is the same Apollo 17 photograph of Earth used as Ellna in Devil's Planet.
Plastic fibres that conduct electricity were invented in the 1980s. The fibres are obviously fibre optics- made from glass (silica), not plastic (but also immune to corrosion). Cheap mass-produced fibre optics only became available in the early 1970s, and began to be used in telecommunications from the late 1970s. Using fibre optics in Alphan equipment was far-sighted and pretty accurate.
The design of the re-entry glider is closely based on a real NASA design tested in 1969. See more. Plastic composites began to replace metal in aircraft in the 1990s, as they withstand temperature changes and corrosion, are lighter and equally strong.
2310 days after leaving Earth orbit (Mon 9 Jan 2006)
4 fatalities, Lustig, Les Johnson, 2 others. One of the Survey Alphans who dies (played by Harry Fielder, whose character was named George in Seance Spectre) reappears as a medic in The Dorcons.
Alpha Technology: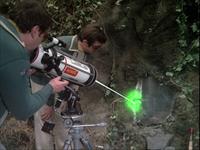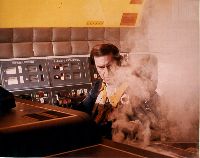 Eagle 1 (disintegrated on ground); 4 ("Survey", crashed); 3 (Fraser)
The booster pod is featured, and crashed for the first time.
None.
Unnamed planet
Aliens:
Zoran, a humanoid. Alien force.
Props:
The timing device for the nuclear bombs from Space Brain and the space warp detector from Space Warp are seen in the Eagle cockpit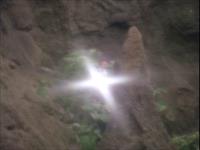 The alien may actually be humanoid... The flashing light effect seems to be created by a studio technician moving a round mirror, standing behind a plant. At normal speed, the flashing light and violently moving camera make him hard to see, but he can just be seen in individual frames.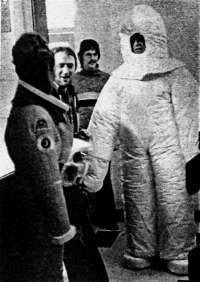 The sound effect of the alien (a screeching sound) is from Another Time, Another Place. The barren wind noise on the planet is from Mission Of The Darians.
The script has Helena checking Tony's background from the computer profile:
Anthony Dean Verdeschi. Born 2-13am Florence Italy. BA Hons University Of Rome 1990. PHD MIT 1993. Space science commission 1994. Rank Science specialist GI
Note the non Italian forenames, the birth time but no date, and a Ph.D achieved in just 3 years.
Jerry Travis was named Yuri Salkov in the script.
Maya's transformations were removed. In the first draft she is seen as a pacing panther and she changes into a hollow sphere to re-enter the atmosphere; in the shooting script she changes into a bird to find the camp. None of these transformations survive to screen.
Helena gives the date as 2310 days after leaving Earth orbit (Monday 9th January 2006); the planet was encountered two days previously. This overlaps with The Lambda Factor, which starts at 2308 days, and lasts about 2 days.
During the ITV4 showing on 31 December 2006, the flashing light sequences were either slowed down or removed, presumably to protect people with photosensitive epilepsy. Tony's scream in the beginning was also cut.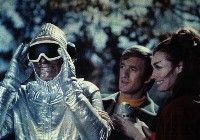 Landau, Tate and Schell laughing on set. Photo thanks to Mark Shaw.
External Links