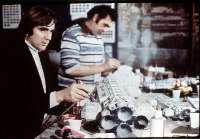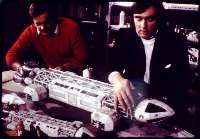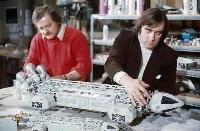 Born Brian Johncock in 1939, Johnson started work at the Cement and Concrete Research Association at Wexham Springs. After 6 months, he was desperate to get away from mixing concrete. He went into the local pub and met Les Bowie, the Canadian born special effects designer. Bowie got him a job at Anglo Scottish Pictures at Shepperton, in 1957. Johnson learned the film business by sweeping floors, loading film, and occasionally helping Bowie in his small special effects studio at the studio. For his national service (compulsory military service), Johnson spent two years in the RAF working on instrument landing systems. When he left the RAF, he met Les Bowie again and joined him as a special effects technician, working on The Day The Earth Caught Fire (1961) and Phantom Of The Opera (1962).
Johnson was contacted by Derek Meddings, who he had worked with as a matte painter when he worked at Anglo Scottish. Meddings was special effects designer at Gerry Anderson's AP Films. Johnson joined AP Films to run a special effects second unit, starting on the last episodes of Supercar, followed by Fireball XL5 and Stingray, and the second series of Thunderbirds. The second unit shot the effects for alternate episodes, so was essentially a second main unit; a third unit led by Ian Scoones did pick-up shots. He was also working with Bowie on Hammer films, including Taste The Blood Of Dracula (1969) and When Dinosaurs Ruled The Earth (1969).
Johnson then joined the crew of 2001: A Space Odyssey (1968), working for three years on the film. He was in charge of the models, in particular on the lunar and moonbase scenes. After Mosquito Squadron (1970) he returned to Anderson to do the practical effects for The Protectors (1971-1973). In early 1973 Johnson directed the effects on Revenge Of The Pink Panther (1974) and was recruited for Space: 1999. When the project entered a hiatus in mid-1973 he went to Barbados to film The Tamarind Seed, but had returned when special effects filming began on Space: 1999 in November 1973.
Johnson also handled the effects for Anderson's Into Infinity (1975), and the Alien Attack Anderson commercial (1977). In 1976 he had been approached for Star Wars (1977), but was committed to Space: 1999 Year Two at the time.
He directed the effects for The Medusa Touch (1978), Alien (1979, for which he won an Oscar), The Empire Strikes Back (1980, and his second Oscar), and Dragonslayer (1981, and an Oscar nomination), The Pirates Of Penzance (1983), Legend (1985), The Never Ending Story (1985), Aliens (1986, early and "post-production" after L.A. Effects Group were fired), Enemy Mine (1986), Labyrinth (1986) Telepathy (1987), Slipstream (1989), The Never Ending Story II (1990), Star Truckers (1997).
While 2001: A Space Odyssey (1968) won the Oscar for best special effects, it was given to director Stanley Kubrick, not the special effects crew. He won Oscars for Alien (1979), The Empire Strikes Back (1980) and was nominated for Dragonslayer (1981). He worked on Aliens (1986), which won an Oscar for visual effects, but because of contractual reasons Johnson was not on the list of 4 names nominated by Fox.
Johnson has attended several model events at RAF Cosford, Britain, the 2014 convention in Peterborough, Britain, and the 2015 Future Is Fantastic convention. He was interviewed on film in The Space: 1999 Documentary (1996). He was filmed revisiting Bray Studios in the documentary The Future Was Fantastic (1998-2004).
Johnson autographed cards for Unstoppable cards (2016), and the Round 2 Eagle Transporter Special Edition (2017).
Print: Just Imagine Vol 1 No 1 (May-June 1975) p6 Catacombs
Print: Filmmakers Newsletter (November 1976); "Special Effects In Space 1999" interview with Brian Johnson by Steve Mitchell p23-27 Catacombs
Print: Photoplay Volume 91 Number 1 (Jan 1977); "Brian Johnson, Special Effects Director Of TVs Space 1999, The Man Who Makes Miracles" Catacombs
Print: Starburst Number 9 (May 1979); Brian Johnson interview by John Fleming p13-16 Catacombs
Print: Filmfax Number 89 (Apr 2002); "1975: A Special Effects Odyssey" Brian Johnson interview by John Muir p42-51 (13bw)
Print: FAB 44 (2002) interview by Martin Gainsford and David Sisson p10-19
Print: Sci.fi & Fantasy Modeller presents Modelling the Eagle (2016); "Wish we had these then" interview by Matt Irvine p18-24
Allder was born in 1943, the son of a camera engineer. He worked as an assistant cameraman on commercials for 8 years. He met Les Bowie and moonlighted on effects for him, before moving full-time to effects in the film Khartoum (1966). Later films with Bowie included A Man For All Seasons (1967), Submarine X-1 (1967), A Twist Of Sand (1969), The Battle Of Britain (1969), Moon Zero Two (1969), Fear Is The Key (1972). He filmed the spaceships for the Dr Who story The Space Pirates (1969), and later on the story The Invisible Enemy (1977).
Allder worked with Brian Johnson on Anderson's The Protectors, Space: 1999, Into Infinity, and the Alien Attack commercial. He also worked with Johnson on The Medusa Touch (1978), Alien (1979, winning the SFX Oscar), and The Empire Strikes Back (1980 and the second Oscar). Without Johnson he worked on Conan The Barbarian (1981), Return Of The Soldier (1982), The Keep (1983), Top Secret (1984), Legend (1985), The Princess Bride (1988), Leviathan (1989), Leon (1994), Braveheart (1995), The Fifth Element (1997, and the third Oscar), Lost In Space (1998), Underworld (2003), Hellboy (2005), Weapon (2011), Ghost Rider: Spirit of Vengeance (2012).
Oakes has worked on most Anderson series since Thunderbirds, including Terrahawks and Space Precinct. He also worked on the films Flash Gordon (1980), Legend (1985), Aliens (1986) and Memphis Belle (1990).
He died in 2012
Reed has worked on many film and television projects, making models, props and producing effects. Films include Superman and sequels (1978), Moonraker (1979), For Your Eyes Only (1981), Aliens (1986), The Living Daylights (1987), Batman (1989), Memphis Belle (1990), Mission: Impossible (1996), The Fifth Element (1997), Titanic (1997), Tomorrow Never Dies (1997), The World Is Not Enough (1999), Entrapment (1999), Gladiator (2000), Quills (2000), Enigma (2001), Tomb Raider (2001).
Born in 1952, Bower was a childhood fan of the Eagle comic, Anderson productions and 2001: A Space Odyssey. After leaving school he worked as a scenery builder before joining Scale Models International where he worked for 3 years building display models. In 1972 he left wanting more creative work, but finding no such work he had to work as a house painter. In 1974 he learnt a new Anderson series was being filmed and sent him a letter and a collection of photographs of his model spacecraft. Anderson was impressed and introduced him to Brian Johnson. He was given the script of Alpha Child and asked to design a spaceship. Bower designed and built one model and sold them another model that he had built several years earlier. He designed many of the 84 models he built, including several that were built before or inbetween the series for his own pleasure. He also built models for the Into Infinity film and the Alien Attack commercial.
Other Bower models appeared in The Tomorrow People (1975), Blakes 7 (1978), Dr Who (1978), The Tripods (1984), several commercials, and the films The Medusa Touch (1978), Alien (1979), Flash Gordon (1980), and Outland (1981). He also produces many models for display and replicas for fans. He tried to launch a science fiction series Starguard in the 1980s. He now makes models on commission for collectors.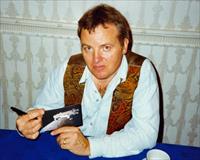 He was interviewed on film in the Alphacon Documentary (1991), clips of which also appear in the The Space: 1999 Documentary (1996) and the SFX and Design featurette (2005). The book Martin Bower's World of Models by Shaun McClure and Martin Bower (2020) includes comprehensive coverage of the models on pages 18-103.
Caple started his career in special effects with Les Bowie (like Brian Johnson and Derek Meddings). A gifted matte artist, he also did models and in the 1960s ran the Harry Saltzman owned effects company Lowndes Film Technical Services. In addition to doing the laser beams seen in almost every episode, Caple did the more elaborate matte paintings, such as the Zenno city and the interior of the Daria.
Films included The Quatermass Xperiment (1955), The Day the Earth Caught Fire (1961), First Men in the Moon (1964), One Million Years BC (1966), Battle of Britain (1969), Mackenna's Gold (1969), The Land That Time Forgot (1975), The Slipper and the Rose (1976), Superman (1978), Alien (1979), Time Bandits (1981), Brazil (1985), Highlander (1986), Batman (1989), Slipstream (1989).
Sometime around 1989 Caple was seriously injured when a heavy camera mount fell on his foot, and after complications he died suddenly in the early 1990s.
Les Bowie was born in 1913 in Canada, and came to England as a child. For 4 years from 1932 he was in the Royal Tank Corps; after a year as a car salesman war broke out, and he rejoined the Royal Tank Regiment. He was captured at Tobruk and during his time as a prisoner of war he painted scenery for plays.Bowie joined Rank Studios in the UK in 1946 as a scenic artist, working first on Peter Ustinov's School for Secrets. Rank had artists who painted matte paintings, but they took two to three months to complete a single painting. Bowie promised to finish a matte painting in a day, and did so. He became chief of the matte department, and in 1950 left Rank to form his own company, expanding into models and practical effects, and employing and training many artists who would become the next generation of SFX technicians. Among those were Albert Whitlock, Derek Meddings, Brian Johnson, Nick Allder, Terry Schubert and Ray Caple. He worked on many Hammer horror movies, and won a Academy Award for Superman (1978). He worked uncredited on both 2001: A Space Odyssey (1968) and Star Wars (1977).
For Space: 1999, he was brought in for specific episodes to manage main unit floor effects at Pinewood. Among these would have been shooting the actors leaving the Eagle in Another Time, Another Place, the actors walking along walkways in the Ray Caple matte paintings in Mission of the Darians, and the water draining scenes in All That Glisters.
He died in 1979.
Other SFX crew:
Terry Pearce- clapper/loader (year 1); camera assistant (year 2). Also worked on 2001: A Space Odyssey (1969).
David Watkins- SFX technician. Batman (1989), Thomas The Tank Engine (1991-1995)
Ron Burton - design draughtsman. SFX technician on Superman (1978), Brazil (1985), Aliens (1986), Batman (1989)
Frank Drake - Camera operator. The Avengers (1967), Randall and Hopkirk (Deceased) (1969)
Alan Barnard - SFX assistant. Battle of Britain (1969), Raise the Titanic (1980), Dragonslayer (1981), Lifeforce (1985), Full Metal Jacket (1987), Indiana Jones and the Last Crusade (1989). Born 1928, died 2007
Andrew Kelly - SFX assistant. Star Wars Empire Strikes Back (1980), Dragonslayer (1981), Biggles (1986), Captain Corelli's Mandolin (2001), Sunshine (2007)
Brian Eke - studio model maker. Star Wars Empire Strikes Back (1980)
Guy Hudson - General assistant. The youngest member of the crew, he was 16 in 1974. He painted the Kaldorian ship and did general model repairs. Alien (1979), Star Wars Empire Strikes Back (1980), Enemy Mine (1985). He moved to the US in 1987, working for ChrisWalas Inc, Disney, Henson Productions, and Industrial Light and Magic. He returned to the UK in 2002, working as visual effects director of Dinotopia. He was working for Framestore on Harry Potter and the Prisoner of Azkaban when he died. Born 1958, died 2003, aged 45.
Eric Backman - model maker (worked on Fireball XL5, Thunderbirds and UFO, now in Australia)
Derek Freeborn - model maker (studio crew in Year 1, later as freelance he built the third 44" Eagle). Freeborn and his wife, a costume designer, started working as freelancers for TV from their houseboat at Kingston in 1955, forming their company Derek Freeborn Associates (Derek And Patricia Freeborn Limited) in 1964 and lasted until 1992. Derek, known as Bud, worked on models for Thunderbirds (1966), Space Patrol (1963), Jason and the Argonauts (1963) and numerous Dr Who episodes (Patricia also designed costumes for Dr Who). After Space: 1999 he worked on the spacesuits for Alien (1979), but increasingly he concentrated on museum and exhibition displays. He made a replica of Tippoo's Tiger for the National Galleries of Scotland in 1986.
Mike Trim - model maker (designer and model maker on many Gerry Anderson series, worked on Breakaway only). Official site
Dennis Lowe - SFX assistant who joined at end of 1976. He went on to work on many films including Alien, Empire Strikes Back, Dragonslayer, Legend, Alien Mine, Aliens, English Patient and Cold Mountain. Official site
Jill Larkin - secretary (year 1)
Sallie Beechinor - secretary (year 2)
Space Models - Many models and props were built by an external company, Space Models of Feltham, Middlesex, near Heathrow airport. Space Models was set up in 1964 by modelmakers who used to work for a rival company, Mastermodels (who provided many SFX models to Gerry Anderson productions up to UFO, as well as 2001 A Space Odyssey). Space Models core business was aircraft display models, for aircraft manufacturers, airlines and travel companies. They made SFX models for The Spy Who Loved Me (1977), Blake's 7 (1981). For Space: 1999 they made the Eagles (under company director "Wag" Evans, the model makers were Gary Dickens, David Seymour and John Phillips), and the computer panels for the sets (their logo is visible on some of these).
Fred Pearl. A freelance effects and creature sculptor based in Wimbledon. In the 1950s and 1960s he worked for toy manufacturer Lines Brothers, as a model maker of dolls and toys (some of his doll sculpts are in the V&A museum). In the 1970s he formed the company Art Models Ltd, assisted by his daughters, making models for films, television and museums. Pearl made the Dewback head for Star Wars (1977). He made the master marks for at least two year 2 lizard creatures.
John Stears (1934-1999). Stears first started in the effects business making model aircraft for Bill Warrington on Reach For The Sky (1956). He later worked for Howard Lydecker on Sink The Bismark! (1960). His first Bond film was From Russia with Love (1963), and for Goldfinger (1964) he created the iconic Aston Martin DB5 prop car. He won his first Academy Award for the next Bond film, Thunderball (1965). By the mid 1970s he had his own effects film, based at EMI Elstree Studios. By the second series of Space: 1999, the practical effects on the live-action stages at Pinewood Studios were contracted out to Les Bowie or John Stears. In a 1977 interview with Kevin O'Neill, Stears confirmed "We did a great deal of the effects on the final series of Space: 1999". He also worked on Star Wars (1977), being responsible for the practical effects including R2D2, the landspeeder, the light-sabres and the live action pyrotechnics. He won his second Academy Award. Later he was effects supervisor on Outland (1981), F/X (1986) and The Mask of Zorro (1998).
Draughtsman in year 1 predevelopment (Eagle designs). Born 1948, died 2007. Assistant art director on Star Wars Empire Strikes Back (1980), The Shining (1980), Raiders Of The Lost Ark (1981), Star Wars Return Of The Jedi (1983), Aliens (1986), Harry Potter and the Philosopher's Stone (2001), plus numerous Bond movies including For Your Eyes Only (1981), up to Casino Royale (2006).
Bryce supervised the studio effects at Pinewood- including on-set explosions, fire, and weather effects.
Dr. Strangelove (1964), Oliver! (1968), When Dinosaurs Ruled the Earth (1970), Star Maidens (1976), The New Avengers (1977), The Professionals (1978), floor effects supervisor on Alien (1979), location and mechanical effects on Star Wars The Empire Strikes Back (1980), The Keep (1983), The Killing Fields (1984), Legend (1985). Died October 2000.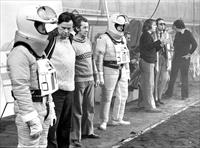 Allan Bryce (second left) on the set of Breakaway. Left to right, Roy Scammell in spacesuit, Bryce, head of props Eddie Francis, Alf Joint in spacesuit, lighting cameraman Frank Watts (seated), designer Keith Wilson talking to director Lee H Katzin, assistant director Ken Baker.
---