The Future Is Fantastic!
Maidenhead, London, UK
2-4 October 2015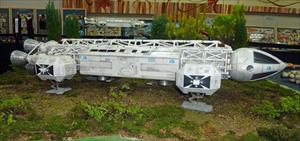 This was Fanderson's first full weekend convention for 5 years. The convention name was the promotional slogan for Space: 1999 Year Two. Like most Fanderson conventions it embraced all Gerry Anderson series, but it particularly celebrated the 50th anniversary of Gerry Anderson's Thunderbirds and the 40th anniversary of Space: 1999. Over 200 fans gathered in a hotel close to where the shows were filmed (in Slough and Pinewood). The convention rooms were split over two floors, but people quickly discovered the rooms, and the hotel staff were very friendly and helpful.
The programme included the usual mix of guest interviews and talks in the main hall, workshop discussions in smaller rooms, a large model exhibition, dealers with vintage and new material, and a Saturday night buffet with a very lengthy and tough quiz. The convention book was a charming fictional "guide" to the world depicted in the puppet series including Thunderbirds.
The convention focussed on the older series from the 1960s and 1970s. The 2015 Thunderbirds Are Go TV series was notably absent, and the fans of the 1965 version expressed little enthusiasm for the new incarnation. It was probably a little early to have anything about the Thunderbirds 1965 episodes, currently filming in nearby Slough, but the project was eagerly anticipated.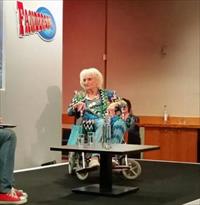 For the first time in its 34 years, the Gerry Anderson fan club was able to invite Sylvia Anderson. Sylvia was frail, in a wheelchair after a recent fall, but her memories were clear and opinions robust, earning her a standing ovation.
Other guests from Space: 1999 included writer Christopher Penfold, who gave a live commentary for the episode Black Sun, SFX director Brian Johnson, Shane Rimmer (Kelly in Space Brain), and stuntman Roy Scammell.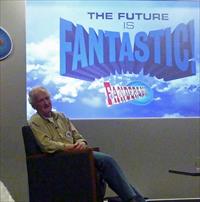 There were two dealer rooms, one downstairs for Fanderson and Robert Harrop, and another packed room upstairs. There were several Fanderson items which I had missed and it was encouraging to see the breadth and quality of their merchandise.
Over 30 years of Fanderson conventions have mounted superb exhibitions of original and replica models, and The Future Is Fantastic lived up to their high standards. For Space: 1999 fans the highlights were a central table of original models, including both the first 44 inch Eagle model and the 22 inch version, original costumes, and a fleet of replica Eagles. There was a wide range of original and restored puppets, and replica models from Thunderbirds, Terrahawks and Fireball XL5 by David Sisson.