An interesting shot of the Moon in the workshop. On the right are the Eagle hangar doors. On the left is a photo cut-out of Moonbase Alpha (for shots where a spaceship or planet hangs over the base). Behind the Alpha cut out are more cut outs: the lunar mountains that surround Alpha.
The people are Cyril Forster and Nick Allder.

Models stored on shelves. Terry Reed and Nick Allder inspect Dione's escape pod.
On the top shelf, photo cut-out 44 inch Eagle, Meta Probe, 22 inch winch pod (right)
On the bottom shelf, 22 inch booster pod, 5 inch Eagle and tiny moonbuggy, 2 small Collision Course mines (back), Last Enemy Bethan maintenance tug

The models at the studio. On the top shelf, a 44 inch Eagle cargo pallet, a 22 inch Eagle winch pod, two Collision Course mines (larger scale), an 11 inch Eagle booster pod.
On the bottom shelf, a photo cut-out planet, Collision Course mine grab, Dione's escape pod, small Kaldorian ship, damaged Eagle command module (Missing Link), another 44 inch Eagle cargo pallet.

Nick Allder and Terry Schubert set up the winch Eagle for a scene from Breakaway. Note the bucket and sieves on the right, used to spread the "lunar" dust over the table-top set.

Two 44 inch Eagles are prepared for filming War Games. Terry Schubert in the background. More pictures

Johnson in the spaceship graveyard from The Metamorph.

Arra's shuttle from Collision Course. Behind is the Phoenix from Death's Other Dominion. In one shot Johnson holds a Sidon ship from Voyager's Return. The other unidentified person holds the tiny 5 inch Martin Bower Eagle.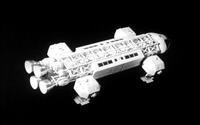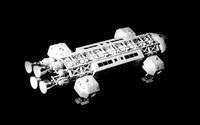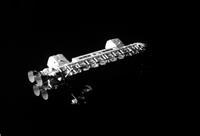 A sequence of photos of the 44 inch Eagle with the engines being illuminated, perhaps for the scene in Black Sun. Thanks to David Hirsch.
---
Contents copyright Martin Willey;
Space: 1999 copyright ITV Studios Global Entertainment