The spaceship graveyard in The Metamorph is only seen in 4 shots, but there were many publicity shots.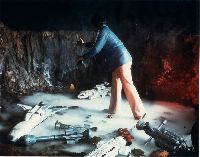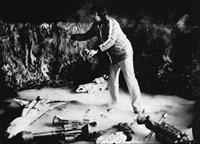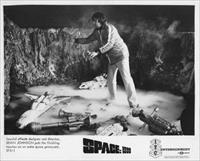 The graveyard reused a number of ships from other episodes. Note only two are bigger than the 44" Eagles, and some are tiny (for instance, the Altares probe in the foreground). However, the graveyard is only seen briefly and is shrouded in mist, so the scale problems are not too obvious.
There are two Eagles in the scene, Fraser's Eagle 1 (regular transporter) and Koenig's Eagle 4 (with special pod and spine boosters). During the episode, two different 44 inch Eagles are used to represent both, often swapping from shot to shot: the original model and the second model. In this scene, Fraser's Eagle 1 is the original model, and Koenig's Eagle 4 is the second model.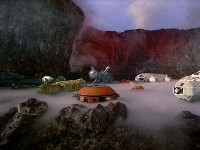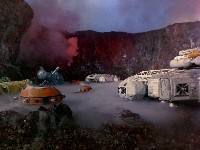 The first shot in the episode of the graveyard prominently shows the Alphan mines from Collision Course (two scales). Also visible, left to right:
See below for more model identifications.
Publicity photos, with varying amounts of mist.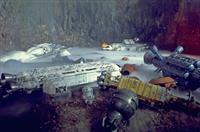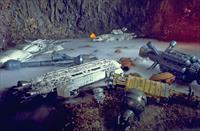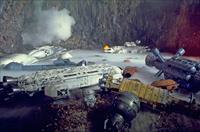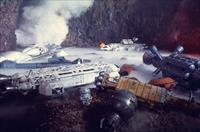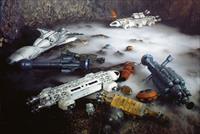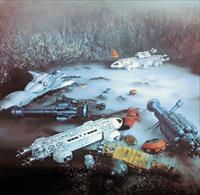 Two versions of a high angle view, which clearly shows the Ariel probes lying on their sides. This shot appeared as the February picture in the 1999 calendar
Spaceships Guide