---
The original 112cm/ 44inch Eagle took two months to build. It was built by Arthur "Wag" Evans of Space Models, with model makers Gary Dickens, David Seymour and John Phillips. At the same time they built the 22 inch Eagle and the 11 inch Eagle. They were delivered to the studio in pristine white primer, and were "dirtied down" by Terry Reed. The 44 inch model was used in several crash scenes, and refurbished during filming. There was a major refurbishment for the second series, including a copper ring around the engines so that they could fire freon gas, simulating rocket exhaust.
After the series finished, it was repainted and displayed in the Space City exhibition in Blackpool from 1977 to 1981. It was then displayed at Alton Towers theme park from 1982 to 1989.
Phil Rae acquired and restored the model in 1990 (photos). It was regularly shown at UK conventions. Phil sold it to David Sisson in 2002, who did more extensive refurbishment (photos). David displayed the model at many UK conventions (for example, 2015, 2019).
The model was put up for sale at a London auction on 9th November 2021, and sold for £125,000.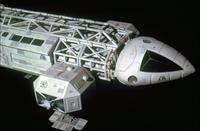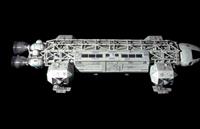 Publicity pictures from mid-year 1 (The Last Sunset or after). Note the "Moonbase Alpha" decals are a darker blue than the Year 2 decals seen on the Eagles in the following pictures. Under the spine at the front, one of the two lunar landing modules is gone. New grey and light blue panels have been added, and less heavy airbrushing. It would be repainted again near the end of the first series, painting more light grey over the blue panels, outlined with pencil to show up on camera. There was some crude weathering added by airbrushing light grey primer in places.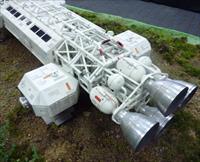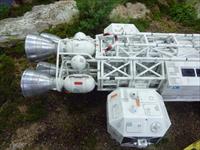 Details of the rear engines. Note the mounting pipe in the back, between the four rockets. The ring of tubing around the rear engines was added for The Metamorph (supplying freon gas for the rocket exhaust seen in the episode).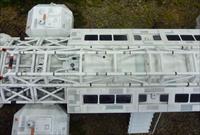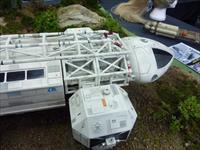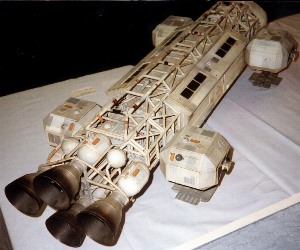 Rear views.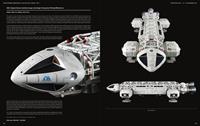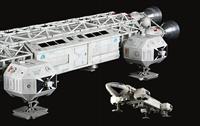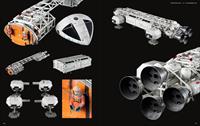 The PropStore auction catalogue for 9 November 2021 showing the Eagle.
---
Contents copyright Martin Willey