The Airfix Apollo Saturn V is a 1:144 scale rocket kit first produced in 1970. The 79 parts are full of cylinders, domes and rocket engines that can easily be used on science fiction models. Unusually many of those parts were used as structural elements of the models.
Airfix also made a 1:144 scale Saturn 1B, which represented Apollo 7 (with the same small lunar module as the Saturn V). This model was also used extensively.
The Apollo command-service module (CSM) of both original models were too small, and the conical command module was shrunken even more as the Boost Protective Covering and the launch escape system had to fit over it. Recent versions of the models correct the inaccuracies, but are incorrect for Space 1999 models.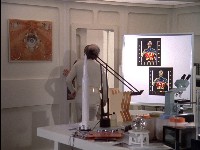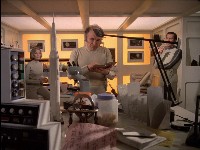 In Matter Of Life And Death, the launch escape system rocket can be seen alongside the model. Only in Ring Around The Moon can it be seen in place, on top of the rocket.
---
Copyright Martin Willey