---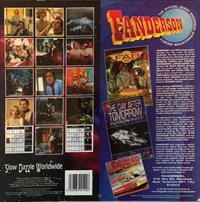 Slow Dazzle Worldwide was a London-based publishing company founded in 1997 (dissolved 2010) specializing in calendars. It produced calendars for licensed properties like Dr Who, and for subjects including cars, girls and steam trains. For this Space: 1999 calendar, it engaged Chris Bentley from Fanderson, a professional graphic designer, and had a prominent advert for the fan club on the back cover.
The cover photo of the Eagle (by David Sisson) is not from the series, but shows the original studio model.
In addition to standard UK holidays, dates are marked for birthdays of actors, anniversaries of first year 1 and year 2 filming starting, and of course the date of breakaway.
Pictures thanks to Gordon Moriguchi.