Fanderson is the fan club for Gerry Anderson. Set up in the UK in 1981, it was authorized by ITC to produce merchandise for its members. While the merchandise does not have to pay the normal licensing fees to ITC, ITC's license restricts sales to fan club members only, not the general public. The quality of merchandise has become increasingly professional, notably in the club magazine FAB (first published in 1991), the music CDs (several repackaged and sold by Silva Screen), and videos, including the Space: 1999 documentaries (later shown on UK satellite TV, and then repackaged as extras on the Network DVDs)
The quality and range of the merchandise has benefited enormously from professional art designers and authors such as Chris Bentley, who served as Fanderson chairman for many years, professional artists such as Graham Bleathman, Steve Kyte and Jonathan Baxter, and the media expertise of Tim Mallett and Glenn Pearce, through their company Kindred.
The range of merchandise is wide, covering all Gerry Anderson series including Space: 1999. The list below only highlights those items primarily focussed on Space: 1999.
Print
Convention magazines
The first convention, Fanderson 81, was before the club was founded. Even then, they produced attractive booklets for attendees. The convention package for Fanderson 82 (October 1982) included ITC's posters for the film Destination Moonbase Alpha.
S.I.G. magazine
The original fan club magazine started in 1981, originally "Supermarionation Is Go", and was independent of the club. It was published by Dave Nightingale's Engale Marketing. The focus was on the puppet series, and Space: 1999 was relatively neglected, apart from a good interview with Tony Anholt in 1983. Between issues of S.I.G., Fanderson issued an A4 newsletter called Fanderson News. SIG's schedule was erratic, and the club eventually replaced SIG as the fan club magazine with Fanderson News, which became a black and white A5 magazine. In the 1990s Engale produced another magazine, Century 21, with similar content to SIG but more professional quality.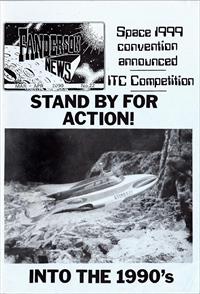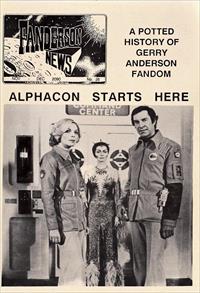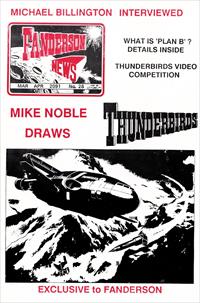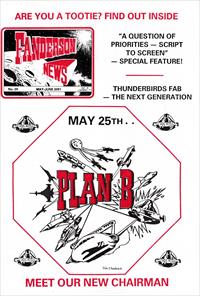 FAB magazine
Starting in 1991, FAB was the in-house magazine of the club. It is A5 format, with glossy paper and over the first years achieved more colour and a slicker layout. Alongside other Anderson shows, there has been generous Space: 1999 coverage, from interviews to episode guides.
The magazine formally ended with FAB 100, published in June 2022, to be replaced by a shorter news-based magazine with a yearly hardback "Annual" with longer features.
A comprehensive index is in the catacombs.





Other books
Calendars
Fanderson's chairman, Chris Bentley, wrote and designed some commercial calendars with Slowdazzle, including Space: 1999 ones in 1999, 2000 and 2001.
For the Special Assignment convention (30 September 2017), an exclusive club calendar was produced for 2018. It is a smaller format than regular calendars (20cm x 20cm, so opening up to 40cm tall). Days are marked with the first broadcast dates for Anderson series in ITV regions. Space: 1999 is featured for September 2018. It cost £10.95 and was designed by Mike Jones.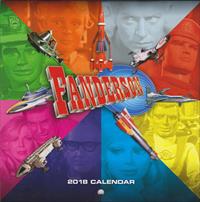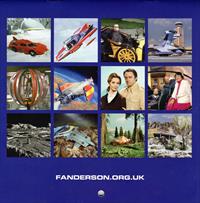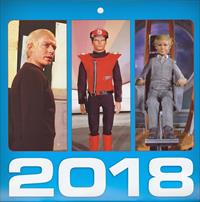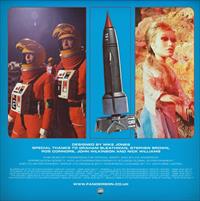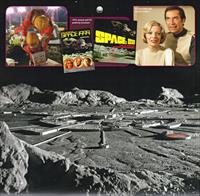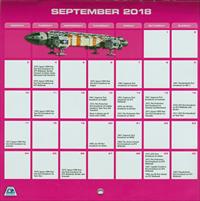 Fiction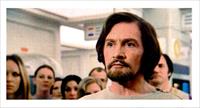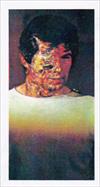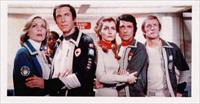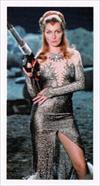 The 2015 membership package contained a replica photo card, number 51 to add to the George Bassett sweet cigarette card set. At the 2015 Future Is Fantastic convention, a replica of the rare card 42 was produced. Fanderson also produced a new 50-card set covering all Gerry Anderson series, the last 5 cards covering Space: 1999.
Audio
In the 1990s, Fanderson sold audio cassette recordings of interviews at past conventions. Cover art was by Jonathan Baxter.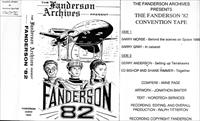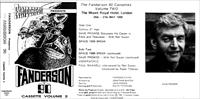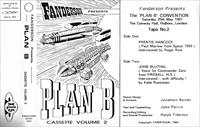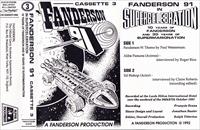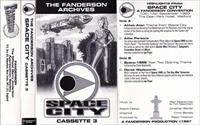 Fanderson has produced a set of definitive soundtracks, remastered from the original tapes of Barry Gray and Derek Wadsworth. Due to licensing restrictions, these were only available to Fanderson members, and the total run limited to 1000 copies each. Many of the CDs were reissued by Silva Screen in abridged form (the Fanderson year 1 set was 2 hours, 24 minutes; the Silva Screen year 1 set was 1 hour 20 minutes).
Individual tracks were also produced on compilation CDs (and vinyl).
Video
Fanderson conventions were traditionally opened with a short film of clips and exciting music, which became so popular a VHS video compilation of them was produced in 1994 (Space City Special).
Models
Miscellaneous
Fanderson have produced a large number of patches and badges, which are very accurate versions of the original studio designs.
Sticker: Alpha Moonbase (1999+)
Sticker: Command Center triangle (2001+)
Sew on patch: Alpha Moonbase (1998+)
Sew on patch: Command Center triangle (1999+)
Sew on patch: LSRO (2001+)
Sew on patch: Superswift (2001+)
Enamel badge: Alpha Moonbase (2004+)
Enamel badge: Alpha Moonbase smaller version (2014+)
Coaster: Command Center triangle (2004+)
Mug: Space: 1999 20th anniversary (1995)
---