Below is a small selection of fan fiction, listed mostly chronologically, to give a flavour of some of the early fanzines and the recent fiction. Thanks to Chuck Raue for the early fanzines and scans.
THE FATALITY SYNDROME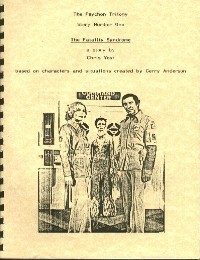 by Chris Yost, 1976
Story one in what was conceived to be a series of stories called The Psychon Trilogy, centring on a certain lovely Alphan alien member of the crew.... Spiral bound.
ISOLATED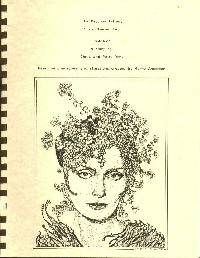 by Chris Yost, 1976
Story two in what was conceived to be a series of stories called The Psychon Trilogy, centring on a certain lovely Alphan alien member of the crew.... Spiral bound.
COSMOCONNECTION #1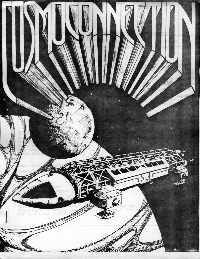 published by Mona Delitsky of Ann Arbor, Michigan, July 1976.
Space: 1999 and Star Trek stories by Mona Delitsky and John Petty, with a commentary on Space 1999 by Sharon Ferraro and art by Mona Delitsky, Rodney Allen, Nelson Brown, Marty Siegrist and Aaron McClellen.
COSMOCONNECTION #2
published by Mona Delitsky of Ann Arbor, Michigan, January 1977.
Four works of Space:1999 fiction and part one of a fan adaptation of the Year One episode "Earthbound".
COSMOCONNECTION #3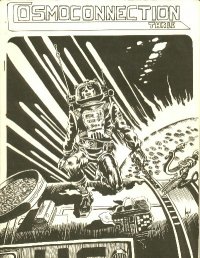 published by Mona Delitsky of Ann Arbor, Michigan, Summer/Fall 1977.
an account of Mona's trip to England and meeting several of the cast of Space: 1999; part two of a fan adaptation of the Year One episode "Earthbound" and an original story by Mona Delitsky entitled "A Bond Beyond".
COSMOCONNECTION #4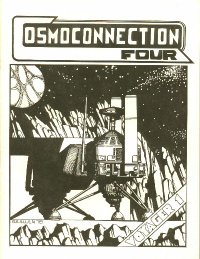 published by Mona Delitsky of Ann Arbor, Michigan, Fall/Winter 1978.
An article about another another innovative British TV series, " The Prisoner " ; a lengthy report about the first Space: 1999 Convention; and the hilarious Space: 1999 story entitled "Fun With Maya" by Eddie Salmon. Artwork throughout this issue by Rodney Allen & Aaron McClellen.
COSMOCONNECTION #5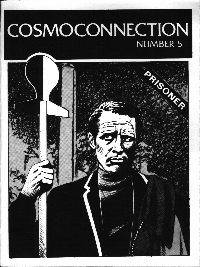 published by Mona Delitsky of Ann Arbor, Michigan, Feb/March 1980.
Articles on The Prisoner and profiles of Patrick McGoohan, Roy Dotrice, the planet Jupiter and The Two Ronnies! Artwork by Aaron McClellen.
Alpha Log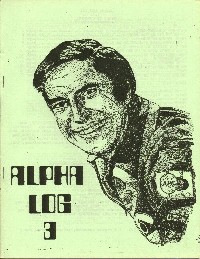 annual publication of Main Mission Alpha club (Mary Bloemker), March (1977,1978, 1979,1980).
Illustrated is Alpha Log 3 (1979) containing the short story "Living Death" by Tom McLaren; "Galactic Game of Marbles" a poem by Kathi Lynn Higley; "The DNA Crisis" by Sharon Chag; "The Perfect Place....but" by Paul Bens; and the tale "Deadly Strategy" by Tod Ellsworth.
Catch The Final Sunrise!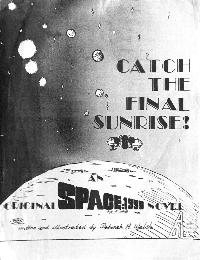 fan novel written and illustrated by Deborah H Walsh, 1977
84 pages.
Timetrap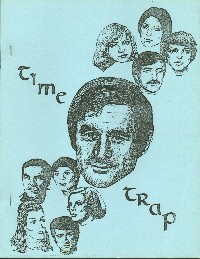 fan novel by Patricia Brimer, Stephen Eramo, Sharon Anne Hutchinson, & Darlene Palenik, December 1977
Alan Carter is hurled back in time by the effects of a derelict alien device that sends him to the time of the Salem witch hunts.
The Loner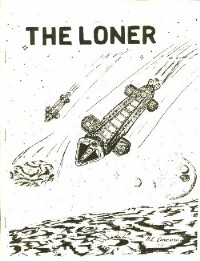 Mike Heyes and Patti Cullen Heyes, January 1978
As a young man, Daniel Morgan spent a year of his life with an alien race who transformed him by mixing four types of alien blood with his own, making him indestructible and deadly to his fellow humans. During the end of a war with another alien race, the Jarons, he is hurled and lost in deep space. Presumed dead for 20 years he suddenly reappears on Alpha. Thus begins a series of adventures of the Alphans with their newest member.
Nightmare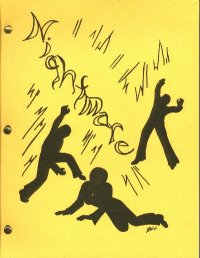 Diana Winslow, 1979
Alan Carter and young Nikki Farrell witness the destruction of Alpha. When they awake from a shared nightmare they find themselves in Alan's quarters. The date on their comm- locks show that it is just two days before Alpha will be destroyed. When they try to explain what they saw, no one will believe them. Helena tells Alan that Nikki is a known drug user and that a form of LSD was found in her blood samples, and that she most likely gave him some without his knowledge. Alan refuses to believe this and strives to convince the rest of Alpha that doom awaits them and that it's not just a drug induced delusion.
The Master Of Alpha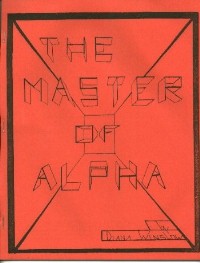 Diana Winslow, July 1980
When Kae, ruler of a planet called Sed-Villein, transmits an invitation of safe refuge with him, Koenig moves cautiously. A summit meeting is proposed and, en route to the meeting, all contact with Alpha is lost. Rendered unconscious, the landing party slowly awake to find Koenig and Bergman dead. Suddenly they are knocked unconscious again and reawaken to find that the bodies of their friends are missing. Then, one by one, terrible nightmares are inflicted upon them and various medical tests performed. What was the fate of Koenig and Berman and what is the reason for their torment?
A SPACE:1999 TRILOGY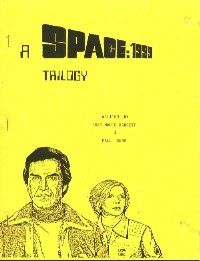 by Rosie Badgett and Paul Bens, illustrated by Badgett, 1979
Three interwoven stories
BLUTSAUGER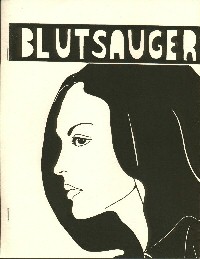 by Rosie Badgett and Paul Bens, February of 1981
Fourth story following their Space: 1999 trilogy. Haunted by a recurring dream, Helena Koenig forces herself to face up to her fears when a giant ship appears above Alpha. Two pilots mysteriously disappear while searching the huge ship, a second party finds no trace of them but finds an unconscious alien girl and take her back to Alpha. As time goes on Helena is forced to confront a terrible truth about the young alien and find out a way to solve a deadly dilemma.
Beating the Odds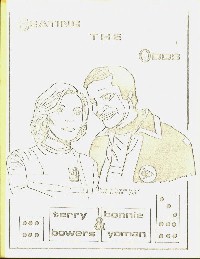 by Terry Bowers and Bonnie Yoman, May 1982.
Artwork by Judy Moore, Keith Young, Rose Marie Badgett, and Benita J. Fernandez. An outbreak of "green sickness" on Alpha, Helena's quest to Koenig to allow births on Alpha, and Koenig and Helena's personal feelings about having a child.
Farthing's Comet/A Time for Reflecting
USA, July 1986 published by the International Space:1999 Alliance. 50 pages, letter sized.
Farthing's Comet by Tom Cicirelli pages 4-21; A Time for Reflecting by Kerry Keane pages 22-48
Cover art: paintings by Lew Place (colour photos attached to the cover); interior artwork by Keith Young and Judy Moore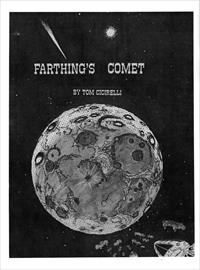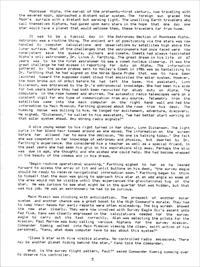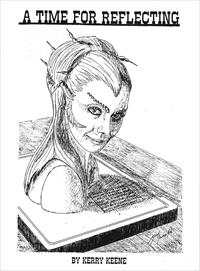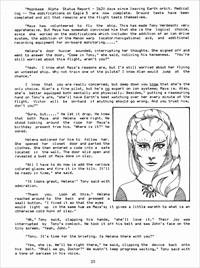 Dynasty: 1999 "Diana's Return" by Erwin Stank & Destiny Bryant
USA: 1990. $8
100 page A4 fanzine, well printed with card covers. Comic fiction written in script form, based on situations and characters from the TV soap Dynasty transposed to Moonbase Alpha. Farcical revelations of relationships between the Alphans.
Moon Glow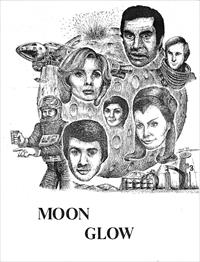 USA: 1992
69 pages plus cover, A4 fanzine. Stories by the Mysterious Unknown Alphan Author, Terry S Bowers, Amanda Russell, Kerry Keene, Diana, Rebecca Eisenhuth. Art by Liz May (cover), the Mysterious Unknown Alphan Artist, Lew Place.
21st Century Fiction No.3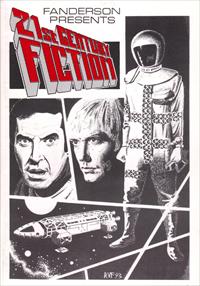 UK: Fanderson 1993. £4.50
Third volume of fan fiction for various Gerry Anderson series (Thunderbirds, Captain Scarlet, Stingray, UFO and 1999). Edited by Pam Brown, there are 10 pieces, including stories, poems, and a comic strip, over 76 pages plus covers. The 1999 story is Night Duty by Jacquie Groom, pages 63-76, and is illustrated by black and white cast photos. Cover is by Rochard Farrell.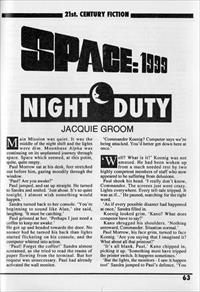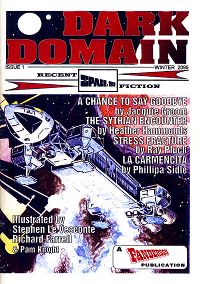 UK: Fanderson 1995. £3.95
60 page A5 fanzine of fiction by Philippa Sidle, Ray Pluck, Jacquie Groom & Heather Hammonds, illustrations by Stephen Le Vesconte, Pam Knight & Richard Farrell.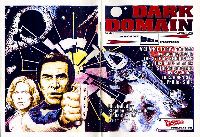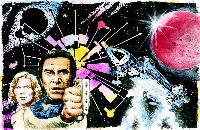 Wrap around cover, and original art. Thanks to Shaqui.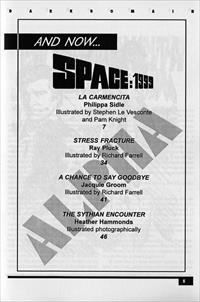 Title page
---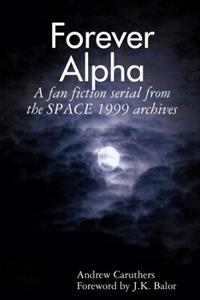 Internet print on demand, Lulu, 12 Feb 2017 €33
564 pages, 152 x 229 mm. "A fan fiction serial from the Space 1999 archives". Foreword by J.K.Balor.
---