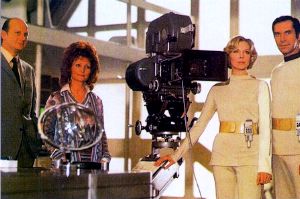 Anderson was born Gerald Abrahams, on April 14th 1929 in West Hampstead, London.
After working in a Regent Street photographers studio, before Anderson became a trainee in the Ministry of Information's Colonial Film unit in 1943. He was most interested in the cutting room, and in 1945, aged 17, he joined Gainsborough Pictures as an assistant editor. Among the films he worked on was the US edit of The Wicked Lady in 1946.
Anderson returned to Gainsborough Pictures in 1949, now as a sound editor at Pinewood Studios. In 1954 he joined a small company in Maidenhead called Polytechnic Films as a director. He worked on one documentary series called You've Never Seen This, about eccentric people, with cameraman Arthur Provis. Polytechnic Films went bankrupt and so, appropriately, no one did see the series. In 1955 several of the people from Polytechnic formed Pentagon Films, making commercials for the newly formed ITV network.
A year later, in 1956, Anderson formed AP Films, with Arthur Provis. Other people from Polytechnic-Pentagon also joined them, including designer Reg Hill, photographer John Read, and Sylvia Thamm (who was later to marry Gerry). They found premises in an old mansion by the Thames in Islet Park, Maidenhead, renting a flat as their office and a small ballroom for a studio. Anderson recalls they waited in vain for someone to ask them to make films, until Roberta Leigh and Suzanne Warner of the Associated Redifussion TV company approached them. Apparently it was only after they agreed to make the television series that they found it was a low budget children's puppet show, The Adventures Of Twizzle.
In 1961, Anderson married Sylvia (his second marriage; he had two daughters from his first wife, Betty, who he married in 1952). Gerry and Sylvia had a son, Gerry Junior, born 1967.
Through the 1960s, the Andersons created and produced a succession of puppet shows, increasing in sophistication. The peak of their success was Thunderbirds in 1964-1966, which spawned two feature film spin offs. The shows were marketed with their names ("Gerry and Sylvia Anderson's Thunderbirds"), and were hugely popular with British children.
In the late 1960s Anderson turned to live action, with the science fiction series UFO and the private investigator series The Protectors. In the early 1970s he produced Space: 1999 and a one off TV film called The Day After Tomorrow : Into Infinity with many of the same cast and crew.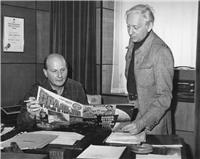 Gerry and
Fred Freiberger
. The award on the wall is Anderson's Honorary Fellow of the British Kinematograph, Sound and Television Society (BKSTS).
During the filming of the first series of Space: 1999 his marriage to Sylvia Anderson was failing, and a bad house purchase caused them severe financial problems. The Andersons were forced to sell their remaining 10% stake in AP Films back to Grade. After a public argument at the wrap party for the first series in March 1975, the Andersons separated. Anderson fought a bitter legal battle for access rights to his son, which further depleted his finances. Their divorce was finalized in 1980. Anderson's relationship with Grade's ATV ended, and in the late 1970s various film and television projects stalled.
Anderson remarried in 1981, and in the 1980s his career restarted in advertising. He launched a new puppet show (Terrahawks), with limited success. In the 1990s Thunderbirds and other puppet series were reshown on British television, causing a massive surge in interest. Anderson had repeatedly tried to regain the rights to remake Thunderbirds, without success. He was not involved with the 2004 feature film, which flopped badly. A new live action science fiction show, Space Precinct, failed to make much impact in 1994. A computer-generated remake of Captain Scarlet in 2005 was the most expensive children's series made in the UK, but after poor promotion on ITV it disappeared without trace. In 2001 the Queen awarded him the honorary title of MBE.
Anderson died on 26 December 2012 at the age of 83.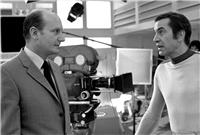 Martin Landau on Gerry Anderson: Gerry was more introspective [than Sylvia], excepting when he had a couple of drinks after work, when he'd open up a bit. He too was very bright, often very studious, and was much quicker to rise to anger than his wife. Although things must have been getting somewhat strained at home, they never gave us an indication during the entire first year of filming at Pinewood that their marriage was about to break apart.
Johnny Byrne on Gerry Anderson: Gerry's hard and fast in the sense that his brilliance is the technical side but when you come to story terms, Gerry has very simple ideas and all the better they are for it. If one was to qualify this effect: Gerry could make a good script infinitely better and make a bad script very much worse.
Christopher Penfold on Gerry Anderson: Gerry had an incredible capacity for storytelling. He loved telling stories but the problem with Gerry's storytelling was that as Executive Producer, once he'd hit upon a story and convinced himself it was going to work there was very little opportunity for those with him to convince him that maybe it wouldn't work. A lot of the delays we ran into were really delays caused by Gerry's inflexibility over what was often a brilliant story idea. He very often had a mind set which made it impossible for him to accept that in principle something was a good idea but there might be some other way around it. That was often a source of conflict.
Equally, Gerry was very good when we had those kinds of difficulties in storytelling. He had an ability to cut through a story which had become muddled and inject it with a new sense of purpose. Creatively he was very strong like that. There was an upside and a downside of Gerry's effect on the storytelling.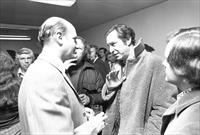 Gerry Anderson talks to Martin Landau, probably in the Year 1 wrap party, 29 March 1975. On the left is SFX technician Terry Schubert. Partially obscured by Anderson is Michael Beauchamp. On the right is Nick Allder
Anderson attended many conventions, including the 1978 US convention and most of the Fanderson conventions (from 1981). He appeared in the Alpacon Documentary (1991), The Space: 1999 Documentary (1996), and These Episodes (2005).