Born Lew Winogradsky in the Crimea, 1906; died December 1998.
Grade's Jewish family emigrated to the East End of London in 1912. After winning the World Charleston Championship in 1926 he became a professional dancer in England and Europe, but in 1933 he became an agent for European circus acts. His reputation grew, becoming a partner with the agency of Joe Collins (father of actress Joan Collins), then with his brother Leslie's agency. The Grade agency grew to represent major international stars. In 1954, with the setting up of commercial television in Britain, he formed ITC, the Independent Television Corporation, as a production company making the series The Adventures Of Robin Hood (1956-60). ITC joined with the company which had been awarded one of the ITV franchises, forming ATV (Associated Television), while ITC itself became a subsidiary production and distribution company of ATV. ATV grew to dominate the ITV network, producing the popular variety shows and "action adventure" series such as The Saint (1963-68), The Avengers (1961-69), the cult series The Prisoner (1967) and most of Gerry Anderson's shows. They also owned Elstree Studios. Later they produced the hit series The Muppet Show (1977-81), and religious and historical mini series such as Moses The Lawgiver (1974), Zeffirelli's Jesus Of Nazareth (1977) and Edward The Seventh (1976). By 1977 ATV was a subsidiary of a new parent company, ACC, the Associated Communication Company.
In the mid 1970s Grade became involved in film production, with The Tamarind Seed (1974), Farewell My Lovely (1975) and the hit Return Of the Pink Panther (1975). ITC films were a mixture of critical and popular successes including a series of Muppet films (1979-84), On Golden Pond (1981) and Sophie's Choice (1982), and expensive flops led by the notorious Raise The Titanic (1980) which led to Grade's famous remark, "It would have been cheaper to lower the Atlantic." ACC was in financial trouble, and a new management came in to oust Grade. He joined the company Embassy, making films and TV movies. Grade was awarded a knighthood in 1969, and a peerage in 1976.
Biography: All My Shows Are Great: The Life of Lew Grade by Lewis Chester (Aurum, 2010).
Born in Covington, KY in 1919, Mandell served in the Army in the Pacific during World War 2. In 1947 he returned to the Philippines to market American films in the Pacific region. He moved to New York city in 1957, he became head of international sales for ZIV Television, the television syndication and production company. He was hired by Lord Lew Grade to handle sales for ITC Entertainment, and eventually Mandell became the president of the company.
Mandell sold Grade's British series to the USA and thus earned the money that financed them. He was closely involved in the creation and casting of Space: 1999, and when he failed to sell the series to the American networks he created a "Space: 1999 network" of local stations who broadcast the series.
He died in March 2009, aged 89.
His son, Robert Mandell, produced the Super Space Theatre compilation movies.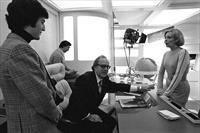 Robert Mandell was the son of Abe Mandell, who was ITC's president. In 1980 he devised Super Space Theatre, a series of family-friendly movies for the new US cable networks, made by compiling together episodes of existing ITC series. With the help of Starlog writer David Hirsch he created two Space: 1999 movies, Cosmic Princess and Journey Through The Black Sun, which were packaged with the two other compilation movies created by David Withers in London.
In 1982 Mandell was executive in charge of production of Thunderbirds 2086, the English-dubbed version of a Japanese anime show Scientific Rescue Team Techno Voyager, and used extensive music and sound effects from Anderson shows including Space: 1999.
In 1986 he created and produced the animated series The Adventures of the Galaxy Rangers. He also created and produced another animated series, Starla and the Jewel Riders (1995-1996).
Born 1914, died 1999. Hill first worked in the display department of a London wholesale grocer before becoming an advertisement designer. After serving in the RAF during World War 2, he joined National Interest Picture Productions, working as a designer for Army and Air Force films, involving him with model and animation work. In 1954 he joined Pentagon films as an artist, where he met Gerry Anderson. Gerry formed a new company, AP Films, with Hill as production designer. He was responsible for set and puppet design and special effects for The Adventures of Twizzle (1957-1959), Torchy the Battery Boy (1960) and Four Feather Falls (1960). During quiet periods, Hill worked on other productions, including the TV series The Adventures of Robin Hood (1955-1960).
In 1961, AP Films began to make Supercar, and in addition to designing the vehicles and the AP Films brochures, Hill wrote episodes and was the associate producer of the series. Hill used his engineering skills to perfect the puppetry and set up the special effects department, run by Derek Meddings. Hill became increasingly involved in administration in later series, as managing director of the studio and producer, and recruited Bob Bell to manage the art department.
After the second series of Space: 1999 he entered semi-retirement, working as a story board artist on Superman (1978), Superman II (1980), Outland (1981), Octopussy (1983) and Lifeforce (1985). He died in October 1999.
Born 1915, died 1988. Entered the film industry in 1932, working as a director and production manager. An associate producer of The Day The Earth Caught Fire (1961), and other films with Val Guest. Green had been a friend of Sylvia Anderson, and had used his connections to get the Andersons their first introduction to Lew Grade in 1957.
Antonioni's Blow-Up (1966), The People That Time Forgot (1977), DragonSlayer (1981), Top Secret (1984), DreamChild (1985), the miniseries Jim Henson's The Storyteller (1987), series Agatha Christie: Poirot (1990-1991). He also worked with Gerry Anderson on Terrahawks (1983).
Born 1928, died 2009. Withers joined the film industry in 1944 as a production runner, before becoming a sound editor on films including Hitchcock's Stage Fright (1950). In 1955 he joined ITC. Working under Lew Grade, Withers and Bernard Kingham launched ITC's production business. He would oversee the production of series, and publicity, foreign versions and release prints. Withers first worked with Gerry Anderson when he funded the pilot for Supercar.
At the Space 1999 year 1 wrap party, on 29th March 1975, Withers was present and was asked by Sylvia to accompany her and Gerry Anderson home, to try to contain their arguments. Instead the two Andersons had a huge shouting match at their home while Withers played the piano. In the argument, they resolved to divorce.
Later he would steer ITC's move into film, from On Golden Pond (1981) to the first two Space: 1999 compilation movies, Destination Moonbase Alpha and Alien Attack.