Psycon
Manchester, UK 23-25th October 1992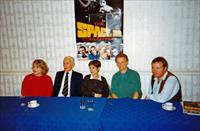 This was my second convention in 1992; the first was Spacecon at La Mirada, Los Angeles in July. The centre of Manchester is a bit more exciting than La Mirada (it has people and shops, for a start). On the other hand, there is nothing like Disneyland, Hollywood or the other Los Angeles attractions, and it is not a very friendly city (one German fan lost £300 to a pickpocket on the way to the hotel). The hotel was lavish in decoration (elegant chandeliers everywhere), but navigating through the labyrinthine corridors and the dreadfully slow lifts was confusing. It was a good re-union of many fans who went to Los Angeles: myself, Mark Shaw (who was running this convention), Chantal from France, Mary Lou from Belgium, Mick Hawkes and Richard Stockton from Britain (neither Richard nor Mary Lou got lost, as in L.A.!)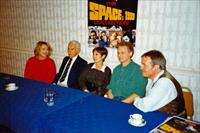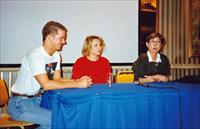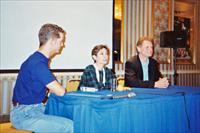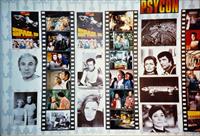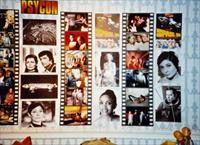 The convention had problems getting a minimum number of attendees, but eventually passed the 120 required. Mark had planned an ambitious convention book, but because they did not have enough finances a number of postcards were produced instead. The postcards were good quality but familiar photos. They also produced a very attractive T-shirt and an audio tape of music based on the Year 2 theme which was surprisingly good. The main convention room was used for episodes, guest talks and the auction. A small dealers room nevertheless had some interesting merchandise.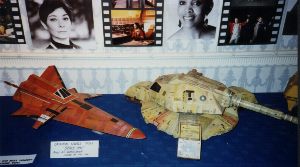 The display room was exceptional, with Martin Bower's Thunderbirds models, plus many original 1999 models from Phil Rae [subsequently most of these were sold]. These included: two 44 inch Eagles (1 and 2), a 22 inch cargo Eagle (the Space Models one, not Martin Bower's Bringers Of Wonder version), Hawk, Taybor's gun (a superb and unusual model seen all too briefly on screen), Taybor's jump drive model, the space warp detector (actually old plumbing pipes), the small Ultra Probe docked to the dragon ship, the Immunity Syndrome glider, the Dorcon probe ship and, my personal favourites, the Infernal Machine tanks.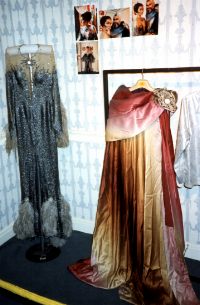 Mark Shaw was also displaying his costumes, with all the sleeve colours, Nick Tate's spacesuit, Mentor's costume, Jarak's costume and Maya's Metamorph dress (Mark declined to wear either of the last two). Mark also had a good selection of photos on display. The fan art section was small but the quality was high.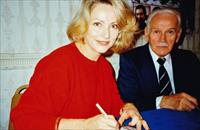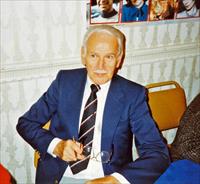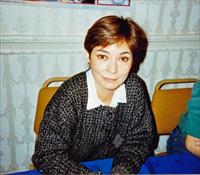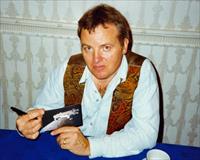 The guests, producer Reg Hill, model maker Martin Bower, writer Chris Penfold and actresses Suzanne Roquette and Zienia Merton, were very friendly and eager to talk about the series. Year Two was not very popular with them, and both Chris and Zienia made some insightful remarks as to why it had lost the strong qualities of story and character that many episodes in Year One achieved (in their opinion). Christopher Penfold explained how they tried to make moral stories like War Games, and his disappointment with Year 2. Zienia Merton was attending her first convention, and she was full of illuminating gossip and funny stories. She explained how the crew kept giving her brandy while shooting "The Full Circle" in a very cold English wood next to Pinewood studios, leaving her very sloshed. She revealed that they all used to do the Times crossword. Barry Morse saw them all busily sitting at their consoles in the hi-tech set working out the clues and joked that the mail from Earth must just have arrived. One of the crew never believed a woman could get the correct answer so he wouldn't put her answers in until the end of the day.
Both Zienia and Chris talked of their admiration for the director Charles Crichton, and the great care and expertise the director brought to the episodes. Zienia did a very good impression of him as she explained how when they first met him no-one could understand what he said. The cast therefore used to listen to him, then quickly consult each other to try to work out what he wanted. If he complained after the take, they knew they had got it wrong and they would have to work out what he wanted different. The cast also used to joke that Charles must have had shares in Fuller's Earth, as in all his episodes they seemed to get covered in the stuff. One story Zienia told was of how in "Matter Of Life & Death" all the cast heard Charles cry "Cut". The director was annoyed they had all stopped and denied he had said anything; they then found out one of the parrots was imitating him by crying "Cut"! Zienia was very critical of the uniforms; scenes filmed after dinner can always be spotted because the uniforms showed off people's stomachs. Zienia revealed the practicalities of filming in Main Mission: because the floor echoed their footsteps, the crew would place carpet over wherever they were supposed to walk. The "destruct" hatch seen in "Collision Course" caused her to break into laughter because it creaked loudly as it opened, like something in a horror film. The standing joke with the crew was to say to Zienia: "Can you stand up now, please, Zienia.... oh, you are standing up..." Because of the differences in their height, whenever she appeared close to Barbara Bain Zienia would stand on a "pancake" platform while Barbara took off her shoes. Apparently the mist was so high in "Missing Link" that she suggested Martin Landau carry round a mop with him, which would represent the top of her head. She was then startled to see the crew constructing a huge table for her to stand on: "I'm not that short!" she protested. It turned out it was for her and Peter Cushing to stand on, so they would appear to float away from Koenig.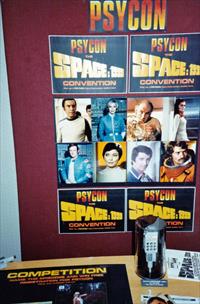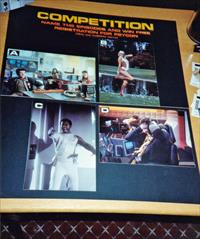 A 15-to-one competition was run on the Saturday night, in which 15 contestants were given increasingly hard questions until just one was left. As usual, Roger Rice won. I came second and Chantal Battiston came third. Another competition featured clips of Martin Landau, Catherine Schell, Nick Tate and Prentis Hancock in other series (Outer Limits, Dr Who, Summerfield, The New Avengers etc), which was quite entertaining. A disco failed to get started. Martin Bower gave two very interesting slide shows, one about the models for 1999 and a second about the Thunderbirds models he is now making for the British children's comic. Finally I should mention the fantastic video opening titles specially produced for the convention. This comprised an exciting compilation of clips by Tim Mallett and Glenn Pearce, accompanied by superb music from Paul Westerman. All I can say is that it was stunning, and we could have spent most of the convention watching it again and again. These were the people who produced the Alphacon video, which has apparently been attracting interest from commercial broadcasters around the world.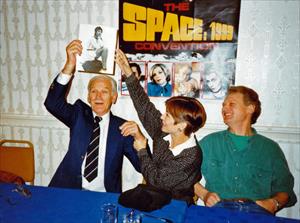 Reg Hill shows off a publicity shot of Zienia Merton- Chris Penfold looks on