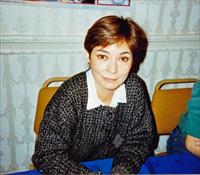 Born 11 December, 1945, in Brunei, Borneo. She was 1.57 m (5'2") tall, with black hair.
Her mother was Burmese, her father half English, half French, and she was raised in Singapore, Portugal, Borneo and England. Merton's first professional part was aged 12, playing a mouse in The Nutcracker at the Festival Hall, London. She attended an acting school in Hertfordshire, at first concentrating on dancing, but in London she turned to drama.
Stage and television work came infrequently, with long periods of unemployment. She had parts in Dr Who (story Marco Polo, 1964), The Strange Report (1968), Jason King (1971) and in Dennis Potter's TV play Casanova. She also appeared in the film The Chairman (1969).
In 1973 she was cast in Space 1999.
Subsequent work included Return Of The Saint (1979), Hammer House Of Mystery And Suspense (1985), Bergerac (1985), Casualty (various episodes, 1991 onwards), EastEnders (1998), The Bill (2001), Dinotopia (2002 miniseries). She was in the Dr Who spin-off series The Sarah Jane Adventures (episode The Wedding of Sarah Jane Smith, 2009).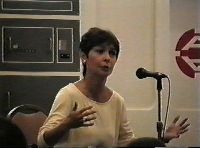 Sylvia Anderson and Ray Austin took two trips to Rome to try, unsuccessfully, to cast the role of the Italian character Sandra Sabatini. In London they cast Merton instead. Lee Katzin asked her to use a mid European accent and named her after his favourite Los Angeles delicatessen, Benes. On her second day mock tests were held in which the cast were supposed to introduce themselves in character to each other. In distaste of this Merton mumbled her lines and the writers picked this up and made her character very quiet and reserved. She became an "emotional barometer" of the show, fainting at appropriate moments, until in Missing Link Ray Austin insisted she was a competent technician who wouldn't keep fainting.
Her favourite episode is Full Circle, because of her important part, the first outdoor location of the series, and "it was fun to do".
She was intensely dissatisfied with Year Two, having not been given a contract, and left after the third episode, One Moment Of Humanity. She returned after three months after Barbara Bain invited her to return (the Landaus were just about to go on holiday, and there would have been no original Year One cast present in the episode). She was in Catacombs of The Moon, and had a significant role in The Beta Cloud and The Bringers of Wonder. She was also absent in A Matter of Balance, Dorzak, Devil's Planet and the final two episodes, The Immunity Syndrome and The Dorcons; she left the production to star in the Norwegian film Kosmetikkrevolusjonen (1977). Zienia reprised the role of Sandra Benes in the short film Message From Moonbase Alpha in 1999.
She attended Space 1999 conventions starting in Manchester in 1992 (Psycon), and others in 1996 (UK), 1998 (France), 1999 (US), 2000 (UK and US), 2001 (Italy), 2002 (UK), 2004 (Italy), 2005 (UK), 2006 (UK). She appeared in The Space: 1999 Documentary (1996), and These Episodes (2005)
Her autobiography, Anecdotes and Armadillos by Zienia Merton with Robert Wood (Lulu, US, 2005) has a lengthy section on Space: 1999 (p88-148). She wrote the foreword to the Powys Space: 1999 book The Powysverse Compendium (2012).
Merton autographed cards for Unstoppable cards (2016).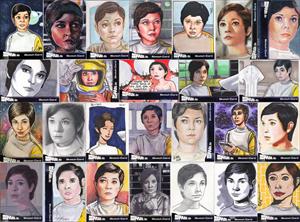 Portraits of Sandra for Unstoppable cards by many different artists, collected by Patrick Zimmerman.
She died on 14 September 2018, aged 72.
Print: FAB 9 (1993) interview by Chris Bentley & Roger Rice p22-28, reprinted in FAB Yearbook 1 (2000) p25-31