---
---
Unstoppable Sketch Cards - Series 1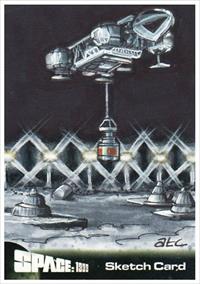 Art by Adam Cleveland
These are sketch cards released by Unstoppable in June 2016. There are zero or one card per box, with 1999 boxes (probably about half of boxes have sketch cards). Each card is a unique piece of artwork, not a print.
Unstoppable claimed "over 40 artists" produced cards, but 34 named artists are known. Artists Graham Bleathman and Ted Woods each drew 50 cards for the set. Bruce Gerlach did 30, Jason Westlake did 29, Louise Draper did 25, Paul Cowan, Marcia Dye, Jay and Scott Fellowes each did 20, J D Seeber did 12, Nick Neocleous and Jeff Abar did 10 (see below). It seems most artists made 20 or 30 cards, and a few artists made 50. The artists also had a limited number of "Artist Proof" blank cards to draw on for personal appearances, conventions and personal ebay sales.
In total there are probably around 1200 cards. About 1000 of those cards were put into boxes, with the rest held back for dealer incentives.
Some of the sketch card artists may only be available in a multi-case order, as a special add-on packet (like 11 of the autograph cards). The limited artists seem to be Bleathman, Fry, Seeber and Abar. The Jeff Abar cards were not issued until December 2016 and August 2017, as part of special dealer incentives (see details).
The back text reads "Congratulations. You have found a very limited edition genuine hand drawn one-of-a-kind Space:1999 sketch card created by ..." All the cards are labelled either "SK1" (portrait) or "SK2" (landscape), although artists don't necessarily follow the guidelines.
Most of the pictures are based on publicity photos, usually actor portraits. The cards are small (2.5 x 3.5 inches / 6.5cm x 9cm), although there are some double-sized "box-topper" cards, and some with a single drawing across two or even four cards. The styles include dramatic art, dynamic action, cartoon caricature and amateur doodles.
Two of the best artists are Andy Fry (actor portraits) and Graham Bleathman (spaceships). Both these artists seem to be limited to multi-case orders.
There are 34 named artists:
Jeff Abar

Graham Bleathman

Steven Burch

Adam Cleveland

Christopher Chamberlain

Paul Cowan

David Day

Louise Draper

Marcia Dye

Danielle Ellison

Scott Fellowes

Andy Fry

Bruce Gerlach

Chris Henderson

Laura Inglis

J(AY)

Elfie Lebouleux

Kevin Meinert

Joe Miller

Solly Mohamed

Rich Molinelli

"Nik" (Nick Neocleous)

Matthew Parmenter

Enid-Elvin Ramos

Rupam

Tom Savage

Clay Sayre

J D Seeber

Elbert Smith

Westley James Smith

Sue Thomas

Jason Westlake

Ted Woods

Clinton Yeager
(written "Yaeger" on the card back, but signature is "Yeager")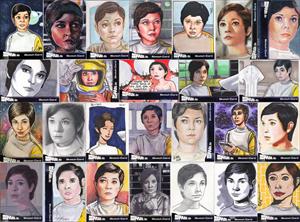 Portraits of Sandra from many different artists, collected by Patrick Zimmerman. Only some artists originally drew Sandra, so Patrick contacted many of the others to commission additional sketches.
---
Contents copyright Martin Willey. Thanks to Patrick Zimmerman.