---
Italy/Germany/France/Portugal/Greece/Canada. Albums each 100 lira (in Italy).
The Italian company Panini began publishing football stickers in 1961 (an equivalent would be the sports cards of US company Donruss, which Panini would later acquire). For the 1970 World Cup, Panini expanded outside Italy, and by 1971 the stickers were self-adhesive, with a peel-off back. Panini gradually expanded outside football, including Star Wars and other licensed properties. In the 1970s, they did not operate in the USA (which lacked a strong following for football) and only began in the UK in 1978, after Space: 1999 had finished. Stickers are sold in packs of 7, and like most trading cards, collectors would swap stickers to complete their albums.
The Space: 1999 stickers were two sets of 400 stickers (each 7 x 5 cm, colour photos). The sticker backs had the series logo, sticker number, and text in 6 languages. The first series packets were black, with a photo of Moonbase Alpha and Koenig. The Year 2 packets were red, with a rescue Eagle in front of the Moon.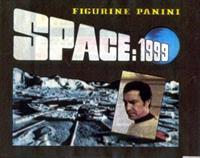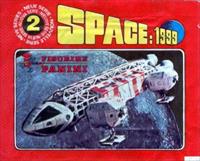 See more details on the store boxes.
Each has a 50 page album, 24 x 27 cm, with colour covers. Inside are poor quality bw photos and short descriptive text of each photo. French, Italian, German and Greek editions are titled "Space 1999", (the German edition of first album was sub-titled "Mondbasis Alpha 1", and the Greek had a subtitle in Greek (ΔΙΑΣΤΗΜΑ 1999). Only the Portuguese edition had the title in Portuguese. An English language album was released in Canada (but not in the UK or US).
Many of the photos used in the first series stickers were reprinted in AMZ's "Diario Scolastico".
---

First album & set issued in April 1976, covering the first 12 Year 1 episodes.

Album cover: logo & blue planet over Alpha; inset photos.

Stickers had blue and black print on backs. "Ask your retailer the album for this collection of picture cards" (sic).




---

Second album and set, "Year 2", released June 1979, covered 11 episodes of Year 2.

Album cover featured series logo/ blue planet on red background over a montage of Koenig & Maya in spacesuits, Rescue Eagle in front of large Moon.

Stickers had black print on backs. "Collect these picture cards in the album available from your shop."
---
UK 1975, 5p each
Rainbow Designs is a UK company formed in 1971 producing cards, badges, jewellery and soft toys for licensed properties, including Disney, the Wombles, Winne the Pooh and others. The company has since specialized on baby and nursery toys. They also produced metal badges for Space: 1999.
11 x 15 cm cards, with black and white photo and logo on front.
| | | |
| --- | --- | --- |
| No 1999-1: | Photo of Koenig lying on ground, astronauts around ("Ring Around The Moon") | |
| 1999-2: | Koenig, Victor & Helena in ice cave, "Death's Other Dominion" | |
| 1999-3: | Eagle launching from pad | |
| 1999-4: | Dragon, "Dragon's Domain" | |
| 1999-5: | Main Mission in foam, "Space Brain" | |
| 1999-6: | Kaldorians, "Earthbound" | |
---
4 publicity cards, with logo on reverse, & Yr 2 colour photos of star with their autograph. These were sent in reply to fan mail.
Martin Landau, Barbara Bain
Catherine Schell
Nick Tate
Tony Anholt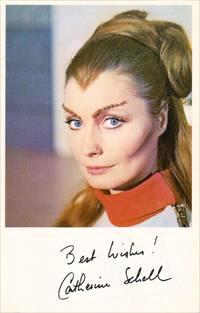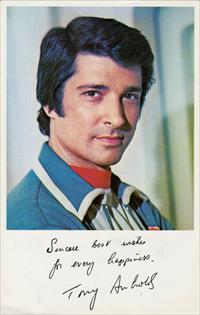 ---
U K 1995
BT phonecard (for 5 units- £5), with two available. Each came in a presentation leaflet (8 x 6 inches, opening up to 8 x 12), featuring exactly the same picture on the cover, and on the interior.
two docked Eagles landing on a pad (from Collision Course)
One of a series of Gerry Anderson related cards; only 500 of each were produced.
---
UK 2002
Preview set of 6 cards released March 2002 (£9.99), all bearing the legend "Limited Edition of 300 Preview Sets" on the front, and a short series premise on the reverse with the text "Space 1999 Premium Trading Cards From Cards Inc. Will Be Entering Your Solar System Soon". Five of the six pictures are Eagle/SFX shots, one is of astronauts. Cards are 89mm x 64mm.
| | |
| --- | --- |
| Front | Reverse |
In August 2003, a further preview set was issued, the Memorabilia 2003 Exclusive 9 card Puzzle Preview set (at the NEC Memorabilia fair in the UK, £9.99). The cards have a honeycomb of small orange-tinted photos, which build up to form the number 99. The rear of the cards are all identical. The numbers on the front are not the same as the numbers on the back.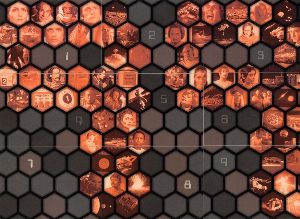 ---
2.25 x 1.5 inch (5 x 3.5cm) cards distributed in perforated sheets containing other 1970s TV shows including Kojak, Marine Boy, Six Million Dollar Man and others. There are 50 cards for Space 1999. On uncut 5 x 5 sheets, one sheet of 25 features comic art, the second has photos. The backs of the cards are black and white and feature playing card suits (hearts, diamonds, clubs and spades). It is not a complete French deck with thirteen ranks of four suits: in the 50 cards, there are two jokers, some duplicates and many missing.
Images thanks to Paul Stankevitch and Patrick Zimmerman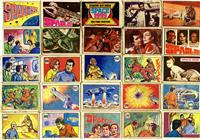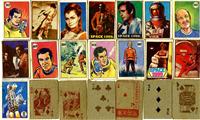 | | | |
| --- | --- | --- |
| | The first sheet is crudely copied and coloured artwork based on Mike Noble's Look-In art (the first story) | |
| | The second sheet is a strange mixture of Year 2 publicity photos taken from the third (1977) UK annual (including the back cover art), the Star edition of "The Time Fighters" (logo including the book title!), and the Airfix Eagle box art. | |
---
1 3/8" x 1 7/8" (35mm x 47mm) cards, in a set of possibly 60 with crude coloured art based on photographs (including Alpha Child, Earthbound). The set tells a story, with English speech bubbles. The English grammar is sometimes incorrect: Bodie's alive but in suspended animations, so a civilization exist!. The cards are perforated, and the backs are blank gray/brown cardboard. They are used in a popular Filipino card game played by children celled "Teks", and each card is known as a tek. The teks are tossed in the air, and the players bet which side lands up. Teks were produced for many popular TV series of the 1970s and early 1980s, in Filipino (Tagalog) and English (the two national languages of the Philippines). Thanks to Patrick Zimmerman.
---
USA, 1993
Number 60 in a set of 66 about "classic toys", features the Dinky Eagle Transporter. Thanks to Gordon Moriguchi.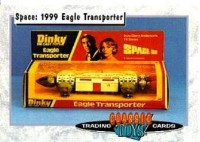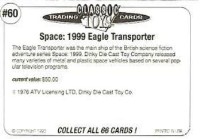 ---
Spain, probably 1976
A set of TV cards, for various mid-1970s series shown on Spanish Television. Each card is 6.5 x 5cms (2.5 x 2 inches), with colour photo on one side and brief text on the back. The cards with Space: 1999 characters are:
32- Zienia Merton
48- Barry Morse
53- Martin Landau (picture reversed left for right)
54- Barbara Bain
80- Nick Tate (the only Year 2 picture)
---
Spain, around 1985
One of a set of cards issued in Spain, featuring various television characters (others included photographs from Battlestar Galactica). One card features colour art of the Kreno creature from Space 1999 (A B Chrysalis). Each card is 5.4 x 7.6cm (2 x 3 inches).
---
UK, 3 June 2016 (10th June shipping)
Unstoppable produce "trading cards" for various media properties, including Gerry Anderson's Thunderbirds. The UK company was formed in 2011 by Barrie Roness and Steve Kirkham. The Space: 1999 first set was released in June 2016.
---