US 1975-6. Number 2118. $3.98
Four different Halloween costumes. A plastic mask, and plastic suit with artwork. The two "Commander Koenig" masks are astronaut helmets; Helena and Maya masks have the distinctive hairstyles. The first Koenig and Helena are 1975; the second Koenig and Maya are obviously 1976, although the copyright date is still 1975.
Box (22 x 28 x 8 cm) is a standard Halloween costume box; the second two included art of owl and cat below a display window. The Space 1999 logo was a piece of paper stuck at the top of the box. The character was identified on the label attached to the bottom of the box.
| | |
| --- | --- |
| | Commander Koenig. Artwork is Helena cowering to Koenig, based on Gray Morrow's cover for Charlton magazine number 1; red and black printed on yellow background. |
| | Helena. Costume is identical to Koenig, except in yellow and black with a blue background. |
| | Commander Koenig. The tunic shows Koenig and Helena cowering -based on year 2 publicity photo- with Moon behind. |
| | Maya (complete with pointy hairstyle, weird eyebrows and a firey dress based on her Metamorph dress). |
---
UK 1975
Mentioned in "The Making Of Space 1999" (Tim Heald) p181; Omicorn fan club.
---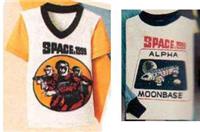 USA 1976 $5.49 - $5.99
"Perma-Prest" (i.e. non-iron) boy's pyjamas, with a screen print pullover top, and long pants. There were short and long sleeved versions. There are 3 designs, all art on white front with coloured sleeves. All art designs feature the series logo.
Koenig, Bergman and Helena in spacesuits (art from Charlton #3 cover). Gold sleeves and pants.
"Alpha Moonbase" with rescue Eagle (in the "Alpha" trapezoid design, although font and art is different to the series). Blue long sleeves and pants.
Eagle and Satazius over moon. Gold sleeves and pants.
American catalogs, thanks to Gordon Moriguchi: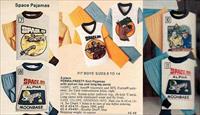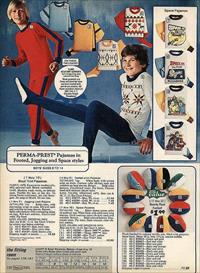 ---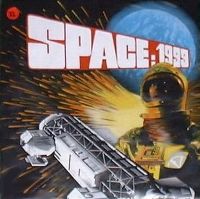 U K 1993 £9.99 + £1.00 postage & packaging
Special offer available in the ITC Space 1999 videos, vols 15 and 16, from November 1993- 31st May 1994.
The black T-shirts were available in large & extra-large sizes.
Design featured logo (in white with red trim), with a blue planet and large yellow explosion in background, and in foreground retouched photos of an Eagle (from a Last Enemy publicity shot) and Koenig in spacesuit holding a torch (from Brian The Brain).
---
Australia 1975
T-shirt. Sizes 24, 28, 32 and 36.
Promotional offer available for the titles cut from the 50 different Space 1999 picture cards.
---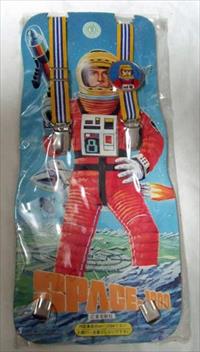 These elasticated straps to hold up trousers are called braces in British English, and suspenders in US English. They are yellow, black and white stripes with metal clips. There is a medallion picture of an astronaut attached to one strap.
Package art shows astronaut holding laser blaster, with a Mattel Eagle beyond and Space 1999 logo at his feet.
The copyright under the logo is to Tohokushinsha, the Japanese distributor of the series. There is another logo by the Eagle of "Rugby", which is presumably the manufacturer.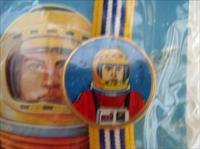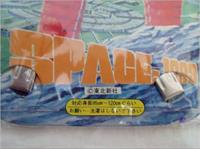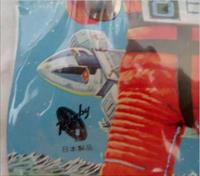 Images thanks to Patrick Zimmerman
---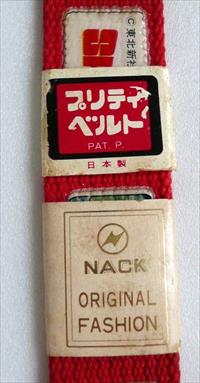 This is a child's belt, 88cm (34.5 inches) long, and 3.2cm (1.25 inches) in height. The fabric belts have 14 vinyl panels sewn along the length. The belts were in one of four colours: navy blue, beige, yellow and red. The vinyl panels include one series logo and 12 different artwork pictures; one picture, of Alpha, appears twice.
Some of these belts had one or two paper labels on them, one for "Nack Original Fashion", presumably the manufacturer.
The artwork is colourful and exciting. The Mattel Eagle appears in image 3, and some astronauts driving a moonbuggy backwards in image 4.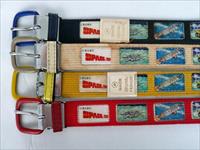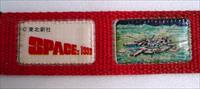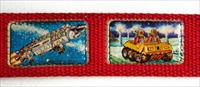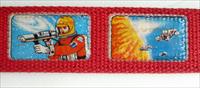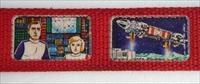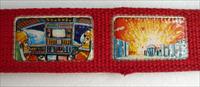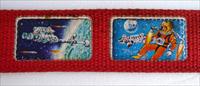 Images thanks to Patrick Zimmerman
---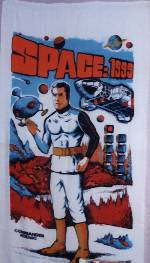 U S 1976
Two designs, both with the Space: 1999 logo prominent:
A muscle-bound Koenig in white uniform, on a forested planet (Kaldorian ship, Eagle and waste area laser fence beyond)
A rescue Eagle rocketing through space (the footpads are retracted; again a Kaldorian ship is in the background).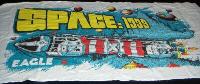 Image thanks to James Hume
---
UK 1975
Mentioned in "The Making Of Space 1999" (Tim Heald) p181.
---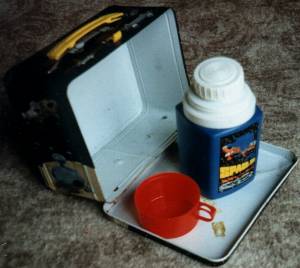 US, Canada 1975
22 x 17 x 10 cm metal box with plastic handle and 8 x 16 cm 8 oz plastic thermos flask with cup. Decorated with colourful, accurate art and photos.
Lunch box lid: Photo of Koenig head & shoulders on right, on left is art of two astronauts in moonbuggy under logo and Eagle.
Reverse: on left photo of Helena head & shoulders, on right art of Koenig firing laser at green dragon ("Dragon's Domain"), holding Helena in its tentacles
A variation had Koenig's (and possibly Bain's) head embossed (stamped in relief) in the metal. Thanks to Glen Mullaly.
Director Tim Burton has this lunch box, signed by Martin Landau (when Landau was filming Ed Wood, 1994).
Side top: art of three Eagles; side astronaut in front of Moonbase; bottom Koenig & Victor talking by microscope in Main Mission scene; side Eagle over Kaldorian ship on lunar surface.
Thermos: graphic printed on one face of the flask. Art in orange & yellow of Eagle, logo, over Moonbase.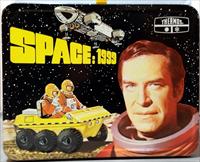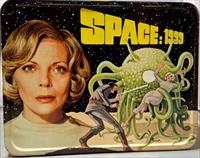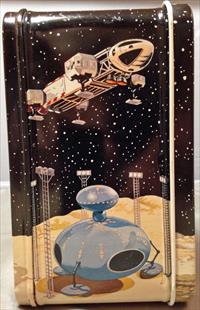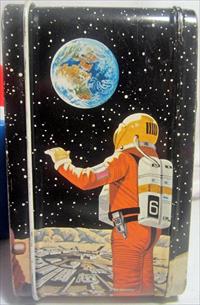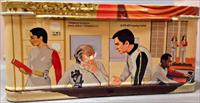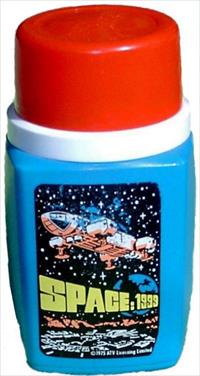 One of these lunch boxes is on display at the Smithsonian National Museum of American History in Washington, D.C., USA (presently on display in the Stars and Stripes Cafe). Images thanks to Gordon Moriguchi.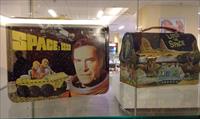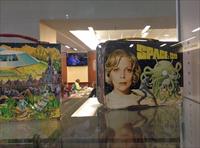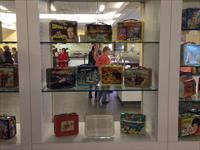 A box from Martin Landau's estate was sold in September 2019 for $200.
---
US 1976. $1.00 mail order.
Three colour embroidered "Alpha Moonbase" insignia shoulder patch, 3 inches by 4 inches (7 x 10 cm). The lettering and space background is black, while the original patch was in two shades of blue. In the original series, the larger circle on the left is the Moon, and the smaller one on the right is the Earth (although this isn't obvious, even in close up); the MPC patch features a larger Earth on the left (with distinctive North and South American continents). The studio versions included orbits around the Earth and Moon, which weren't present on the SFX versions; the MPC patch also omits the orbits. There were two versions, one of which had "ATV" over the Moon (on the right), the other without the letters.
Offer given on instruction sheets of MPC model kits (Eagle, Hawk, Moonbase Alpha, The Alien)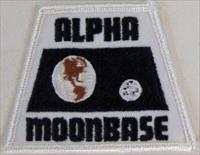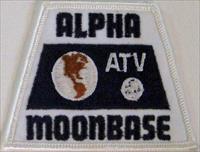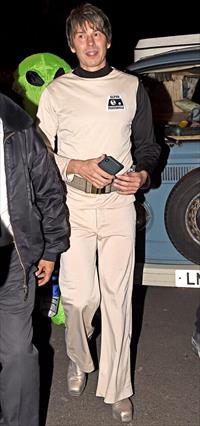 Brian Cox is professor of particle physics at the University of Manchester and a presenter of science documentaries for British television. He is pictured in a replica uniform arriving at Jonathan Ross's Halloween Ball, 31st October 2018. The Alpha Moonbase patch is an MPC patch.
---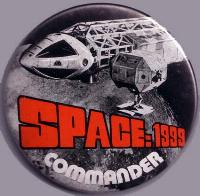 UK 1975; 25p each
6 designs, 5.5 cm diameter metal pin badges. Logo in red, yellow or blue, with bw photo of Rescue Eagle over Moon, (three slightly different photo designs, with larger or smaller Eagles), and job title. The company also produced greetings cards for Space: 1999.
Commander (red logo; image thanks to Pete Woodhead)
Main Mission (yellow logo)
A badge in the same series, again with logo, Eagle and Moon, was produced for the Selfridges department store exhibition of Space:1999 toys in December 1975. It was subtitled "at Selfridges"
---
UK 1986, 50p

4 cm diameter, with Alpha insignia over logo, black background (one of a series of 8 Gerry Anderson badges)
---
The Gerry Anderson Memorabilia Guide (Dennis Nicholson) p297 mentions a set of 6 badges from Micky Starr, USA.
---
Also of note are promotional items from the Space City exhibition in Blackpool, England, 1977-1980. The "Space City" logo was in the same lettering as the Space: 1999 logo.
UK 28p
A felt backed woven badge (6cm x 7cm) featuring "Space City" logo in silver, "Blackpool", under a white rescue Eagle and large yellow Moon. Available with either blue or red felt backing.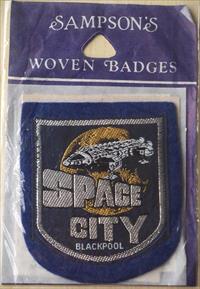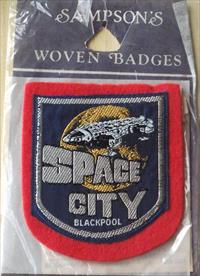 ---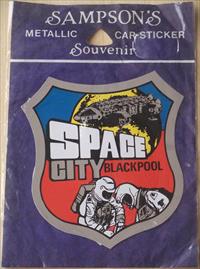 UK 25p
A shield-shaped self adhesive sticker, featuring "Space City" logo, Eagle and Moon (as woven badge) and two astronauts (pose from Ring Around The Moon).
---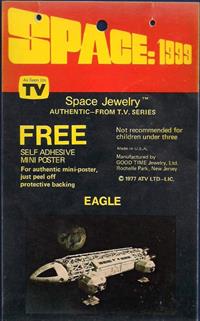 USA 1977
An Eagle necklace, made in the US by Good Time Jewelry Ltd of Rochelle Park, New Jersey. The backing card includes the series logo and the title "Space Jewelry", and proclaiming the "Free" self adhesive mini poster. The small model has the letters "ATV" on the underside of the passenger module. Thanks to Gordon Moriguchi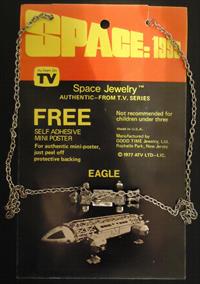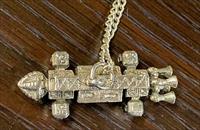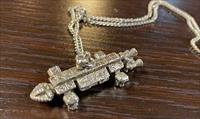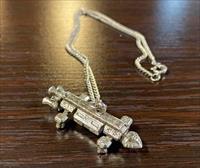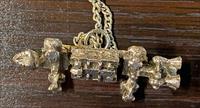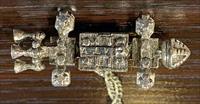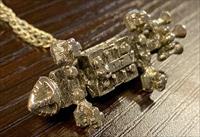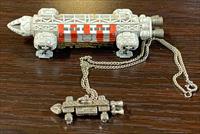 The jewellery Eagle with the 11cm long Konami Eagle
---
Japan + US?, 1976?-1979
Metal chain necklace with the Alpha Moonbase logo (a glitter sticker on each side of the pendant). Advertised with the 1977 Starlog Technical Notebook in the Japanese edition of Starlog issue 7 (May 1979). Probably originally created by Star Trek Galore of Longwood, Florida, USA (who sold other material in that advert), who operated from 1976 selling diverse (and unlicensed) Star Trek, Space 1999 and later Star Wars buttons, posters, cheap jewellery, bumper stickers and ID cards. They also produced a key-chain version of this necklace, pictured in The Gerry Anderson Memorabilia Guide by Dennis Nicholson (1994) p234.
Thanks to Jon Haag.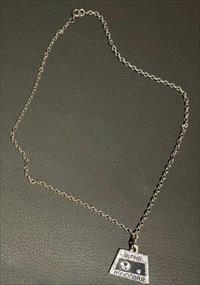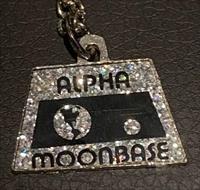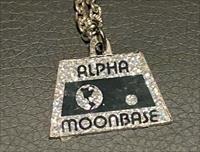 ---
UK 2021, £45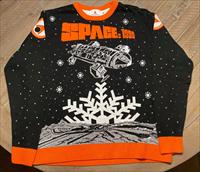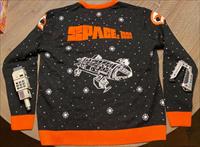 The website GerryAnderson.com (operated by Gerry's son, Jamie) produced a variety of T-shirts, hoodies, sweatshirts and other clothing with Space: 1999 themes. This acrylic Christmas jumper/sweater is among the more notable. It is a black and white design with orange logo and trim, featuring an Eagle, the moonbase and snowflakes. Thanks to Gordon Moriguchi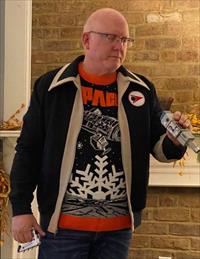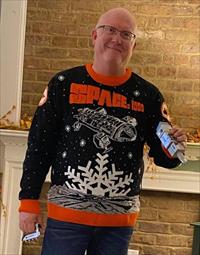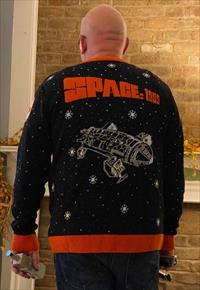 ---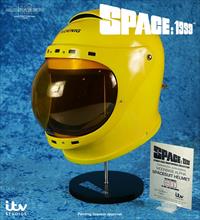 UK December 2022, £299.99
These are listed as "studio scale masterpiece collection".
These full sized replica helmets were announced on 23rd December 2021, for August 2022 release. Made of fibreglass with "lined interior" and hinged visor, and a display stand and metal plaque with edition number. Each was numbered, limited edition of 200 per name.
There is an obvious rim around the base, which is inaccurate. See original prop helmets and continuity guide.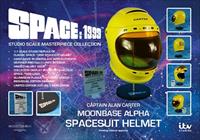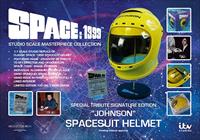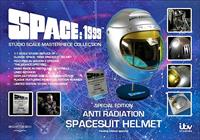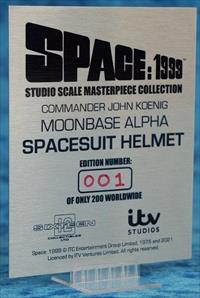 Koenig
Russell
Carter
Maya
On 4th February 2022 they added two new names:
On 28th July 2022 they added two more "Special Edition" helmets:
"Anti-radiation" (silver, from Seance Spectre- and also Brian The Brain but they don't mention that episode). Limited edition 50.
"Johnson". Limited edition 100, with Brian Johnson signature plaque
Pictures below thanks to Jon Haag and Gordon Moriguchi.
Packaging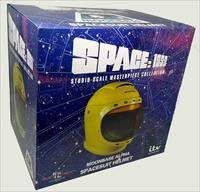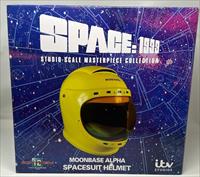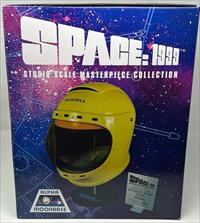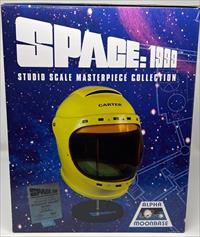 The boxes of all editions (including the silver helmet) are identical, with the character name wand edition number on a silver label on the top of the box. Whatever the contents, the front picture is of the Koenig helmet, while the sides show Russell and Carter (the sides also show the plaque).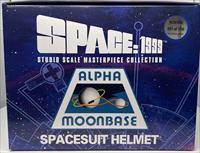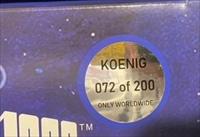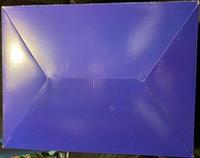 The back text reads:
The original Space 1999 studio spacesuit helmets were cast in fibreglass, moulded from a Bell Star Motorcycle helmet, a distinctive and commonly seen motorcycle helmet in the 1970s.

During the filming rigours of the show over the course of its two seasons, the helmets were subjected to plenty of wear and tear. This resulted in helmets often being re-painted or touched up. In many instances this led to the black moon crest ridge above the visor, along with with rectangular indents around the visor, being painted the same yellow as the rest of the helmet. In some instances, the 5 large black stripes on the rear of the helmet, which represented "vents", were also painted over in yellow.

In the Season Two episodes "Brian The Brain" and "The Seance Spectre" two helmets props were re-painted silver, the second with the label "Anti-Radiation" added above the visor. In both cases the visor remained tinted yellow.

Sixteen 12 collectibles is delighted to present its studio scale Moonbase Alpha spacesuit helmet range based on the original Season One version.

Just like the originals, each replica is hand crafted in fibreglass and has a fully lined interior with a hinged visor and authentic details and markings. A stunning display stand is included featuring the Space 1999 logo embossed in chrome silver.

Each Moonbase Alpha spacesuit helmet is a Limited Edition, and each version is accompanied by an Aluminium Edition Plaque featuring your unique Edition Number. Name designation is featured on box top.

So, grab your helmet, race to that launch pad and board your Eagle for Immediate Launch!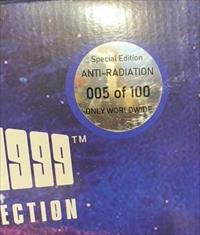 The Anti-Radiation helmet sticker. It incorrectly states "of 100" (the plaque and website state "of only 50").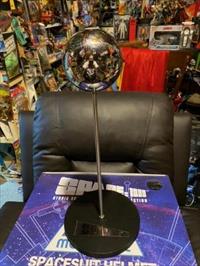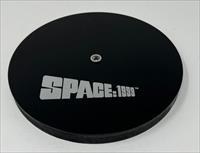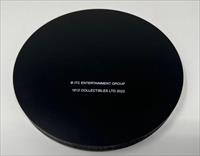 The helmet stand.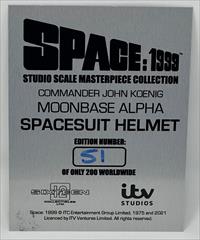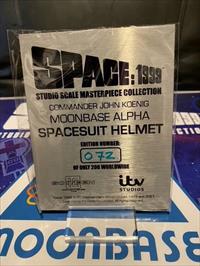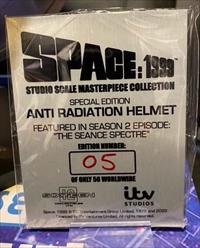 The plaques.
Koenig helmet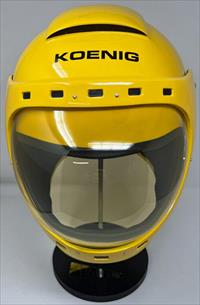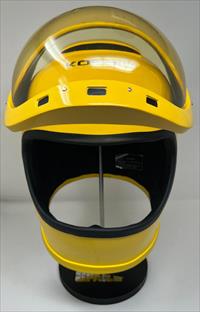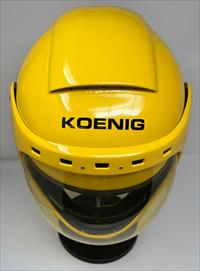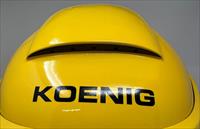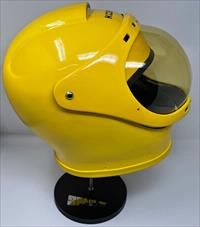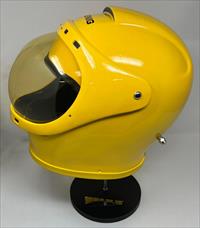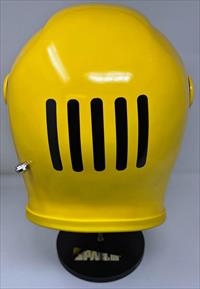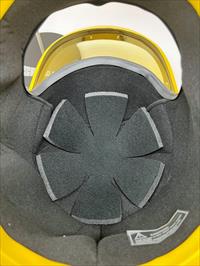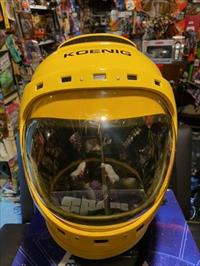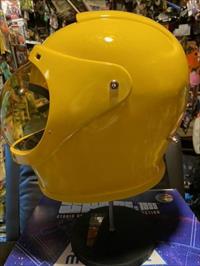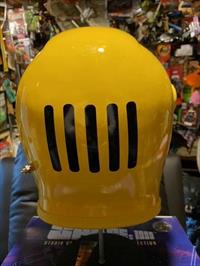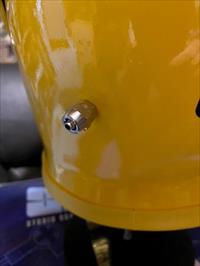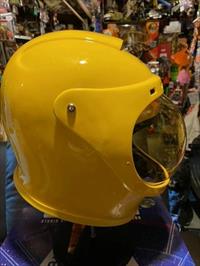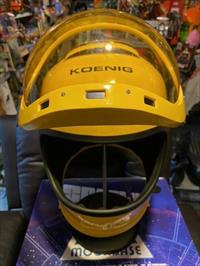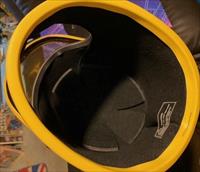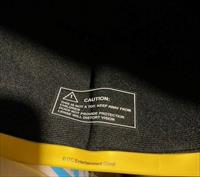 The internal warning: "This is not a toy. Keep away from children. Does not provide protection. Lense [sic] will distort vision."
Anti-Radiation helmet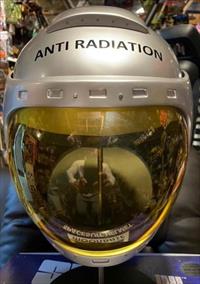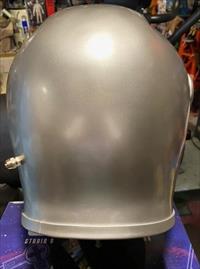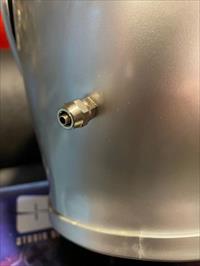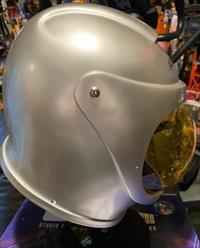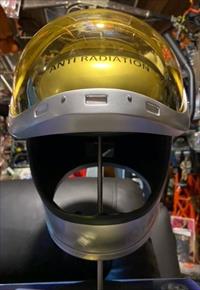 ---
UK, TBC Feb 2024, £69.99
Announced in August 2023, these are quarter scale versions of spacesuit helmet. Sixteen 12 released full-scale helmets end 2022; these smaller versions also have a neck=ring and a different display stand.
The helmets are 182mm tall with 95mm base. There are 7 name variations. The full sized helmets included Maya and Johnson; this quarter scale set includes a new name, Verdeschi.
Koenig
Carter
Russell
Bergman
Morrow
Verdeschi
Anti-radiation (silver)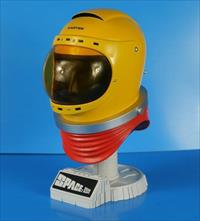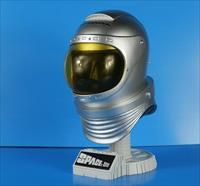 ---