---
US 1976-7
Fundimensions Plastic Construction Kit no 1-1902.
25.5 x 13 cm styrene lunar surface, 7.5 cm tall alien astronaut, and 13 cm long vehicle (large barrel wheels, clear plastic over cabin, & camera & radio dish on back; this car is actually a reissue of a George Barris 1970 design car 'Moonscope', reissued by AMT in 2002).
The car and alien figure are not based on anything seen in Space: 1999.
Box 25 x 19 x 7.5 cm. Art of car & alien, with large logo & small photos on right (Alpha, astronauts, Eagle). Also photos of Eagles on box side. "For ages 8 to adult"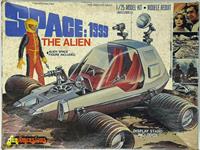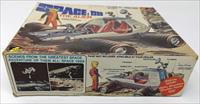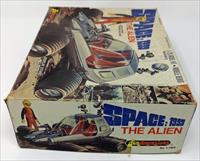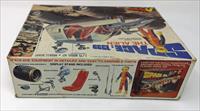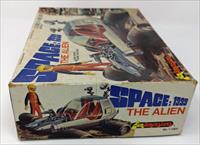 Instruction sheet 21.5 x 28 cm with 4 pages. Includes the offer for woven Alpha patch.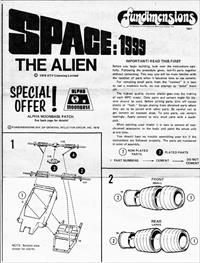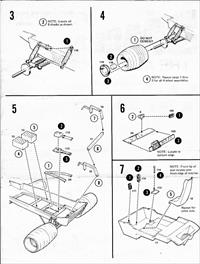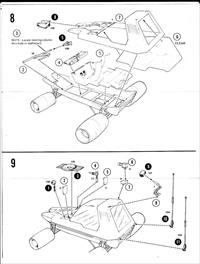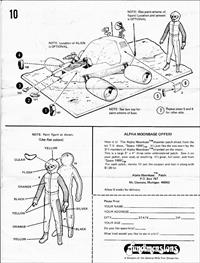 MPC also produced the Eagle Transporter, Hawk and Moonbase Alpha.
Ahi produced a friction toy from this design, also called "The Alien".
---
USA December 2013/ generally available January 2014; MPC795/12
Reissue of the MPC Alien kit, with a "MPC Signature Card" photo print of Maya. 100 of the prints, inserted randomly, are signed by Catherine Schell. The box design removes the photos of Landau and Bain, because of licensing issues, substituting Maya. Round2 also reissued the Eagle Transporter kit.
The reverse box art shows many photos of Maya, and the slogan "We're all aliens... 'til we get to know one another"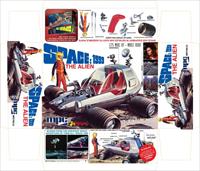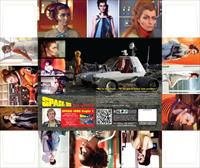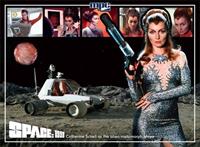 Pictures by Gordon Moriguchi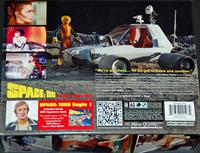 Card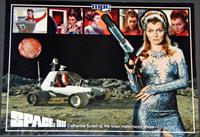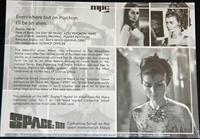 Box sides: top box and base box








Instructions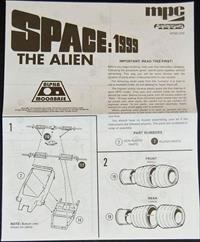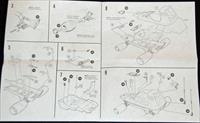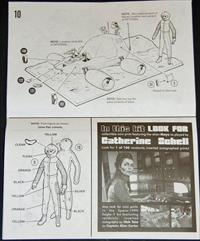 ---
USA 1977
"Friction Motorized Action!" Friction car toy with seated alien figure, based on MPC Alien car model kit. Photo card backing.
Pictures below thanks to David Penn.
See other Azrak-Hamway (ahi) toys.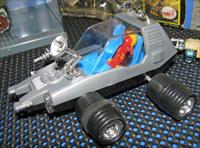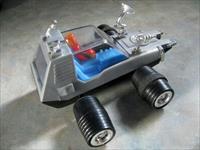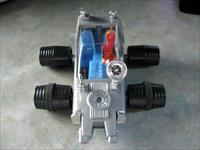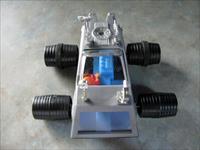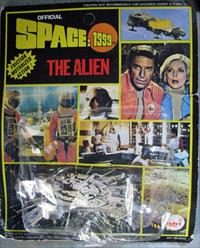 ---
Italy 1979. Art. 733
Friction car toy with seated alien figure, a reissue of the Ahi Alien friction toy. Photo card backing is identical to Ahi. Images thanks to Gordon Moriguchi
See other Azrak-Hamway (ahi) toys.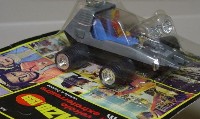 ---