---
Note: The moonbuggy prop was actually a real vehicle called the Amphicat, of which several non-Space 1999 related toys exist. One is the Irwin Toys Action Jackson Amphicat, in scale with Mego figures (and the Palitoy Space 1999 figures), apart from decals identical to the moonbuggy (a red version also exists- the original prop was red, painted yellow). Hasbro made an ATV (All Terrain Vehicle) for GI Joe, also in yellow but less accurate to the moonbuggy because it included a crane/ winch in the back. Gay Toys produced another Amphicat, with a detachable canopy, that was very accurate (with levers instead of steering wheel).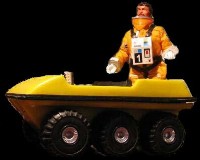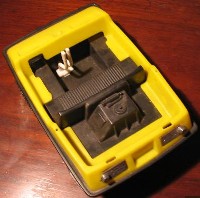 Gay Toys Amphicat with Classic Toys Paul Morrow. Thanks to Robert Ruiz
UK, USA, Canada 1976, 1977. 67cents.
"Friction Motorized Action! Moteur a friction !"
12.5 x 7.5 x 7.5 cm friction driven buggy. Two orange astronauts in seat, silver cylinder & box in back (all fixed to model). Reissued by Harbert in Italy as "Veicolo extraterrestre".
Blister pack, with colourful art card back and base in first issue (1976), and photo card backing in second issue (1977). The Canadian packaging also contains the text "Auto-Lune".
Ahi also produced a larger battery driven Moon Car. See other Azrak-Hamway (ahi) toys.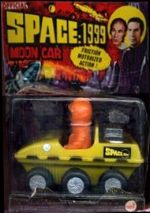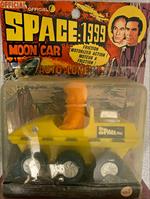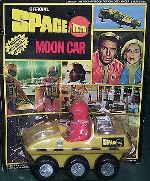 ---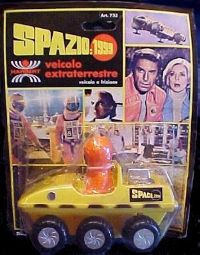 Italy 1979
"la scooter lunare". Reissue of the Ahi friction driven Moon Car.
Packaging identical to the second issue Ahi Moon Car.
See other Azrak-Hamway (ahi) toys.
---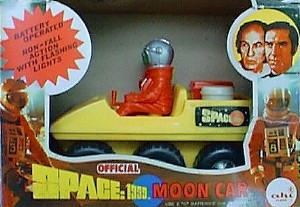 UK, USA 1976
Battery driven version of the friction driven buggy; otherwise they look identical.
Box, with photos of astronauts on the borders.
A moon car in mint box was sold on ebay for $1300 in 2014.
See other Azrak-Hamway (ahi) toys.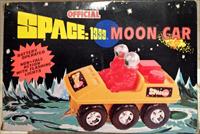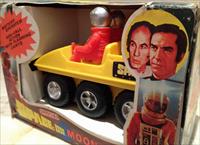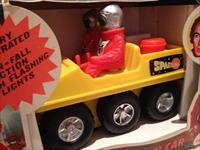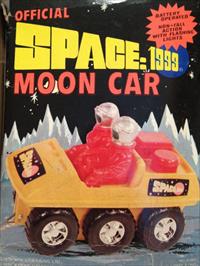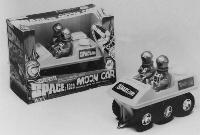 Image from Azrak Hamway catalogue showing early box design
---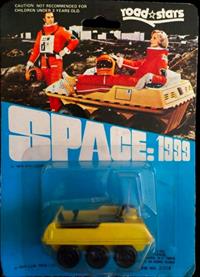 UK, USA 1976. No. 2014. US price around $1.29
Small 4 cm yellow die cast metal model, with black wheels & interior. Gray antenna. An approximate replica (the front is too short).
Sold in 10 x 18 cm bubble pack: top of card is publicity photo of Koenig & Helena posing without helmets with moonbuggy on lunar surface; centre is series logo; bottom is blue background.
One of a series of 3 models (others are Zantor's ship and "Hawk Transporter"). Also sold in a boxed set of all 3 vehicles (No 341-20). LJN also produced Comlock Communicators.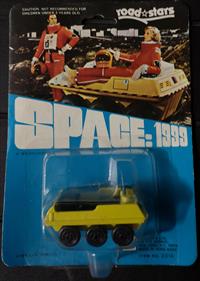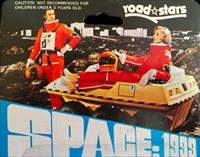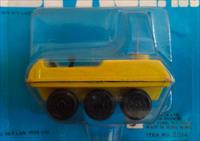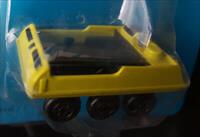 ---

USA 1976. Item No. 1999. No 341-20
One of the boxes illustrated has a sticker with replacement product number: 341-2004
Boxed set of the 3 die cast models (also available separately). The box cover names the 3 models (only the "Hawk" was named on the individual packaging, and it was actually an Eagle).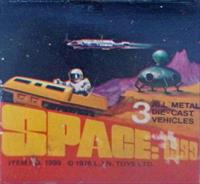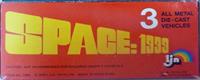 The box is branded "LJN", not with "Road*Stars" brand. The text "Barrington" on the front may be a sub-brand.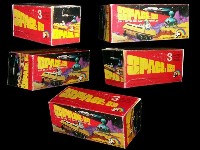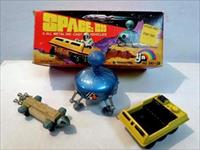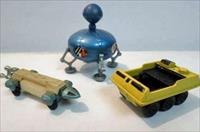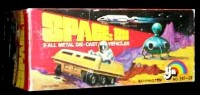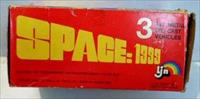 ---
? 1993. NTK 07. Sold in UK at £12.99.
1/48 resin kit, with astronaut. Components include 5.5 cm chassis, wheels, astronaut torso plus separate legs and arms, and the control stick. Small 7.5 x 9.5cm instruction sheet. Sold loose in small plastic bag.
---
2008. Sold on internet (ebay)
14cm diecast moonbuggies. Only 10 were produced. Pictures thanks to Keith Feucht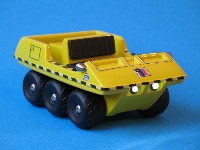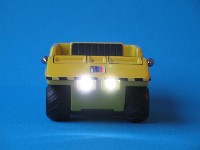 ---
UK, 2014, £5
Crooked Dice makes games and war-gaming miniatures based on 1960s-1970s cult TV, including Dr Who, UFO and Space: 1999. This is an unlicensed range called Albion Rocket Corporation (ARC) featuring a range of metal figures (Astronauts and Moonbase Crew, in year 2 costumes), sculpted by Ian Mountain. The figure is metal, the buggy resin.
4cm x 3cm on an 8cm diameter base.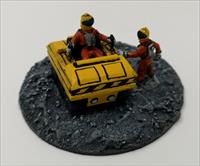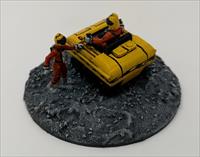 ---
2016, UK £70
Mastered by Robert Burns, 17.5cm x 13.3cm 1:12 polyurethane kit.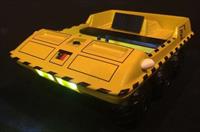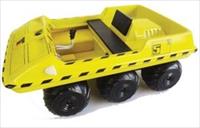 ---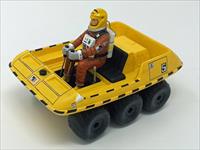 December 2018/ January 2019, UK £195. Limited edition of 200.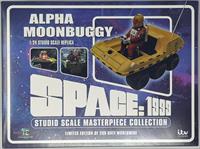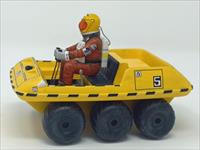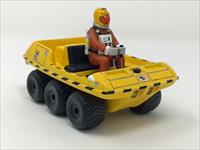 Sixteen 12 also produced a small buggy with their 2006 Eagle Gift Set and later die-cast releases, a larger buggy as part of their 2021 Alan Carter figure set, and a tiny buggy with each of their 2022 Micro-die-cast Eagles.
---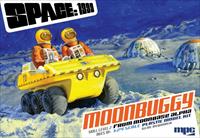 US, MPC984, January 2023 $29.99
Round 2 have produced many Space: 1999 kits. At 3.25 inches / 8.2 cm long, this is a reworked version of the larger buggy that featured in the Nuclear Waste Disposal Area 2 diorama set (MPC 860/06, 2017). It includes additional engine details, and expanded decals, and can also be made as a original Amphicat.