---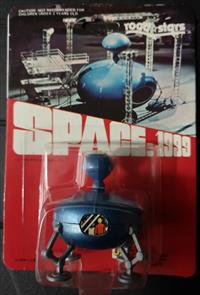 UK, USA 1976. No. 2015
Not named as such. Small 4 cm blue die cast metal model. Head and the 4 (not 3) plastic grey legs are too big. The oval faces on the side have stickers added to simulate windows, with cartoon figures on them.
Sold in 10 x 18 cm bubble pack: top of card is photo of ship in hanger; centre is series logo; bottom is a red background.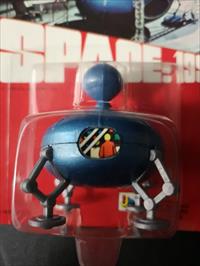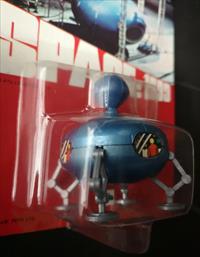 One of a series of 3 models (others are moonbuggy and "Hawk Transporter"). Also sold in a boxed set of all 3 vehicles (No 341-20)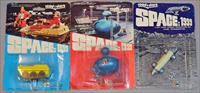 ---
UK 2000-2001. Each £6.25

Individually hand painted miniatures produced by the Fanderson fan club. Each is 2.75 inches/ 7cm long. There were 60 of each model made. In 2005 a moonbuggy was made for the Countdown To Disaster convention.

Dorcon spaceship- 2000.
Arra's spaceship - 2001
Psychon spaceship - 2001
---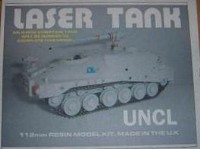 UK, 2006, £25
Laser tank from The Infernal Machine. 112mm long (1:76th scale). Includes Airfix Chieftain tank kit for the chassis.
Other laser tank garage kits include Scale Model Technologies and Small Art Works.
---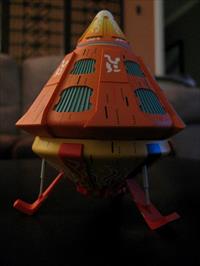 US, 2000, $75
Painted replica of the SS Emporium from the episode The Taybor. It stands 4.5 "/ 11.5 cm tall on the base. It is resin or plastic with plastic detailing, on a stained wood base. Like the original model, the landing leg bays are painted black. It was sold at the Main Mission 2000 convention in New York, but the manufacturer is not known. Pictures thanks to David Penn.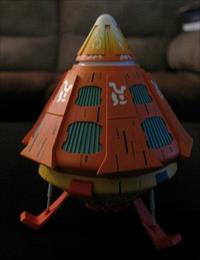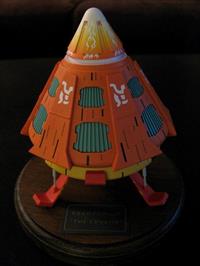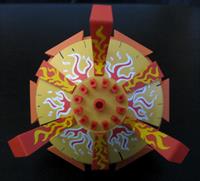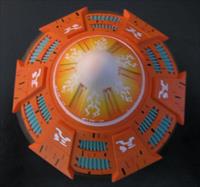 ---