Japan 1987-89
"One day copyright at 'Wonder Festivals'" 1/144 scale (18.5cm/ 7 inches). Resin except for vinyl nozzles and plastic fuel tanks. Two different packages. Mentioned Century 21 #10 p33, pictured in Annual File 4 of the Japanese Laserdisc volume 4 (1993).
---
Japan
1/144 scale resin, vinyl and plastic construction kit based on Metamorph Eagle (booster pod, spine boosters and the New Adam New Eve side boosters). See The Gerry Anderson Memorabilia Guide (Dennis Nicholson) p218, Sci Fi and Fantasy Models No 39 p44.
Teru Yamada also produced a Moonbase Alpha, and figures of an astronaut and Zantor.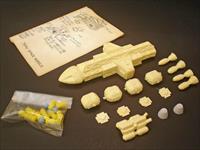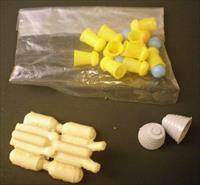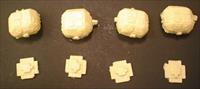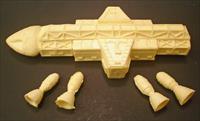 ---
UK 1990 £5.95
"Supermarionation Mini-Metals" series, number S.M.M.13.
7cm long accurate model of Eagle, cast in white metal with etched brass framwork. Sold unassembled (legs, engines and framework must be added to the main body) and unpainted.
Sold in a bubble pack, with red and black card art (series logo and rescue Eagle over lunar surface, art by Graham Bleathman). The Warp Launch Pad and Hangar Set were built to the same scale.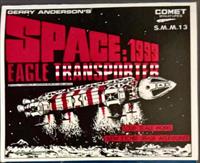 ---
Modelled by Andy Grimshaw and Bob Smith (the A and B of AB Models). Two versions of this kit were produced. Both were highly regarded for accuracy, but less so for the quality of casting.
22 inch Eagle
UK August/September 1998. £275.00 from Comet Minatures.
22 inch long model, in resin / GRP with turned aluminium engine bells. Accurate decals and detailed instruction sheet. Includes a copy of Roberto Baldassari's ultimate Eagle blueprints and Phil Rae's blueprint reprinted from SIG magazine. Limited edition of 50 copies, later extended to 100 (first batch of 25 released first week of August, second batch at the end of October 1998), and then 200 (in 1999).
The kit was reviewed in the magazine Sci Fi and Fantasy Models #33 (October 1998) p8-10 by Simon Roykirk.
44 inch Eagle
UK November 1999. £1250.00 from Comet Minatures.
44 inch long model, in resin / GRP with turned aluminium engine bells and brass framework. "Accurate" decals and detailed instruction sheet (the parts breakdown is exactly the same as the 22 inch version). The Eagle nose cone is a cast of the third Eagle model, and the side pods and passenger pod cast from David Sisson's replica. Only 25 copies were made. See pictures of completed model, made by Jon Wilson.
---
UK 2000 £49.50; 2003 £65
12" long GRP and white metal kit, with detachable pod and decals. Warp had originally planned to produce a accurising kit for the MPC Eagle but decided to produce a completely new kit instead. It is the same scale as the MPC kit and attachments and decals produced by Tangents and Small Art Works may be used with it. Warp plan also released the following attachments as resin kits:
"Laboratory" Booster pod (released about Sept 2000, £23, 2003 £27.50)
"Freighter" Winch pod (advertised Dec 2000, finally released March 2003, £30)
Side and spine boosters. Reviewed in Sci-fi & Fantasy Modeller #19, October 2010
Nuclear waste pod with 6 waste cans (2012, £34.95)
"Manipulator Arm" as seen in The Exiles.
This model was used to master the die-cast Product Enterprise Eagle in 2004.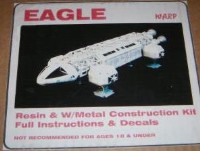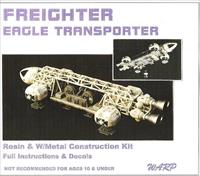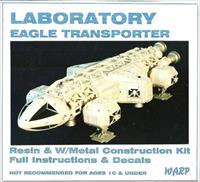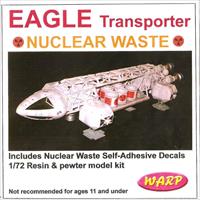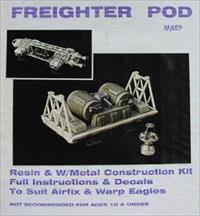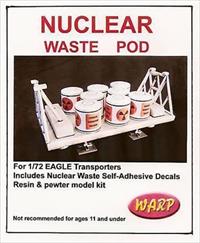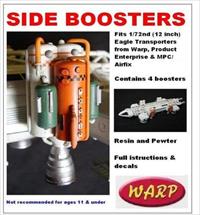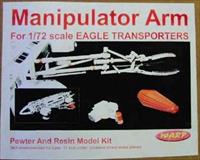 Warp also produced the Moonbase Alpha launch pad and Eagle lift
---
UK Due October 1998; Much delayed, no release data available
1:144 scale Eagle modelled by Tereu Yamada in Japan. Includes alternative pods and booster unit. The master model, though highly accurate, was not made in a fashion that allowed it to be taken apart for moulding, and it had to be returned to Japan for reworking. Information from Chris Potter
---
Canada 1999, 2000, 2001 (closed for a few months in 1999). Run by Colin Omilusik who produced the patterns for most of the resin kits.

Resin recast of the Airfix/MPC Hawk

SMT also had plans for a large (30") Hawk in Aug/Sept 1999, but it was never released.

US$60 + $7 postage, released March 1999.
1:1 resin stun gun kit.
Out 1999. Deleted 2000. US$30 + postage.

Infernal Machine Laser Tank (the Eagle-nosed one)
Starship Modeler preview
Starship Modeler review

Out March 1999. Price $20, then $30. Also available with booster pod and spine booster pack for $60 + $10 postage.

Infernal Machine Laser Tank 2 (flat top)

Out December 2001. Price $40. Pattern by Michael Dentzer.
Booster pod (as seen in The Metamorph)
Out March 1999. Deleted 2000, back in 2001. $15. Also available with laser tank and spine booster pack for $60 + $10 postage.
Spine booster pack (as seen in The Metamorph).
Out March 1999. $15. Also available with booster pod and laser tank for $60 + $10 postage.
Recast parts of Ertl/MPC/Airfix Eagle:
nose cone, engine bells, pod floor, standard pod
Out 2000. $5-$10 each.
---
Canada 1999-2000

Model maker Jim Small's kits modify the MPC/Airfix/Ertl Eagle to match the varied configurations with a high degree of accuracy.
Related kits included here include a hangar set, moonbuggy and launch pad which can make near-studio quality dioramas with the Eagles.
Moonbase Alpha
Accurised version of MPC/Ertl kit. $150
Lab pod (booster pod)
Alternative Eagle pod for MPC/Ertl kit - $35; $55 with spine booster set (Metamorph configuration)
Starship modeler review
Cargo pod (waste pallet/winch pod)
Alternative Eagle pod for MPC/Ertl kit. - $35
Passenger pod (accurate version)
(2000) $35
Eagle hanger diorama
In scale with the Ertl Eagle- from $3 per component
Eagle side boosters
(from New Adam New Eve, in scale with the Ertl Eagle) - $29
Starship modeler review
Eagle top boosters
(from Metamorph, in scale with the Ertl Eagle) - $25
Starship modeler review
Eagle Authentication Kit
$35
Starship modeler review
Moonbuggy
Created with a mold of an original 1/24 studio model. $80
Launch Pad
(2000) 26 inch diameter. $175
Kaldorian Spaceship
(2000) 6 inch diameter. $35
Infernal Machine Laser Tanks (set of 3)
(2005) 4.5 inches long each.
---
USA 1999-2000. $8
8" x 3" colour sheet of decals for the MPC/Airfix/Ertl Eagle kit (enough -with care- to cover two Eagles).
---
USA 2001. $300, later $225
59cm/ 23" long Eagle Transporter in 70 resin pieces plus metal screws and tubes and ALPS decals. Although the kit quality is better than the AB Models 22inch Eagle, the accuracy was poorer. Construction and painting requires significant model making experience (the instructions are generally regarded as inadequate, although these have been expanded in later editions). The model has been revised several times; initial versions had leg pods similar to the first 44inch studio model, later ones were based on the second 44inch studio model. The model is the basis of the Product Enterprise 23inch Eagle.
A second model, Eagle w/Lab Pod, is a version of the Eagle with a lab pod (as seen in The Metamorph); this first came out in 2003. In 2006 they produced a Hawk to the same scale.
Eagle with lab pod version, thanks to Gordon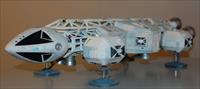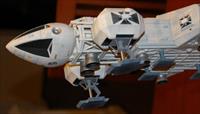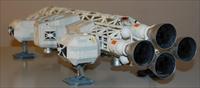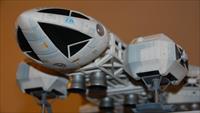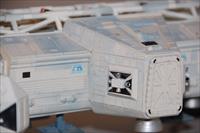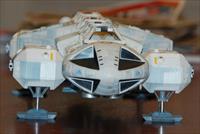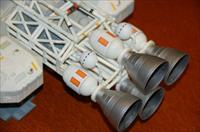 ---
USA

A range of small resin models by Chris Larson (website).

Into Infinity Altares (10" long). 2003. $50
Immunity Syndrome glider (4.5" long, in scale with AMT/Ertl Eagle). 2001. $15
Brian The Brain Swift (6" long). 2003. $35
Bringers Of Wonder pilot ship (3.5"). 2003. $15
Collision Course Arra Shuttle (3.5", 3 pieces). 2004. $10
Moonbuggy 2004 (2 inches long, 8 pieces). $10
Voyager's Return Sidon Ship (3", 1 piece). 2004. $10
The Metamorph Psychon Ship (2.5", 1 piece). 2004. $10
The Taybor Taybor's Gun (5 inches, 7 pieces). 2005. $20
The Dorcons Imperial Ship (3 inches, 1 piece). 2004. $10
The Dorcons Probe Ship (3 inches, 1 piece). 2004. $10
---
The Ultra Probe command module has been a popular product for various garage kit manufacturers, possibly because they could recast an existing replica. Usually these are 1/48, the same as the studio original large Ultra Probe. The module is about 5 inches in length, although following the more detailed 1/24 command module seen in close-up. Garage kit manufacturers include Erasmus (2001, 1/48 scale, $99) and Monsters In Motion (2004) in two versions, 1/48 (8 inches, $99), and 1/24 (16 inches, same as the studio original, $999). Built-up versions are also sold on ebay. Quality is not highly regarded.
Also see Fanderson alien ship models and UNCL laser tank
---
Both models are about 16 inches (41cm) long, hand-carved in mahogony, produced by "Scalemodel Company" in the Philippines and sold on the online auction site Ebay in 2008 (for around US$180 each). Although some subjects in their catalogue (science fiction and real aircraft) seem accurate, the Eagle and Ultra Probe are weirdly distorted and probably the least accurate models ever made.
For the Eagle, the command module is flattened and the black window recesses are far too small, there are no feet (or any detail on the vaguely shaped leg pods), the top spine framework is too big, and there are only three rear rockets (with no cylinders).
For the Ultra Probe, the neck behind the command module is far too long, the front tank cylinders behind are far too short, and the framework spine has obvious distortion.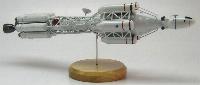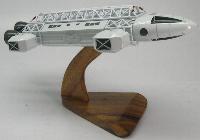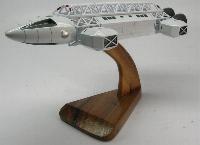 By early 2009, the Eagle model improved in accuracy, with feet, fairly detailed leg pods and rear engines, but a weirdly spherical command module. A Meta Probe was added and a Hawk. The Meta Probe was bizarrely shortened, but the Hawk looked pretty accurate from the (quite poor) photograph used on auctions.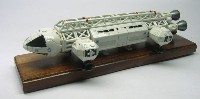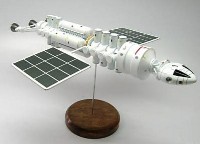 ---
Century Castings