---
44 inch Eagle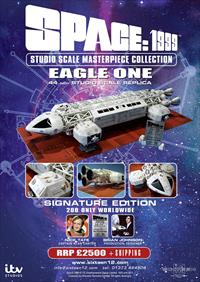 The 44inch Eagle project was announced by Iconic Replicas in July 2008. At the time model builders Andrew Grimshaw and Bob Smith were attached to the project (by September they had dropped out). The projected price would be about £1000, with a run of just 100.
By June 2009, Sixteen 12 were promising to have photos of the early prototype in August, and had expanded the run with 100 standard Eagles and 50 rescue Eagles. Estimated price was £1200.
No photos emerged, but in October 2009 Sixteen 12 announced they were in discussion with Martin Bower (model builder on the original series) to create the tooling pattern. Estimated delivery date was May 2010.
In March 2010 Sixteen 12 announced that construction had begun on the tooling pattern in-house. Estimated delivery date was February 2011. Almost all the 100 Eagles and 50 Medical Eagles had been pre-ordered.
In July 2010 the project was cancelled due to lack of pre-orders.
In March 2016, Sixteen 12 reappeared and announced new details for a 44 inch Eagle "Studio Scale Masterpiece Collection". Mike Reccia (publisher of Sci Fi & Fantasy Modeller) was attached to the project as a "adviser".
Four variations were promised, each with a limited edition of 200. This seems ambitious for the models other than the standard Transporter (the 23 inch Eagle variations were also limited to 200, and while their resale value is high, they were originally slow to sell even at a fraction of the 44 inch Eagle prices).
| | | |
| --- | --- | --- |
| 44 inch Eagle Transporter | January 2017 | £2300 |
| 44 inch Laboratory Eagle | April 2017 | £2500 |
| 44 inch Rescue Eagle | August 2017 | £2300 |
| 44 inch Winch Eagle | November 2017 | £2300 |
The models are described as licensed by ITV. Oddly, ITV had previously licensed Rogue Studios to produce a 44 inch Eagle Transporter replica, although that license ended at the end of 2016. The Sixteen 12 version is considerably cheaper than the Rogue Studios model ($3300 equivalent against $8500), although the price changed (the models were produced in China, and exchange rates were highly volatile). The quality of Chinese made replicas is unproven, and Iconic Replicas/Sixteen 12 have a poor record, particularly with the 23 inch versions of these models. Rogue's Eagle is indisputably highly accurate.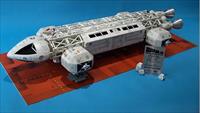 In January 2017, Sixteen 12 launched a website with more concrete information. Prices increased by £200; dates were been pushed back a year. The models would be accompanied by hand-signed certificates.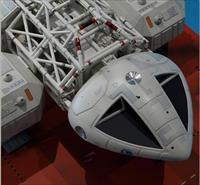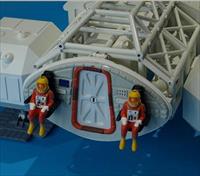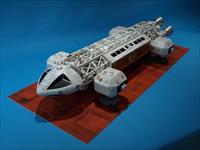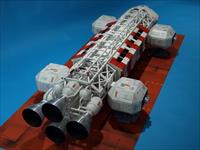 The Eagles have detachable pods, "fully working landing gear suspension", hand turned aluminium engine bells and attitude thrusters. The first photos in January 2017 were unpainted test models; photos of painted models appeared in June 2017. Each model has a printed red launch pad surface, 19" x 45"/ 48cm x 114cm.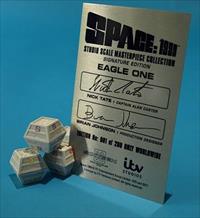 The certificate plaques are hand-signed by Brian Johnson, Nick Tate, Prentis Hancock, Zienia Merton and Catherine Schell. The plague can be mounted in a stand formed of four hexagonal Alpha boxes, roughly in scale with the Eagle.
A new original design by Brian Johnson was proposed, but (as of August 2017) there is nothing to show what it looks like.
On 18 August 2017, they announced the model would have a steel spine. Each model would have a memory card of photographs showing construction. There would also be a certificate from the manufacturer, Drumwell Limited of Hong Kong, China.
On 24 August 2017, three new 1:24 scale models were announced (in scale with the 44" Eagle): the Immunity Syndrome glider, the Eagle-nosed laser tank from Infernal Machine, and a hangar diorama. Release dates were "3rd and 4th quarters of 2018".
On 1 September 2017, the 1:24 scale moonbuggy was added
On 15 December 2017, new details were added. Two separate editions, Freighter and Cargo, were combined into one, and an additional accessory (silo cap) added. The VIP Eagle dropped from 100 editions to just 20, and was listed as sold out. The spine boosters, previously available separately, was added to the Lab Eagle. New details and a date were added for the moonbuggy. All dates were moved (until this announcement, the first was still listed as November 2017; they were pushed back to May 2018). A "ultra deluxe" display was added.
On 26 January 2018, prices for the lab and freighter Eagle, and the moonbuggy, were announced.
On 18 April 2018, they confirmed the release date of the first Eagle and moonbuggy as August 2018, and announced a new 1:24 scale Ultra Probe command module.
On 21 May 2018, the "Brian Johnson Eagle Beak Signature Display" was announced.
On 4 July 2018, Eagle One was announced as sold out.
On 4 October 2018, Eagle One was pushed back to end January 2019.
On 4 November 2018, Hawk pictures were released, with price (£1999 + shipping).
On 23 May 2019, it was announced that models were being dispatched, although models were available a little earlier in the US. Models were still being shipped in June 2019.
In 2020, a world-wide pandemic stopped production of the remaining models (Laboratory and Freighter); production of both was pushed back into 2021.
In April 2022, the Lab Eagle was said to be shipping (customers eventually received them in July), and the Freighter was cancelled. The Hawk and Ultra Probe CM were re-announced (originally 2018), this time for 2023.
"Eagle One" 44 inch Eagle Transporter
Aluminium display plaque signed by Brian Johnson and Nick Tate
More details

Limited edition of 200.
May 2019
(was November 2017, May 2018, August 2018, November 2018, January 2019)
£2500
44 inch Rescue Eagle
Aluminium display plaque signed by Nick Tate

Limited edition of 100 (by Dec 2017, only 2 left).
May 2019
(was November 2017, May 2018, November 2018)
£2500
44 inch VIP Eagle
Originally no display plaque signature; Brian Johnson added.

Limited edition of 20 (was 100).
As of Dec 2017, sold out.
May 2019
(was November 2017, May 2018, November 2018)
£2500
44 inch Laboratory Eagle
Aluminium display plaque signed by Catherine Schell
From Dec 2017, added spine boosters
More details
Limited edition of 50 (was 100).
July 2022
(was December 2017, November 2018, May 2019, August 2020, 2021, June 2022)
£2950
£2700 until May 2018
(originally £2850)
Moonbuggy
Includes astronaut
In Dec 2017, included 2 Last Sunset oxygen capsules- by Feb 2018, capsules were no longer listed
Also listed "lunar display", which was excluded.
More details
Limited edition of 200.
December 2018, shipped January 2019
(was August, October, September 2018)
£195
£175 until May 2018
Mark IX Hawk
31 inch model. Paint scheme as in episode (orange markings, white windows). Laser etched perspex display stand. Signature by Brian Johnson.
More
Limited edition of 100.
Announced November 2018. Re-announced April 2022 for 2023 release.
£1999
Ultra Probe Command Module
Announced April 2018, then April 2022. Aluminium engine bells.
Limited edition of 100.
2023. Originally February 2019.
£1495
(before July: £1750)
Brian Johnson Eagle Beak Signature Display
Announced May 2018. Unpainted half of Eagle command module in a "bespoke glass fronted display case, wall hanging or free standing", 260mm x 260mm x 85mm
.
Limited edition of 100.
July 2018
£249
The following were cancelled
44 inch Cargo Eagle (pallet)
Included 6 nuclear waste containers. Aluminium display plaque signed by Zienia Merton
Limited edition of 50.
Cancelled December 2017
(was February 2018)
£2500
Spine Booster Rocket Set
Replica of Metamorph attachment- can be attached to any of the Eagles.
Limited edition of 200.
Cancelled December 2017
(included in lab Eagle)
TBC
Ultra Deluxe Display
Launch platform base, for the printed display included with each Eagle. This doesn't represent anything seen in the series.
Limited edition of 300.
November 2018
TBC
Heavy Weapon Combat Eagle
New Brian Johnson design, with detachable armoured gunner pod. Deluxe print of Johnson designs.
Limited edition of 50.
Announced 2017, no release date
TBC
Re-entry glider
From Immunity Syndrome. With detachable landing gear, cradle mounting for 44" Eagle.
Limited edition of 100.
Announced August 2017 for 2018 release
TBC
Laser Tank
The "Eagle" nose version, from Infernal Machine. 18 inches /46cm, with working wheels, movable laser gun and radio dish.
Limited edition of 100.
Announced August 2017 for 2018 release
TBC
Hangar Diorama
20" x 45" /51cm x 114cm base with resin cast hangar wall, steps to Eagle door, Carter figure and technician figures.
Limited edition of 200.
Announced August 2017 for 2018 release
TBC
44 inch Freighter Eagle (winch)
Aluminium display plaque signed by Prentis Hancock and Zienia Merton (Merton added Dec 2017)
From Dec 2017, includes cargo pallet, 6 nuclear waste containers, plus (new) nuclear waste silo cap.
Limited edition of 50.
Cancelled 2022
(was January 2018, November 2018, May 2019, March 2021)
£2700
£2500 until May 2018
(originally £2500)
---
Copyright Martin Willey. Pictures thanks to Alice E, Jorge Carmo, EagleMagnet and Robert Ruiz