---
KitBrix Construction Sets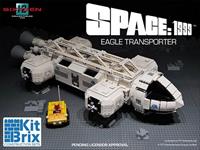 UK March 2022 TBC
Sixteen 12 announced their KitBrix construction sets on 30th September 2022. The first release, the Eagle Transporter, was for shipping in March 2022.
There have been numerous Lego Eagles (one is here), including several good designs submitted to Lego's Ideas website proposing future Lego sets.
They claim "KITBRIX is compatible with ALL leading brand construction systems", which means they are compatible with brand leader Lego. Lego have famously sued Tyco, Mega Bloks, Best-Lock and numerous Chinese clone companies, but the underlying patents expired in 1978 so "compatible" bricks are generally accepted. What probably isn't acceptable are the mini-figures. Lego has a 2000 trademark which it aggressively protects.
The "KitBrix" name is used by a UK based sports bag company.
Eagle Transporter
The Eagle is 25 inches (64cm) in length, with over 3000 bricks. The Eagle passenger module is detachable, and there are interiors (with vinyl decals) for the passenger and command module. There is also a moonbuggy.
It includes two mini-figures, Koenig and Alan Carter.
Price is £199.99
Also announced was a Hawk and Main Mission, but no dates or further details.
---
Copyright Martin Willey.