---
Electronic Launch Pad and Micro-die-cast Eagles
UK 2020 TBC
The electronic launch pad has working lights around the pad, and moving docking tube, and a range of sound samples including dialogue and effects.
In 2009-10, Sixteen 12 had promised a 24 inch/61cm diameter launch pad, in scale with the 12 inch Eagles. It was never released, although on 3rd April 2020 they announced work on a new pre-production model.
This is a range of 5.5 inch die-cast Eagles (half the size of the regular Die Cast Eagles (2018)). The pods are detachable, as are accessories (moonbuggies, nuclear waste cans, spine booster). Each is a limited edition of 2000.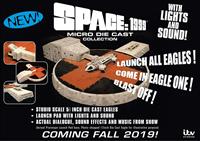 First announced in December 2018, in this photo-shopped advert, for Autumn 2019 release.

Sixteen 12 2020 catalogue shows more images. The red stripes of the Rescue Eagle are much too thin.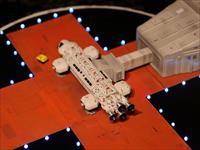 Packaging for individual Eagles is 20cm x 20cm x 6cm with price £39.99.
Eagle Launch Pad with Eagle Transporter. Packaging is 44cm x 44cm x 11cm. Price is £149.99.
Rescue Eagle with moonbuggy.
VIP Eagle with moonbuggy.
Laboratory Eagle with booster rockets (spine boosters) and moonbuggy.
Eagle Freighter with moonbuggy. The winch drums are separate from the pallet pod, and there are 6 waste canisters.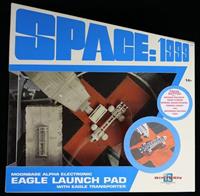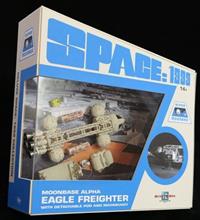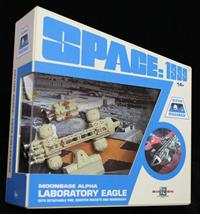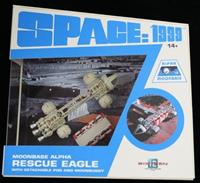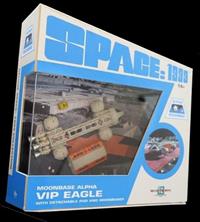 ---
Copyright Martin Willey.