---
Electronic Launch Pad and Micro-die-cast Eagles
UK September 2022.
£39.99 per Eagle (4 different); £149.99 for launch pad
Eagle Launch Pad with Eagle Transporter.
Rescue Eagle with moonbuggy.
VIP Eagle with moonbuggy.
Laboratory Eagle with booster rockets (spine boosters) and moonbuggy.
Eagle Freighter with moonbuggy. The winch drums are separate from the pallet pod, and there are 6 waste canisters.
The electronic launch pad has working lights around the pad, and moving docking tube, and a range of sound samples including dialogue and effects.
In 2009-10, Sixteen 12 had promised a 24 inch/61cm diameter launch pad, in scale with the 12 inch Eagles. It was never released, although on 3rd April 2020 they announced work on a new pre-production model.
Original Packaging (unused)
The original proposed packaging was similar to the trapezium design used for 2021 Comlock and stun gun.
Packaging for individual Eagles was 20cm x 20cm x 6cm. Packaging for the launch pad was 44cm x 44cm x 11cm.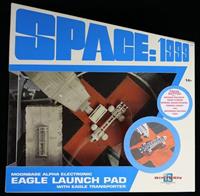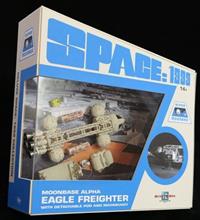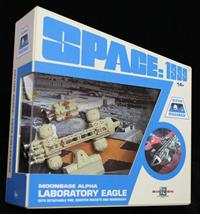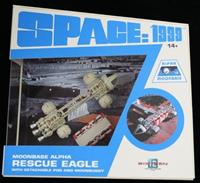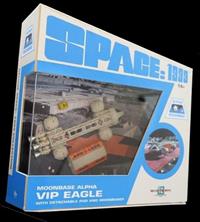 Packaging
Only the launch pad is in a box (50cm x 40cm x 10cm).
The 4 individual Eagles are in clam-shell plastic-packs; the plastic shells are rectangular (16.5cm x 25cm), but the card backs (15cm x 23cm/20cm) have a sloped top following the slope of the Space: 1999 logo.
Electronic Alpha Launch Pad, with lights and sound
Item number ALP-1


Original sound effect
Original dialogue
Electronic docking tube
Illuminated landing lights
Eagle One Transporter
Alpha Moonbuggy

Rescue Eagle
Item number ALP-2
Laboratory Eagle
Item number ALP-3
Eagle Freighter
Item number ALP-4
V.I.P. Eagle
Item number ALP-5
Models: Launch Pad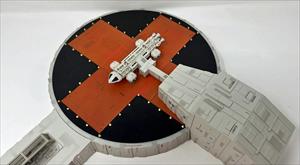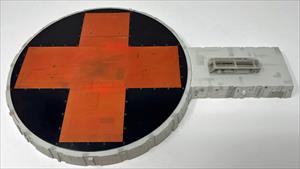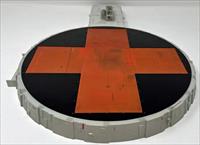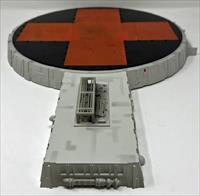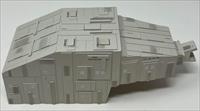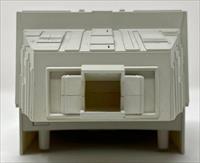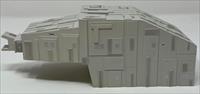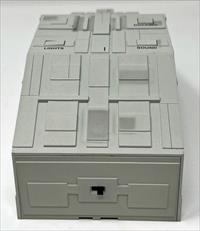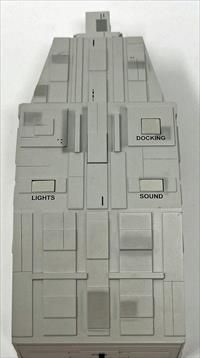 Models: Eagles
These are half-sized versions of their 30cm/ 12 inch die-cast Eagles, complete with aluminium bells, paintwork (non-screen accurate spine stripes), detachable pods and even the moonbuggy accessory.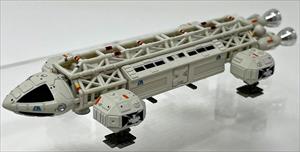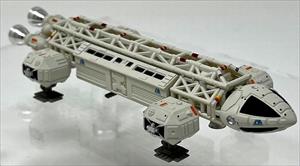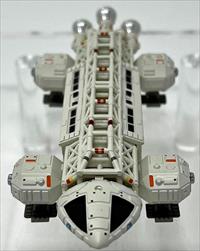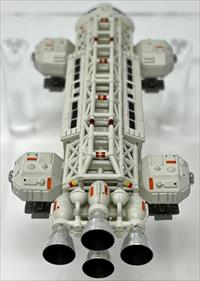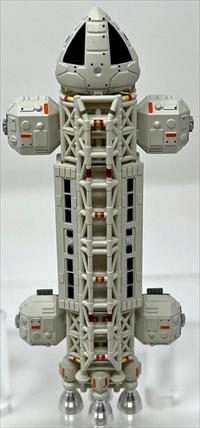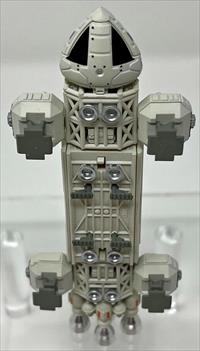 Rescue Eagle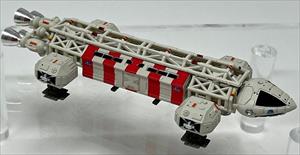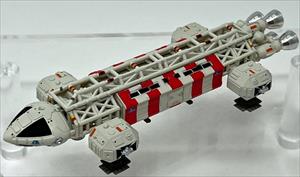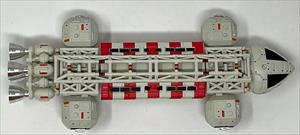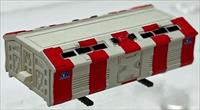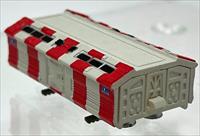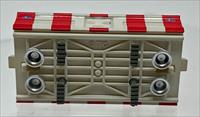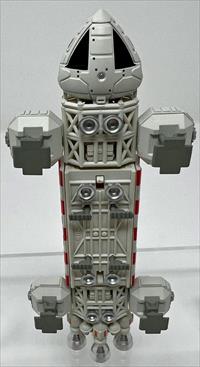 Laboratory Eagle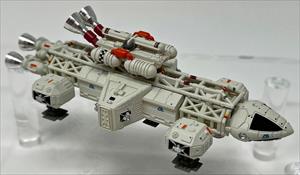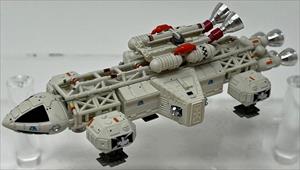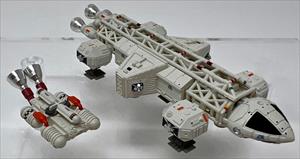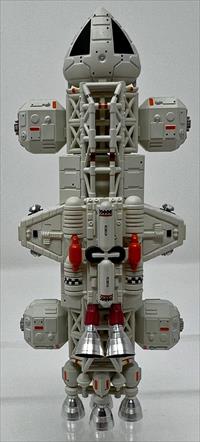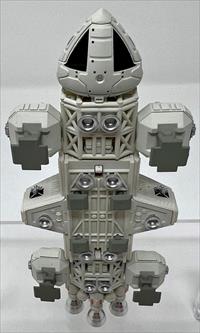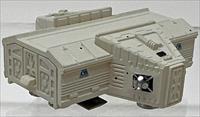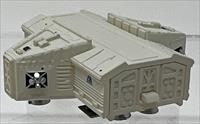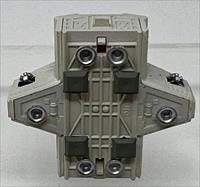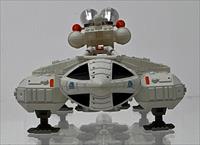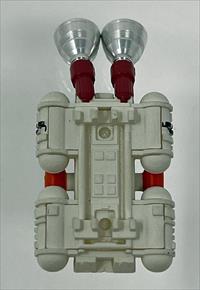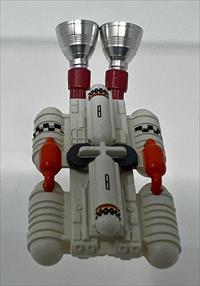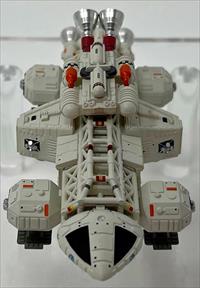 Freighter Eagle
This is the Cargo/Winch version.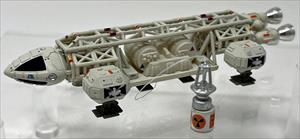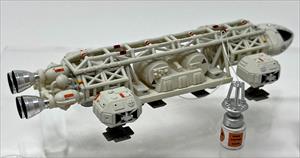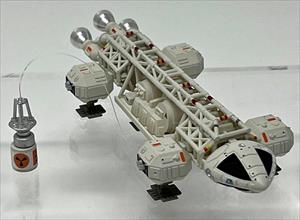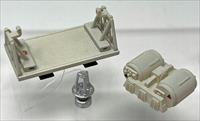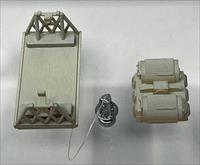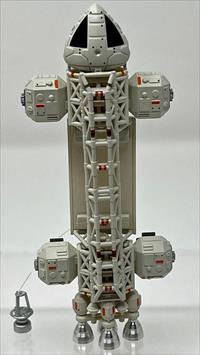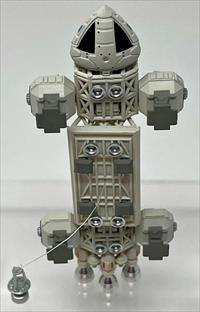 V.I.P. Eagle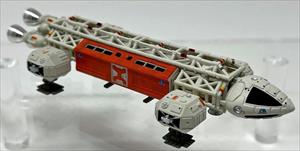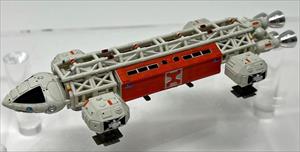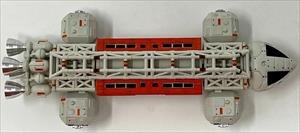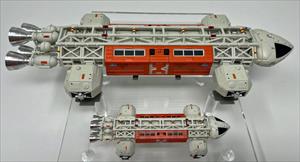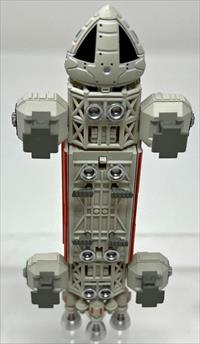 ---
Copyright Martin Willey. Photos thanks to Gordon Moriguchi.