Product Enterprise (1998-2007)
Iconic Replicas (2007-2008)
Sixteen 12 (2008-)
In 1998, Steve Walker founded Product Enterprise Limited in Westbury, Wiltshire, UK. Walker had previously worked for Mattel and Disney. Product Enterprise focussed on collectible toys for adult fans. A very different market from children's toys, these had premium prices, were usually in limited editions, and were based on cult TV and film properties from the 1960s to 1980s. The company was small, designing the toys and packaging, but using manufacturers in China. Initial products were figures for Doctor Who, The Avengers and the Carry On films.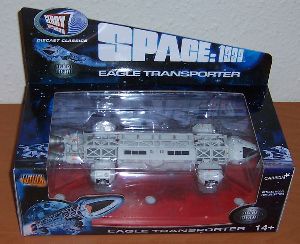 In January 2004 they produced a 30cm long die-cast metal Eagle, which was immediately popular, leading to a range of Eagles until 2006 (and resuming in 2018). They also produced a range of other die-cast models for other Gerry Anderson series including Supercar, Fireball XL5, Stingray, Captain Scarlet and UFO.
In 2005, they produced a larger 60cm version of the Eagle, in their Supermarionation Replica collection, and a range with different pods that continued until 2008. These toys were much more accurate than any seen before, but were adapted from garage kits (the Warp Eagle for the die cast, Replicas Unlimited for the large Eagle). Also in the larger scale Signature Collection were Thunderbirds craft. The larger Eagles had some inaccuracies which were less forgiveable than the smaller die-cast; worse, they had significant quality control issues with twisted and bent framework. Their audience was fans paying large sums for premium display models, so inaccuracies and poor quality control were fatal to their reputation.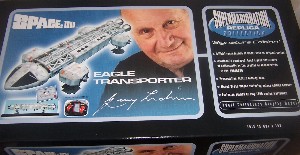 From March 2007, Product Enterprise traded under the name Iconic Replicas. In addition to Eagles they launched a commlock and stun gun prop set. In September 2008, the Iconic Replicas website closed, and the company was dissolved.
In October 2008 the company assets were taken over by Sixteen 12 Collectibles Limited. Although the company address and staff (director Steve Walker) were identical, this was not a company name change. Iconic Replicas Limited was legally closed, and the new company took over all its assets.
In 2009, Sixteen 12 first started promoting their 44 inch Eagle model, relaunching a project from Iconic Replicas in 2008. By 2010 the project was dead, as was a 24 inch/61cm diameter launch pad. They did release the "Supermarionation Replica" Hawk.
Sixteen 12 reappeared in 2016 announcing the 44 inch Eagle and variations in their Studio Scale Masterpiece Collection. The models first began to appear in 2019, and are easily the most expensive generally available merchandise produced for Space: 1999. In the meantime, Sixteen 12 had relaunched their die cast Eagles with different pods and accessories.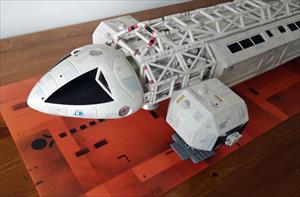 In 2018, they announced a launch pad with smaller 5.5inch die cast Eagles, with electronic sounds and movements.
In 2020 they announced poseable figures based on Landau, Bain and Tate.
In September 2021 they announced "KitBrix" brick construction sets ("compatible with all leading brand construction systems", i.e. Lego) including Eagle, Hawk and Main Mission set. These were cancelled in November.
In December 2021 they announced full sized spacesuit helmets for summer 2022.
In April 2022, they "put on hold" two recently announced die cast Eagle sets due to cost increases and refunded pre-orders.
On 29 April 2022, they announced the Electronic Launch Pad and micro-Eagles would be available "end June-August". They also announced "masterpiece replicas" studio scale Hawk and Ultra Probe command module for 2023, using manufacturing in the UK.
---
Copyright Martin Willey