---
UK, 2002. Price £22
6 inches (15cm tall) painted resin model. Just 30 were produced. Sold to members of the UK-based Fanderson fan club.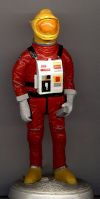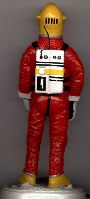 ---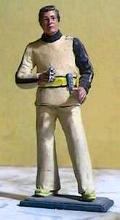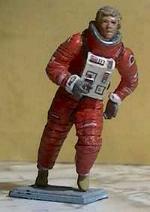 UK 1998
1:32 scale (5 cm tall) white metal figure kits in theTV Classics series (also including Blakes 7 figures), modelled by Ian Marchant. Good accuracy. Not licensed and thus not identified as Space: 1999.
TV1- Moonbase Commander. Koenig figure in uniform
TV2- Moonbase Pilot. Carter figure in spacesuit, running.
---
Italy 2010
200mm tall resin figure, with decals and transparent visor. Pictures thanks to Donald Suttie.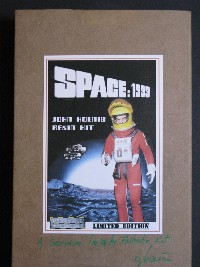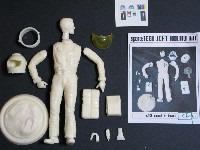 ---
FIGURES (Figures Toy Company)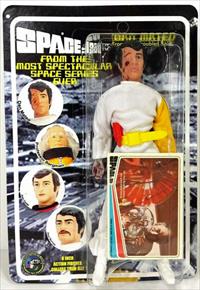 US $15 per figure, $60 per set of 4. 2005
Reproduction figures based on the 1975 UK Palitoy set (minus Koenig, for licensing reasons). As per the originals, these are 20cm tall with 16 points of articulation. They continue the inaccuracies of the original (white uniforms, yellow belts). The 4th set includes two figures with a more accurate orange spacesuit.
The blister card is also a reproduction of the original, although the rather good artwork portraits have been replaced with photos of the actual figure heads.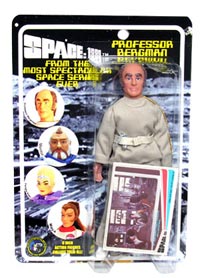 Random "chase figures" with a single Donruss card inserted inside the packaging were available.
Single limited edition figures were also produced, of 500 figures each- an Alan Carter in uniform (with 8 different online retailers), Security Guard (with Italian retailer Murotoys.com) and Alan Carter "From The Mark Of Archanon" in red jacket (with TJ's Toys.com). An Alan Carter is orange spacesuit with yellow boots (instead of red suit and white boots) was produced with just 50 figures.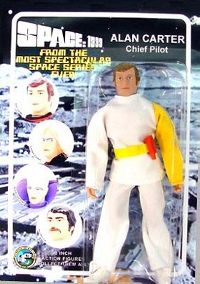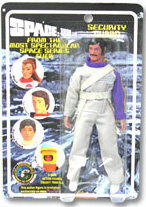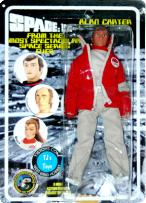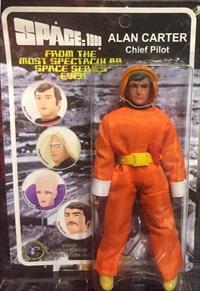 In pre-release photos, the Mentor figure (set 2) and the Companion figure (set 3) wear the wrong clothes- they have swapped costumes. This was corrected in the released figures.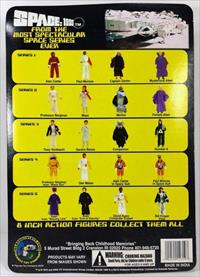 Card back
Set 1, Feb 2005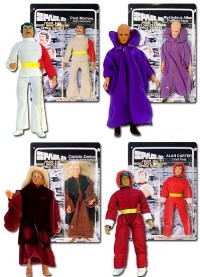 Much delayed (originally due October 2004)
"Alan Carter", "Chief Pilot". Red spacesuit, red crash helmet with movable visor.
"Paul Morrow", "Second In Command". White uniform.
"Mysterious Alien", "From Deep Space". War Games Male Alien in purple robe.
"Captain Zantor", "From The Planet Kaldor". In brown robe and waist coat.
Additional figure: "Alan Carter", "Chief Pilot". White uniform. A limited exclusive with 8 different online retailers.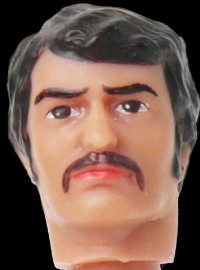 Set 2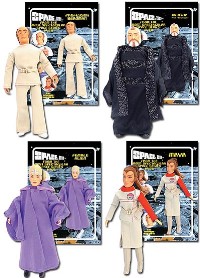 November 2005 (originally due April-May 2005)
"Professor Bergman". White uniform.
"Mentor", "From Metamorph". Black robe.
"Female Alien". War Games Female Alien in purple robe.
"Maya". In white year 2 style uniform.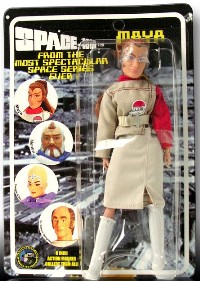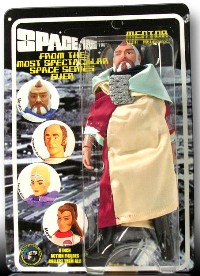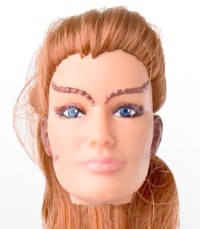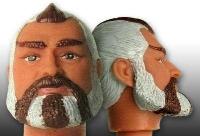 Set 3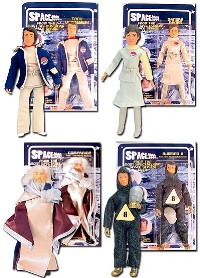 November 2005 (originally due April-May 2005)
"Companion", "From The Infernal Machine". In robe.
"Number 8", "From One Moment Of Humanity". In grey suit with removable mask.
"Sandra Benes". In white year 2 style uniform with skirt.
"Tony Verdeschi". In white year 2 style uniform with blue jacket.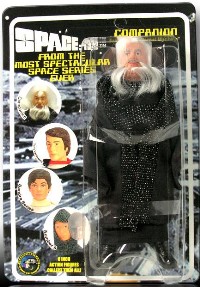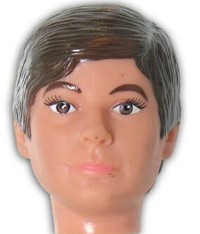 Set 4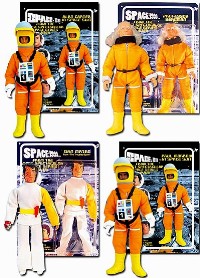 November 2005 (originally due April-May 2005). Later version issued the Paul and Alan spacesuit figures in boxes, rather than blister packs.
"Professor Bergman", "From Black Sun". Ancient Bergman with orange spacesuit and scarf.
"Dan Mateo", "From The Troubled Spirit". In white uniform, with half face burnt.
"Paul Morrow In Space Suit". In orange spacesuit with chest pack and back pack.
"Alan Carter In Space Suit". In orange spacesuit with chest pack and back pack.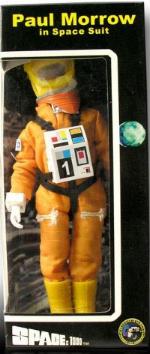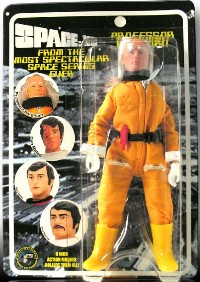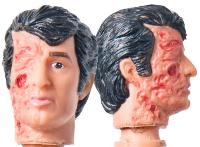 Set 5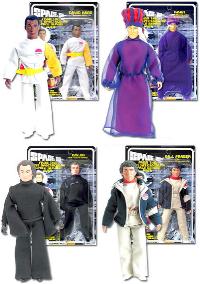 January 2006
"David Kano", "Computer Expert" In white Year 2 uniform with yellow sleeve.
"Raan", "From Missing Link". In purple gown with bonnet.
"Balor", "From End Of Eternity". In black suit.
"Bill Fraser", "Pilot". In uniform with blue jacket.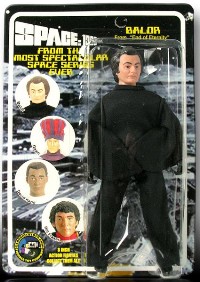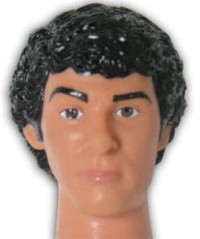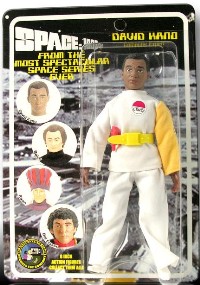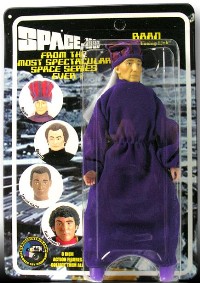 Space Crew figures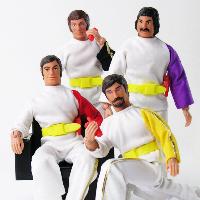 These "space crew" (or "space guys") wear white uniforms. There is no packaging. The heads are taken from other Mego reproduction figures (in the 2011 release, the yellow sleeve is Robin Hood, the odd-shaped security guard is the Black Knight). Three were released in 2008; there were four at the start of 2011, although with different heads. With no packaging and random heads, they seem to be stock clearance.
Black sleeve.
Red sleeve.
Yellow sleeve.
Purple sleeve (note, no slash).
---
UK, TBC (was October 2020); £199.99
Big Chief Studios is a British company that makes character figures, based on licensed properties including Dr Who, Harry Potter, Marvel films, and Gerry Anderson titles such as Thunderbirds. Most of the figures are 1:6 (about 12 inches/ 30.5cm tall), with "30 point of articulation" (i.e. can be posed), fabric costumes and accessories. With an average price over £200, they are intended for collectors (not toys for children).
The Commander Koenig was announced in September 2019, with pre-order opening in November 2019 (for release in October 2020, later pushed back to October 2021, current date 2023). It is a fair likeness of Martin Landau, looking perhaps a little too bronzed in the publicity photos. The costume is a year 1 command uniform, which looks accurate in colour. The fabric uniform doesn't work at this scale; weave and stitching is obviously out of scale, and it hangs stiffly on the figure like a doll. It comes with a commlock (nicely finished, unlike the original props, and with raised rather than flat buttons) and a stun gun with holster. There are 8 pairs of interchangeable hands, and a "body-form padded under-suit".
The figure appeared on their website for pre-order. The figure could be paid in instalments, or for a full payment of £179.99 (a £20) discount for a item that would not be shipped for two years). Pre-orders would also get a print of the cover art, by comic artist Lee Sullivan.
The box dimensions are given as 8cm x 37cm x 37cm.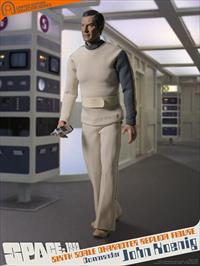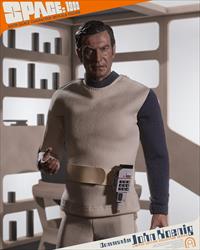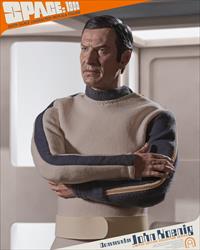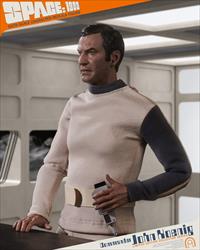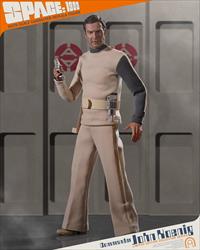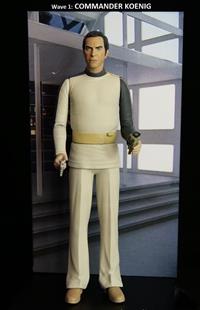 UK, December 2021 (was December 2020), individual figures from £49.99
First shown on 21 January 2020 at the UK International Toy Fair, this is a range of articulated pose-able figures with commlocks, stun guns and uniforms or spacesuits. They are about 15cm (6 inches) tall, so about half the size the Big Chief Koenig, a little smaller than the Palitoy/Mego figures. The company had previous made figures for Dr Who, The Avengers and Hammer's Dracula, as well as puppet replicas for many Gerry Anderson series. It is therefore not surprising they would create Space: 1999 figures, although odd that ITV would license two different UK companies to produce figures in the same year.
The sculptor is Andrew Teal.
Of the original prototypes, Landau is a particularly good likeness; Bain is a little stern. Tate is the weakest likeness, and as tall as Landau (he should be shorter). The hair and uniform is obviously moulded. The uniform and spacesuits are excellent. The helmets are detachable, and the visor can be raised.
The production figures are modified a lot from the prototypes shown in publicity photos. The final Koenig sculpt is bland and very poor compared to the excellent box picture. The hip articulation is glaring and toy-like, although it is similar to other manufacturers in this scale. The chest pack sits in a recessed square on the chest, so the figure cannot be displayed without the pack.
Each is mounted on a stand with a backing photograph (of Main Mission computer for Koenig, an Eagle cockpit doorway for the astronauts, or Alpha corridor for Russell and Carter in uniform). The background shots are very similar to the ones used for the promotional photos of the Big Chief figure also released in 2020.
Uniformed figures were £39.99; spacesuit figures are £44.99 (£49.99 on release). There were 2000 units per figure. Originally they were to be released in two "waves": the "wave 1" in October 2020 would have 3 figures only, then the last two figures (Carter in uniform, Koenig in spacesuit) would follow at a later date. On 1 May they announced all 5 figures would be released together in October.
Commander Koenig in year 1 Alpha uniform
Helena Russell in year 1 Alpha uniform
Alan Carter in spacesuit
Alan Carter in year 1 Alpha uniform
Commander Koenig in spacesuit
On 19 August, having already accepted orders for 5 figures, they cancelled orders and announced a return to two waves. The figures would be redesigned with more articulation, and the spacesuited figures would appear first, with a deluxe set with accessories.
Wave 1, December 2020 (eventually released December 2021)

Alan Carter in spacesuit with moonbuggy, storage container, and two photo backdrops (Eagle cockpit, lunar surface) Full details
Commander Koenig in spacesuit, with lunar surface backdrop

Wave 2, to be confirmed

Helena Russell in year 1 Alpha uniform
Alan Carter in year 1 Alpha uniform
Commander Koenig in year 1 Alpha uniform

Sixteen 12 2020 catalogue
On 6th October 2022, they announced the Koenig would be reissued, along with two new astronaut figures in "Q2 2023". Each is "limited edition 3000". They are reusing the spacesuit bodies; the articulated uniforms would probably not look as good as the prototypes. Oddly the Helena figure is missing; all the figures have the same identical spacesuit bodies. There were further details on 2nd November, proposing a March 2023 date. The prices have increased since the 2021 figures, from £49.99 to £55.99.
John Koenig "special edition" with "A.L.P. laser rifle"

Reissue of original set, with the Alpha Child laser blaster.

Professor Victor Bergman as featured in Earthbound. Includes "Spectro X scanner" and Earthbound backdrops

Prototype head sculpt is good, but the suit number is wrong (should be 3; Helena was 2)

Controller Paul Morrow as featured in The Last Sunset. Includes Ariel probe to scale.

Morrow wore a spacesuit with Sandra to test the atmosphere, but later in the episode he was in a uniform. This time the suit number (4) is correct.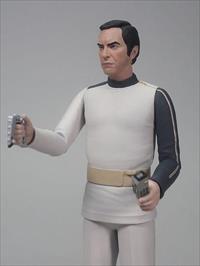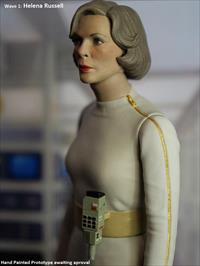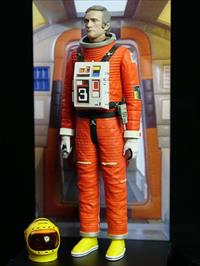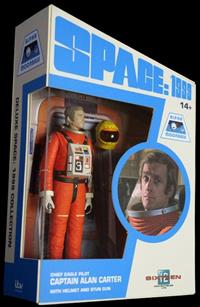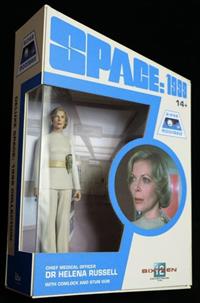 ---

UK, 2023 TBC; individual figures £14.99, collection 1 pre-order £129.99
Big Chief have a long delayed 30cm tall Koenig figure that was still not released when they announced in September 2022 a new range of smaller figures for December 2022 release, the "Anderson Collection". The figures are 3.75 inches (9.5cm), a third smaller than the Sixteen 12 figures, although with the same articulation (very visible in the hips) and much cheaper. The figures are from each major Gerry Anderson series, Stingray to Space: 1999
Individual figures are in blister-packs with art by Lee Sullivan; the collection comes in a box with a display stand (tiered steps and spaces for 18 figures) and an art backdrop by Graham Bleathman.
Initial publicity suggested December 2022 release, but when pre-orders opened in October, release date was pushed back to April 2023.
Collection 1, for December 2022 release, includes 6 figures including John Koenig, with stun gun and commlock

The puppet characters are good, but Koenig and Straker from UFO are poor. The promotional image features a dark grey uniform.

Collection 2, no projected release date, includes 6 more figures including Alan Carter.
Preproduction photos seem to confirm the grey uniform. The Alan Carter figure has an inaccurate orange stripe down the right sleeve, in an otherwise grey uniform.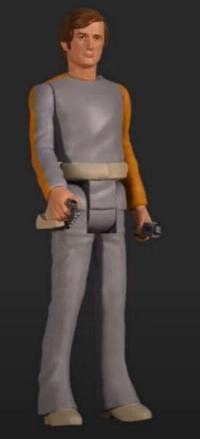 ---