---
UK 1974 and 1976. Price 70p.
6 designs issued in 2 years. Each painting is based on 2 or more publicity photographs. The paintings are probably by Walt Howarth (born 1928, died 2008), who did lots of covers for British annuals produced by World Distributors as well as jigsaws for Hope including Bonanza and Rupert the Bear.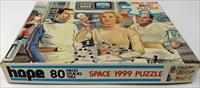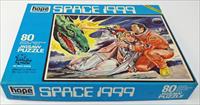 The original 1974 box style included an image on the long side of the box. The later 1974 re-issue and the 1976 boxes only had text.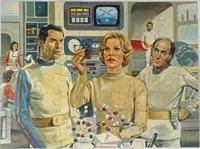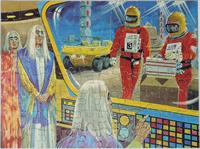 The jigsaws were simple 80-piece images. The completed jigsaw measured 23.5cm x 31.8cm.
1974 (3 designs, each in 2 box designs, all code no. SJ726)
Two of the paintings were used as the cover of sketch pads.
---
US 150-piece jigsaw puzzles (25.5 x 35.5 cm); also can. 1975
3 designs (colour paintings by Gray Morrow for Charlton black & white comics, one of which was an unpublished design):
(No 497-01): Koenig, Helena & Victor in NDA 2 foreground, explosion, Moon & Eagle in background. (cover of Charlton comic no 1)
(No 497-02): Worried Koenig (holding long weapon) & Helena, in front of 2 columns. (Charlton comic 2)
(No 497-03): Fallen Koenig, Helena and robots, with Victor background (not from a Charlton comic)
Boxes 19 x 22.5 x 3.5 cm. Jigsaw picture, red logo at base; yellow circle top left-
'150 Piece Jigsaw Puzzle, 14" x 10"
Fully Interlocking, Ages 5 And Up'
On the side of the box is a picture of one other puzzle design.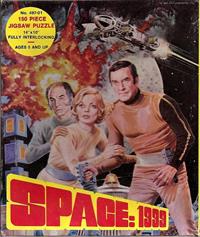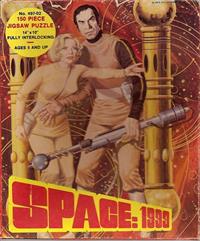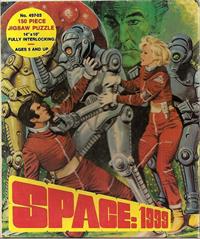 The first design was also available in a card can (with metal lid). The picture was wrapped round the sides of the can.
Below: tin (image thanks to Gordon Moriguchi)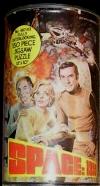 ---
NZ 54 piece jigsaw puzzle (34.5 x 24.5 cm). 1976
Colour painting (by "Bichan") based on Year 1 scenes. Pieces are assembled on a backing card; they are not cut to the edges of the board.
Backdrop is space, with large moon bottom left. Foreground bottom left are various scenes including astronauts with a fallen colleague (based on "Ring Around The Moon"), Zantor and Main Mission staff at their desks watching the newscaster on the Big Screen. Top left is a rescue Eagle with red stripes, some missiles and Satazius being hit by a laser. Right are full length portraits of Helena, Koenig and Victor, striding forward over the red caption "Space 1999", with a purple insect in the bottom right corner.
World Games Co. Ltd of Auckland New Zealand also produced a local version of the Milton Bradley board game.
---
Scene features 2 astronauts in foreground walking from a launching Eagle. Irregularly shaped pieces, although the border is not cut. p368 of "Thunderbirds" (Asahi Sonorama 1993)
---
UK, December 2021, €30
Anderson Entertainment
Art by comic artist Lee Sullivan featuring Year 1 regular characters and effects scenes. 1000 pieces. Box 225 x 315 x 65 mm. Puzzle dimensions 672 x 480 mm.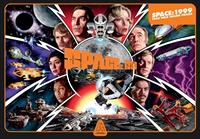 ---