Eagles (Eaglemoss)

UK, August 2021, €75, £60, $80
Eaglemoss is a company that specializes in "partworks", publishing a series of titles over time that build into a collection, particularly magazines with collectible models. The company is based in London, mostly French-owned, and operates globally. Eaglemoss was originally created in 1988, but the current company dates from 2011, out of mergers with other partwork publishers, notably the UK-Italian GE Fabbri who had a large European licensing operation for Star Trek. It has a wide range of licenses for Star Trek, Doctor Who and Marvel comics, producing magazines, figures and spaceship models.
Eaglemoss announced their Space: 1999 collection with the Eagle in May 2021, originally scheduled for July release but pushed back to 13 August. It is a 25cm die-cast and plastic model, and comes with a 16 page booklet. The second model in the series, with New Adam New Eve side boosters, was announced at the same time for August release, pushed back to September. The third Eagle was announced in June, also for September release.
Pre-production photographs show some errors: the command module insets are too big, the framework is a little thick, the passenger module "windows" have black rather than white frames, the rear feet are on backwards, and the black cross on the leg pod direction rockets is too thick. The leg pods decals are accurate to the 44 inch Eagle One model. It has year 2 piping around the engines. The rear engine bells are dark grey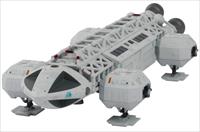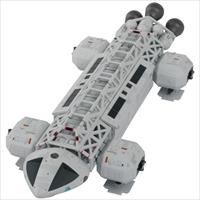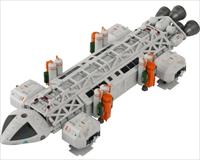 The inevitable comparison is with the Product Enterprise/ Sixteen 12 die cast Eagles, which are available at the same time. Both UK-based companies are producing the Eagles in the different configurations seen in the series. Eaglemoss is a much larger company (112 employees/ £50million turnover versus Sixteen 12 with 1 employee and £156k in assets). The Eaglemoss Eagle is a little smaller (25cm versus 30cm for Sixteen 12), considerably cheaper (£60 versus £125 or more), and comes with a booklet. The Eaglemoss Eagles are somewhat less accurate than the Sixteen 12 Eagles, based on the pre-production photos, but those details may be corrected. The Sixteen 12 die cast Eagles have shiny aluminium bells, while the Eaglemoss bells are dark grey.
---
Copyright Martin Willey