See also Non-confectionary cards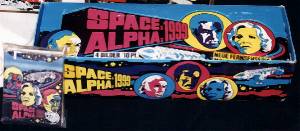 Space Alpha box and packet
UK and Europe, artwork packet, with cards to collect inside each packet.
Monty Gum was based in Leiden, the Netherlands (and named after the British world war 2 general Montgomery). They was sold primarily in the Netherlands, Belgium, Germany and France, and, from the mid-1970s, the UK. Earlier they used deals with UK distributors. Their main lines were football cards, but by the 1960s they were also doing TV, film, cartoons and pop music card series. In 1966 they produced a "TV Hits" range with The Saint, Thunderbirds, Mission Impossible and others. They also printed, for the UK company Somportex Ltd, sets of Thunderbirds cards (in both English and Dutch versions). Other UK-related sets included The Persuaders, and a UFO set (reprinting the cards from the UK's Anglo Confectionery Ltd). In the mid-1970s, other popular sets included Kojak and The Six Million Dollar Man.
The Space: 1999 cards are 7 x 5 cm, with colour photos on one side (Yr 1, almost all reversed). The full set is 64 cards, and was issued in two different editions.
The first set was titled "Space/Cosmo: 1999" and issued in France in 1976 (Cosmos 1999 was being shown on TF1). The show was eventually shown in the Netherlands in 1978 on VARA, so they reissued the cards as "Space/Alpha: 1999"; this set had limited distribution in Belgium (which was then finishing year 2 on BRT 1) and the UK (in repeats). Monty Gum was launching a number of different sets in the UK around the time, but with limited broadcasts, UK distribution of the card sets was poor.
"Space/Cosmo: 1999". (1976, France) Unnumbered, backs building into b/w photo of Ring Around The Moon astronauts.
"Space/Alpha: 1999". (1978, UK, Netherlands) Numbered, no picture on back.
In France, there was a special offer for poster if 10 packets are sent.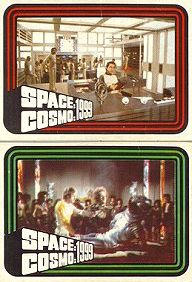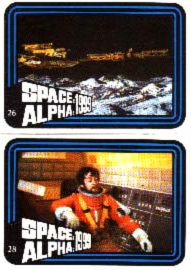 Space/Cosmo and Space/Alpha cards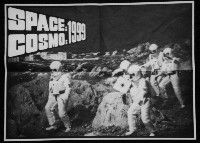 The poster was 52 x 38 cm, titled "Space/Cosmo: 1999", with the same b/w photo of the Ring Around The Moon astronauts as on the back of the unnumbered card set.

At least in the Netherlands a small album was available to hold the 64 cards. The plain white album had the black and white "Space/Alpha: 1999" logo and stylised Koenig/Helena/Bergman artwork on the cover. The cards were stored in a 2 x 4 arrangement (hence 8 pages). Pictures thanks to Remco Admiraal.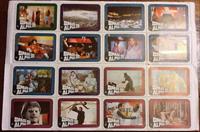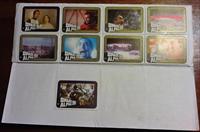 ---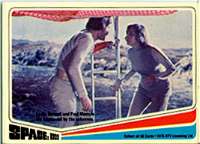 US 1976, 10c a packet
Eighth of an ounce of bubble gum, with cards to collect inside each packet.
Donruss was founded in Tennessee, USA in 1954 (named from the first names of the founders, Douglas, Don and Russ). It was bought by General Mills in 1969. They specialised in non-sports entertainment cards such as The Addams Family, until the 1980s when it began baseball cards. Since 2009, it has been part of Panini.
Cards: 9 x 6.5 cm, with colour photo (Yr 1), numbered with pithy caption. Back of cards builds into a large photo of an Eagle launching from a pad under a yellow logo. Set composed of 66 cards. Uncut sheets (ideal for showing the Eagle image on the reverse) were also available.
A lot containing loose cards (presumably a full set) and two unopened boxes from Martin Landau's estate was sold in September 2019 for $475.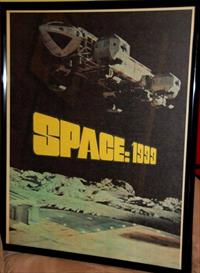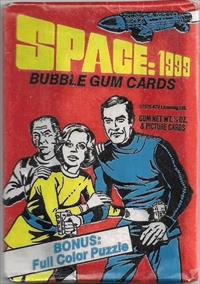 Packet: red background, with art of Koenig (blue uniform), Helena (yellow uniform) & Victor in tense pose (based on Gray Morrow's cover for Charlton bw comic 1). A small blue Eagle over the yellow logo. Banner across bottom promises "Bonus: Full Color Puzzle"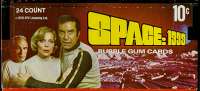 Sold from display boxes of 24 packets. Box top (which would be folded upright) has yellow logo over photo of base, with Koenig, Helena & Victor looking tense on left. Box is 21.5 x 9.5 x 4 cm.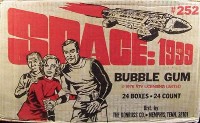 From the collection of Robert Ruiz.
---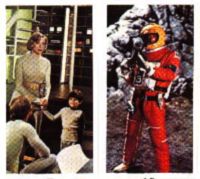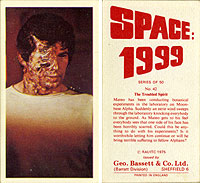 UK 1975, 3p a packet, later 4p.
George Barratt established his confectionery business in 1848, and by 1906 it was the biggest confectionery company in the world. In the 1920s it began to produce sweet cigarettes (sugar candy sticks) with cards in each pack, primarily footballers. In 1966, the company was taken over by Bassett; George Bassett had started his confectionery business in 1842, and became best known for Liquorice Allsorts (invented in 1899), and Jelly Babies (1918). In 1989, Bassett was taken over by Cadbury; the Barratt brand was sold in 2008. In 1975, the logo was Barratt, with the credit "Geo. Bassett and Co. Ltd (Barratt division)".
Sweet cigarettes were sticks of sugar candy with a red tip, made to look like cigarettes but aimed at children. Launched in the 1920s by Barratt, they were still popular but controversial in the 1970s, and have almost disappeared since. The collectable cards imitated the cards that real cigarette companies used to promote their packs from the late 1880s.
Yellow packets with logo 4 x 7 x 1 cm, containing 10 candy sticks and 1 card.
Cards were 6.5 x 3.5 cm, with colour photo from Yr 1, and a description on reverse. The cards formed a set of 50.
Card number 42, a portrait shot of the scarred Mateo from "The Troubled Spirit", was fairly graphic, and is anecdotally very scarce because it was withdrawn. A few were issued, however (thanks to Shaqui). According to Space 1999 The Vault by Chris Bentley (2022, p180), card 42 is not rare, because there was only one print run of all the cards. To withdraw the card would mean a manual search through thousands of boxes. But, while there was just one printing, the boxes were not packed in one batch. The candy sticks go stale after a few months, so they would have had several batches in 1975 and 1976, perhaps into 1977 when they were still available. Barratt could have easily withdrawn one card in later batches.
Oddly there were no shots of Eagles (except on the shop display box). A picture of a Hawk on card 5 had a description of Eagles on the back.
Sold from display box of 48 packs (14 x 16 x 16 cm), with photos on side & top of Eagle and Koenig, Helena, Victor (their uniforms coloured).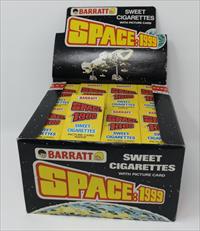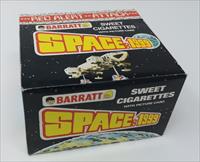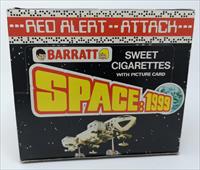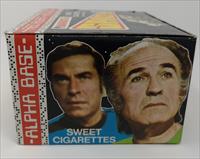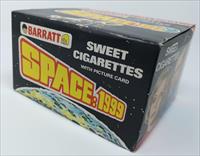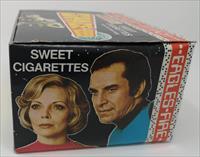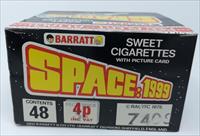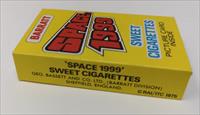 Display box and individual pack.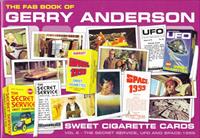 The fan club Fanderson published a book, FAB Book of Gerry Anderson Sweet Cigarette Cards, Vol 2 in June 2014, which covers the Barratt cards with high resolution scans and descriptions (as well as the Barratt cards for the Gerry Anderson series The Secret Service and UFO).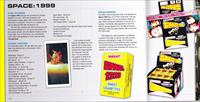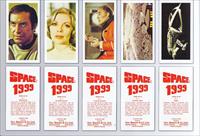 In August 2015, the fan club Fanderson created an additional card, in the same style, as part of their membership package- "No.51"/ "Commissioner Simmonds". The rear of the card still says "Series of 50", but the "Geo.Bassett & Co." credit at the bottom is replaced with a Fanderson "The Future Is Fantastic!" logo.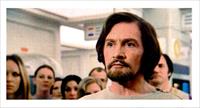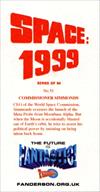 For the October 2015 convention, a replica of the rare card 42 was created and added to a pack of candy sticks (no longer "sweet cigarettes"). The reverse of the card replaces the "Geo. Bassett and co" credit with Fanderson.org.uk.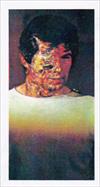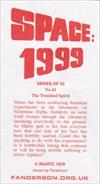 Also at the convention, "The Future is Fantastic!", a new Fanderson set of 50 cards were produced, covering all the Gerry Anderson series from Supercar to Space: 1999. Cards 46 to 50 were Space: 1999. These were sold by Fanderson for £6.50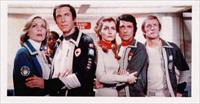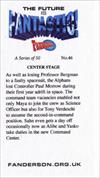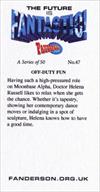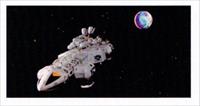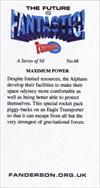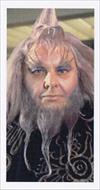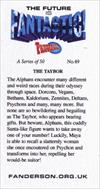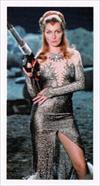 ---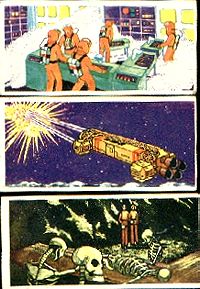 UK 1975
A vanilla-flavoured ice cream base, with a lime shell and strawberry jelly filled centre.
Initially each ice lolly came with a card, 7.5 x 4.5 cm, with crude art based on a photo on one side, with a description on the back. There were 25 cards in set.
Back of packet at first featured art of Koenig saying "There are 23 Amazing Full Colour Cards In The Series- Of me, Dr Helena Russell, Professor Bergman, all the Heroes & Villains For You To Collect!"
Later the backs featured one of two short & very crudely drawn comic strips (10 x 4.5 cm, titled "Child Of Evil" & "Planet Of Terror"), or one of two descriptions of Alpha life ("Transport", with Eagle, buggy & travel tube described, & "Communication", about the commlock)
This product was launched with an animated television commercial, illustrated by Frank Bellamy and shown from summer 1976.

The blue packet (13 x 5.5 cm) features rather crude art of an Eagle & Koenig, Helena & Victor.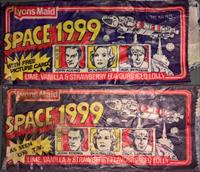 Initial version "with free picture card" and later version "as seen on T.V.".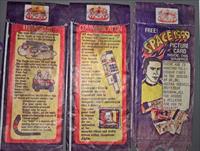 The backs of the wrappers. Originally they promoted the cards: "There are 25 amazing full-colour cards in the series - of me, Dr. Helena Russell, Professor Bergman, all the heroes & villains for you to collect!". Later there either text descriptions ("Transport", "Communication"), or comics strips ("Child Of Evil", "Planet Of Terror").
Transport The most vital means of transport is the Eagle, a fleet of which is always ready on the launchpad. The Eagle can take off and land like a helicopter and once in flight, the motors drive it horizontally like a plane. Four fuel pods are attached to the main platform. These also support the under-carriage sections, on the outer edge of which are vernier motors for directional control. For land travel, the electronically-powered buggy may be used. Within Alpha, all the main areas are linked by a series of "travel tubes". The "tube" is a capsule with seating for up to ten people, and their destination is electronically controlled.
Communication All moonbase personnel carry a 'magic key' known as a 'commlock'. This device carries a photograph of its processor for identification and is programmed to answer when called. One button opens doors, another contacts various departments, another activates a two-way television system. Commander Koenig possesses the only 'commlock' able to impart instructions to the computer, and if necessary to shut it down. The computer itself is responsible for the co-ordination of the complex visual and audio system within Moonbase Alpha.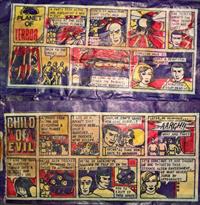 The two comic strips. A curious example of old-fashioned British English is the "Child of Evil" saying "Hullo!" (rather than the standard "Hello")
Planet of Terror
A party from Alpha are exploring a new planet...
Helena: "Look at the size of those flowers!"
Helena: "Isn't it wonderful! Like Earth, only better!"
Bergman: "Look out!"
Koenig: "The flowers aren't the only things that are huge!"
Koenig: "Back to the Eagle!"
Helena:"On, no!"
Koenig: "As long as we don't touch the threads, we'll be alright!"
Bergman:"Phew! We made it!"
Helena:"What a beautiful planet!"
Koenig: "Beautiful, but deadly!"
Child of Evil
A party from Alpha are exploring a new planet when...
Child: "Hullo! I was on a rocket that crashed here.. Only I survived... My parents were killed..!"
Helena: "John, we can't leave him here alone...!"
Koenig: "No! We'll take him back to Moonbase."
Later on Moonbase...
"Aargh!!"
Helena: "What was that?"
Alphan: "It was the boy! He suddenly turned into a monster and attacked us!"
Koenig: "We've been tricked into bringing this thing to Moonbase!"
Bergman: "We're in luck! We've managed to trap it in the airlock!"
Koenig: "Now to eject it into space!"
Helena: "It's gone! But it has taught us one thing! In this strange alien environment, we must never judge by appearance!"
---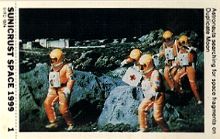 Australia 1975
Set of 50 cards, each 5cm x 8 cm with colour photos. One card with each loaf of Sunicrust bread (they were baked in the bread, with no protective wrapper). Some interesting and unusual photos, including a fairly high proportion of SFX shots, and some wildly inaccurate text descriptions ("Deep freeze on Moonbase Alpha, on collision course with Ultima Thule", for a shot of Space Brain foam filled Main Mission).
The card backs advertised "Alpha Shirts Plus Trip To Disneyland USA for 4 People". For a Alpha T-shirt you had to cut the bottom section from all 50 cards and send them to Sunicrust by November 14th 1975. For the Disneyland competition you had to send a drawing of a "Space: 1999 spaceman" (there were 500 runners-up prizes of Timex calendar watches.
Illustrated in The Gerry Anderson Memorabilia Guide (Dennis Nicholson) p238.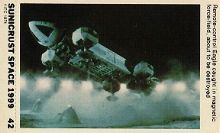 ---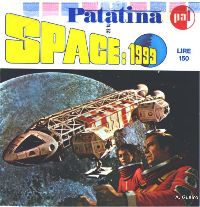 Italy 1979?. Price 150 lira per bag (150g?).
In UK English crisps, in US English potato chips. The packet art is identical to the Panini year 2 album, and it is possible that packs contained a number of Panini stickers. Thanks to Andrea Gualco.
---