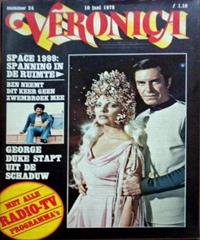 The TV listings magazine Veronica features Space 1999 on its 10 June 1978 cover
Some Dutch viewers could pick up the original 1975-77 broadcasts of Space 1999 from England and others watched broadcasts in 1977 on Germany's ZDF and on Belgian television. In 1978, the Dutch station VARA broadcast 12 episodes of the first series on their second TV channel. The episodes were subtitled and shown without commercial breaks or edits. Despite fan protests, the series was cancelled and replaced by Blake's 7 (only the first two seasons were shown before that too was cancelled). Thanks to Remco Admiraal.
See also the Netherlands Antilles islands, a Dutch colony that showed many more episodes.
Nr
Date (Fridays)
Time
Dutch Title
Translation
Original Title
1
2 June 1978

20.27-21.17
De maan uit haar baan
The Moon Out of Orbit
Breakaway
2
9 June 1978

20.27-21.17
Ruimteoorlog
Space War
War Games
3
16 June 1978

20.27-21.17
Ontmoeting in de ruimte
Meeting In Space
Mission Of The Darians
4
23 June 1978

20.27-21.17
Terugkeer van een ruimteverkenner
Return Of The Space Shuttle Specialist
Voyager's Return
5
30 June 1978

20.27-21.17
De basisbaby
The Base Baby
Alpha Child
6
7 July 1978

20.27-21.17
De laatste vijand
The Last Enemy
The Last Enemy
7
14 July 1978

20.27-21.17
Kosmisch Brein
Cosmic Brain
Space Brain
8
28 July 1978

20.27-21.17
Levenskracht
Life Force
Force Of Life
9
4 August 1978

18.58-19.50
Tijd en Plaats onbekend
Time and Place Unknown
Another Time, Another Place
10
11 August 1978

18.58-19.50
Aan de aarde gebonden
Bound to the Earth
Earthbound
11
18 August 1978

18.58-19.50
Een kring om de maan
A Ring Around The Moon
Ring Around The Moon
12
25 August 1978


rescheduled from
Friday 21 July, 20.27-21.17
18.59-19.50
De laatste zonsondergang
The Last Sunset
The Last Sunset
Media coverage was limited (features often used Year 2 shots), and included a cover story in Veronica.
Merchandising:
Note some foreign items were also available in the Netherlands including the Airfix Eagle, the German Panini stickers and album and the German Zack comics.
---