Space: 1999 in Belgium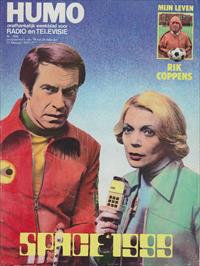 by Remco Admiraal (with some dates changes thanks to Frans Faase)
Belgium has 3 official languages, Dutch ("Flemish"), French and a small German-speaking minority. BRT 1 (Belgische Radio- en Televisieomroep, since 1998 renamed VRT), was the first TV channel for the Dutch speaking viewers in Belgium, and aired the series from January 1977. The series was shown uncut without commercial breaks and with Dutch subtitles. There were 39 of the 48 episodes of the series shown, ending in April 1978. Most of the Year 2 episodes were aired (the exceptions are Space Warp and both parts of The Bringers Of Wonder). Only two thirds of the Year 1 episodes were shown in the initial run.
Strangely, two consecutively shown episodes (Seed Of Destruction and The AB Chrysalis) have almost identical titles: Het spiegelbeeld and Spiegelbeeld, meaning (The) Mirror Image.
From May 1990 until October 1991 the series was repeated and all 48 episodes were aired in a more logical order than the first screening. In Belgium memorabilia like the Eagle kits and the viewmaster reels were available. Furthermore the Belgian viewers could also watch Cosmos: 1999 on French television and most of the French magazines, comics etcetera were available to the Belgian market as well. However, Year 2 was not seen in French until the 1990s.
Number

BRT1 Date (Weds)

Time

Flemish Title

Translation

Original Title

1

5 January 1977

18.50

Breakaway

Breakaway

2

12 January 1977

18.50

Testament van Arkadia

Testament of Arkadia

3

19 January 1977

18.50

De laatste vijand

The Last Enemy

4

26 January 1977

18.50

Ultima Thule

Ultima Thule

5

2 February 1977

18.50

Splitsing

Division

6

9 February 1977

18.50

In de Macht van Triton

Within The Power of Triton

7

16 February 1977

18.50

De Zwarte Zon

The Black Sun

8

23 February 1977

18.50

De overlevende Darianen

The Darian Survivors

9

2 March 1977

18.50

De verstoorde geest

The Troubled Ghost

10

9 March 1977

18.50

De Schakel

The Link

11

16 March 1977

18.50

Krijgertje spelen

War Games

12

23 March 1977

18.50

De laatste zonsondergang

The Last Sunset

13

30 March 1977

18.50

De Terugkeer van reiziger

The Traveller Returns

14

13 April 1977

18.50

<<unknown>>

15

27 April 1977

18.50

Het kind van Alpha

The Alpha Orphan

16

11 May 1977

18.50

Levenskracht

Life Force

17

25 May 1977

18.50

Het Spinneweb

The Spider's Web

18

8 June 1977

18.50

De Metamorfose

The Metamorphosis

19

22 June 1977

18.50

20

6 July 1977

18.50

De bannelingen

The Exiles

21

20 July 1977

18.50

Het teken van Archanon

The Mark Of Archanon

22

3 August 1977

18.50

Maancatacomben

Moon Catacombs

23

17 August 1977

18.50

Al wat blinkt

All That Shines

24

31 August 1977

18.50

Even Mens zijn

One Moment of Humanity

25

14 September 1977

18.50

De Ruiler

The Swap

26

28 September 1977

18.50

Al wat blinkt

All That Shines

All that Glisters (repeat)

27

12 October 1977

18.50

Brian het Brein

Brian The Brain

28

26 October 1977

18.50

De Wetten van Luton

The Rules Of Luton

29

9 November 1977

18.50

Nieuwe Adam's en Eva's

New Adams And Eves

37

07 December 1977

18.50

Het spiegelbeeld

The Mirror Image

30

21 December 1977

18.50

Spiegelbeeld

Mirror Image

31

4 January 1978

18.50

Een westie van Evenwicht

A Matter Of Equilibrium

32

18 January 1978

18.50

33

1 February 1978

18.50

Muiterij

Mutiny

34

15 February 1978

18.50

Lambda Factor

Lambda Factor

35

1 March 1978

18.50

Dorzac

Dorzac

36

15 March 1978

18.50

Duivelsplaneet

Devil's Planet

37

29 March 1978,

18.50

Gifplaneet

Poisonous Planet

38

15 April 1978 (Saturday) *Frans Faase notes that according to his diary the final episode was shown on Saturday 15th, not on Wednesday 12th as Remco records.

18.50

De Dorcons

The Dorcons
* Asterisk footnotes: move mouse over for more information Footnotes appears when you move the mouse over the asterisk