GERMANY:
In Germany in the mid-1970s there were two main television channels, Deutsches Fernsehen ("German television", now "Das Erste", founded in 1952 and regionally based) and ZDF ("second German television", since 1963 and operated as a single national channel). Both were funded by a television license and advertising. Colour television started in 1967, and by the 1970s was more widespread than most European countries, including the UK.
Beginning in August 1977 the station ZDF showed 17 Year One episodes and 13 Year Two episodes, once a fortnight on Sundays at 6:15pm (the series was named "Mondbasis Alpha 1"). Shown without commercials, lasting 45 minutes each (all were cut) . The satellite station PRO 7 broadcast episodes in 1989 and 1990 (now titled "Mondbasis Alpha"). .
Opening titles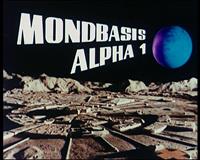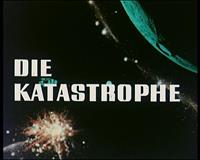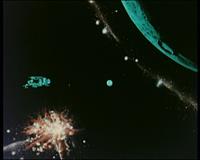 The opening titles were shortened to 15 seconds and two pictures: the logo, and the episode title. Unlike UK/US Year One, these appeared before the "hook". The episode title is static; for the last 3 seconds the episode title disappears and the Eagle moves. There were no in-episode titles.
Most Year 1 episodes used the Gray theme as the main title and end title, until February 1978 when Matter Of Life And Death ("Rückkehr Der Toten") used the Meco disco version of Star Wars (from Star Wars and Other Galactic Funk, released in October 1977). The remaining 3 episodes of Year 1 used Jean-Michel Jarre's Oxygene II (1977). For Year Two, the Wadsworth theme was replaced by Jarre on all episodes.
End credits
While the original episodes finished with a freeze-frame and the caption "series created by", the German episodes cut directly to the 30 second end titles, which repeated the episode and series title. The end titles were just 30 seconds long, with a single picture (a freeze frame from the end of Force of Life).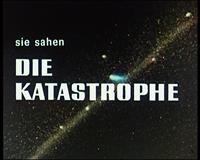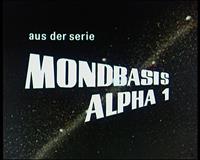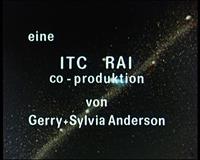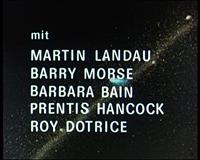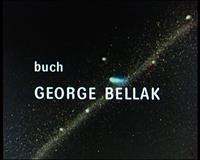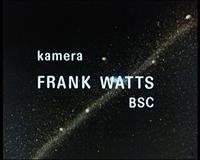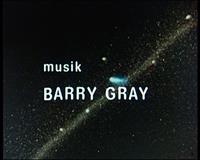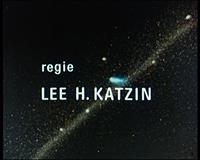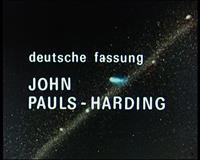 In most episodes, the writer was credited with the story consultant, so Christopher Penfold's name appears prominently on many more episodes. Johnny Byrne is often credited as "Jonny".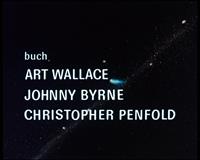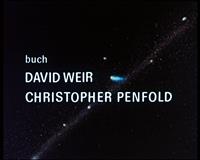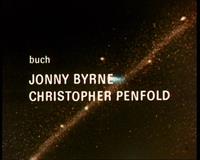 Repeat runs (see listings)
1985: SAT1 channel, 11 Feb- 16 September
1989: PRO 7, 7 January - 29 August
1992 and 1994: Kabelkanal (an entertainment cable/satellite channel, now Kabel eins). Saturday and Sundays, 15:50. Press article
1997: SAT1 and for a while simultaneously on the SF Channel ("SF der science fiction kanal")
2000: tm3, 8 August- 26 December
2009: Tele 5 showed the compilation movie Alien Attack twice in November
2013-2015: RTL Nitro, first series episodes in high definition; second series episodes in SD then HD from September 2015.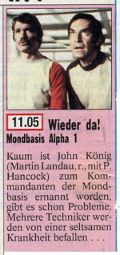 Listing of a 1997 repeat transmission on SAT1 channel, 11:05am. "Several technicians are struck by a strange illness". Thanks to Richard Farrell. This repeat run was from 14th June 1997 to 27th December 1997.
Merchandising:
Voice Artists
These actors returned in 2004 to record dialogue for cut scenes and un-broadcast episodes.
| | |
| --- | --- |
| John Koenig | Manfred Schott |
| Helena Russell | Renate Pichler |
| Victor Bergman | Wolf Rahtjen |
| Maya | Katrin Schaake |
| Tony Verdeschi | Volker Brandt |
| Alan Carter | Joachim Richert |
| Sandra Benes | Heidi Berndt |
| Dr. Mathias | Wolfgang Kaven |
| David Kano | Henry König |
| Paul Morrow | Peter Kirchberger |
| Simmonds | Horst Stark |
Num
Prod Num
Date
German Title
Translation
Original Title
German Version
Theme music

1

1

7 Aug 1977 6:15pm

Die Katastrophe

The Disaster

John Pauls-Harding

Barry Gray

2

21

21 Aug 1977 6:15pm

Die Teufelmaschine

The Devil Machine

K. E. Ludwig

Barry Gray

3

18

4 Sep 1977 6:15pm

Zwischen 2 Planeten

Between 2 Planets

John Pauls-Harding

Barry Gray

4

13

18 Sep 1977 6:15pm

Auf gefährlichem Kurs

On Dangerous Course

John Pauls-Harding

Barry Gray

5

20

2 Oct 1977 6:15pm

Wer programmiest Kelly?

Who Programmes Kelly?

K. E. Ludwig

Barry Gray

6

17

16 Oct 1977 6:15pm

Angriff aus dem Weltall

Attack From Space

K. E. Ludwig

Barry Gray

7

15

30 Oct 1977 6:15pm

Die Steinzeit-Falle

The Stone Age Trap

K. E. Ludwig

Barry Gray

8

12

13 Nov 1977 6:15pm

Der Mann, der seinen Namen änderte

The Man Who Changed His Name

K. E. Ludwig

Barry Gray

9

11

27 Nov 1977 6:15pm

Die Verwandlung

The Change

John Pauls-Harding

Barry Gray

10

9

18 Dec 1977 6:15pm

Das blaue Licht

The Blue Light

K. E. Ludwig

Barry Gray

11

7

15 Jan 1978 6:15pm

Koenig: 2

Koenig: 2

K. E. Ludwig

Barry Gray

12

8

29 Jan 1978 6:15pm

Das Glück der Träumenden

The Happiness Of Dreaming

John Pauls-Harding

Barry Gray

13

6

12 Feb 1978 6:15pm

Fast weider daheim

Almost Back Again

John Pauls-Harding

Barry Gray

14

2

26 Feb 1978 6:15pm

Rückkehr der Toten

Return Of The Dead

John Pauls-Harding

Meco/John Williams

15

5

12 Mar 1978 6:15pm

Captain Zantor

Captain Zantor

Wolfgang Schick

Jean Michel Jarre

16

4

26 Mar 1978 6:15pm

Ein Ring von Licht

A Ring Of Light

Wolfgang Schick

Jean Michel Jarre

17

3

9 Apr 1978 6:15pm

Die schwarze Sonne

The Black Sun

Wolfgang Schick

Jean Michel Jarre

18

25

23 Apr 1978 6:15pm

Die Metamorphose

The Metamorph

Jean Michel Jarre

19

26

7 May 1978 6:15pm

Die Verstoßenen

The Outcasts

Jean Michel Jarre

20

28

21 May 1978 6:15pm

Der entscheidende Stoff

The Decisive Material

Jean Michel Jarre

21

29

4 Jun 1978 6:15pm

Schottische Geschichten

Scottish Stories

Jean Michel Jarre

22

39

18 Jun 1978 6:15pm

Die andese Seite

The Other Side

Jean Michel Jarre

23

31

9 Jul 1978 6:15pm

Rühr nicht die Pflanze an!

Don't touch the Plant!

Jean Michel Jarre

24

38

23 Jul 1978 6:15pm

Die Feuerwolke

The Fire Cloud

Jean Michel Jarre

25

37

6 Aug 1978 6:15pm

Das Spiegelwunder

The Mirror Wonder

Jean Michel Jarre

26

44

20 Aug 1978 6:15pm

Die Meuterei

The Mutiny

Jean Michel Jarre

27

36

3 Sep 1978 6:15pm

Gegen die Zeit

Against Time

Jean Michel Jarre

28

35

17 Sep 1978 6:15pm

Planet der Wastenden

Planet Of Waiting

Jean Michel Jarre

29

40

1 Oct 1978 6:15pm

Der böse Zauber

The Wicked Magic

Jean Michel Jarre

30

47

15 Oct 1978 6:15pm

Zoran's Schicksal

Zoran's Fate

Jean Michel Jarre

---

10

DVD only

Das Alpha Kind

Alpha Child

14

DVD only

Ultima Thule

Ultima Thule

16

DVD only

Unsterblich

19

DVD only

Wütender Geist

Furious Spirit

22

DVD only

Das Notsignal

The distress signal

23

DVD only

Wächter des Todes

Guard of Death

24

DVD only

Das Vermächtnis der Arkadianer

The legacy of the Arkadians

27

DVD only

Das Androidenvolk

The Android People

30

DVD only

Der Händler

The Dealer

32

DVD only

Die Aussätzigen von Achanon

33

DVD only

Der Roboter

The Robot

34

DVD only

Der Schöpfer

The Creator

41

DVD only

Besuch von der Erde - Teil 1

Appearance From The Earth

42

DVD only

Besuch von der Erde - Teil 2

Appearance From The Earth

43

DVD only

Tödliche Strahlung

Deadly radiation

45

DVD only

Gestaltenwandler

Shape Changer

46

DVD only

Jagdspiele

Hunt Games

48

DVD only

Die Letzte ihrer Art

The Last One of its Kind