---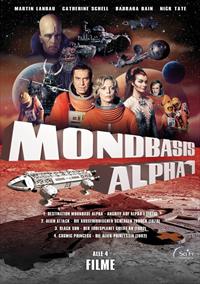 Germany Mondbasis Alpha 1 - Die Spielfilme-Box ("Movie box") DVD Only: 29 May 2016 €28
This DVD box set of the four compilation movies was released as part of a DVD/Blu-ray set by Fernsehjuwelen in 2015-2016.
Released on DVD only (not on Blu-ray). All four movies were previously released in Germany by Laser Paradise in 2011, and this edition is identical, with all the same extras. There are additional trailers and the Power Records comic strip has German subtitles. There is also a 40 page booklet. It cost 22.30 euros.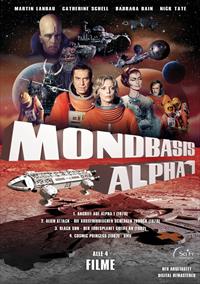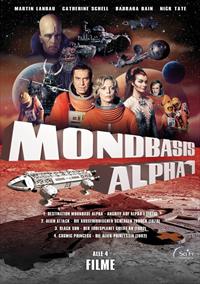 The pre-production cover (left) has a different photo of Maya- with her eyes closed. She's awake in the final version (right).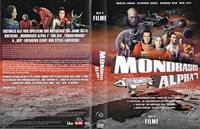 Final front and back cover.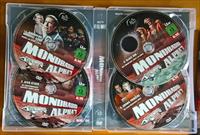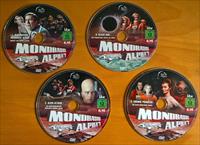 The discs. All feature characters in spacesuits (discs 1 and 2 from End of Eternity, which isn't in any of the compilations).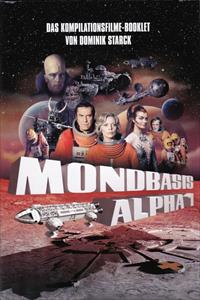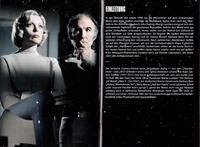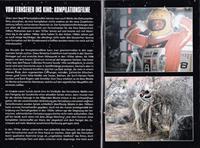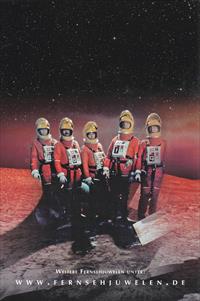 The booklet, written by Dominik Starck. Contents (there are no page numbers):
Einleitung (Introduction)
Vom Fernshere ins Kino: Komilationsfilme (From TV to the movies: Compilation Films)
Es ist kein Mond, es is eine Raumstation: Die Produktion der Serie, Staffel 1 (There's no Moon, it's a spacestation: production of series 1)
Facelifting in Space: Die Produktion der Serie, Staffel 2 (Facelifting in Space: production of series 2)
Erinnerungen an die vergangenheit der zukunft (Memories of the past to the future)
Moon-guide: Die "Mondbasis Alpha 1" filme (Moon guide: the Space 1999 films)
Kurz-biografien (Biographies: Anderson, Landau, Bain, Morse, Schell, Tate, Merton, Hancock, Roquette, Jones, Phillips, Anholt, Kissoon, Hug)
Hinter den Kulissen (Backstage - photos)
Title
Extras

Angriff Auf Alpha 1 (Destination Moonbase Alpha)

Mono German soundtrack (CBS-Fox movie version)
Mono German soundtrack (from original episodes)
Stereo English soundtrack
Trailers
Promotional photos
Publicity material (posters)

Alien Attack: Die Ausseridischen schlagen zurück (Alien Attack)

Mono German soundtrack (Arcade Video movie version)
Mono German soundtrack (from original episodes)
Mono English soundtrack
DD 5.1 English soundtrack
Trailers
Promotional photos
Publicity material (posters)

Black Sun - Der Todesplanet greift an (Journey Through The Black Sun)

Mono German soundtrack (Arcade Video movie version)
Mono German soundtrack (from original episodes)
Mono English soundtrack
Stereo English soundtrack
DD 5.1 English soundtrack
Trailers
Promotional photos
Publicity material (posters)
Original opening and ending sequences from Arcade Video and SF1

Cosmic Princess (Cosmic Princess)

Mono German soundtrack (from original episodes)
Mono English soundtrack
Stereo English soundtrack
Trailers
Promotional photos
Publicity material (posters)
Captain Duro/Vader original episode sequence (English/German original episode soundtrack)