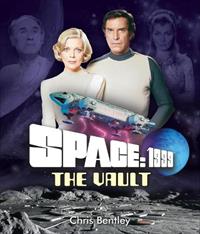 Signum Books, UK, 6 June 2022 (was 29 October 2021, 25 February 2022, May 2022)
224 pages, hardcover, 270 x 230 mm, £29.99
Publisher Marcus Hearn has published a number of "The Vault" titles for different series, including Hammer films (by Marcus Hearn, 2011), Doctor Who (by Marcus Hearn, 2013), Thunderbirds(by Marcus Hearn, 2015) and Captain Scarlet(by Chris Bentley, 2017). The books focus on art and photos, and particularly production and publicity material; essentially high quality visual scrapbooks for enthusiasts. While the two other Anderson "Vault" books were 50th anniversary titles, "Space: 1999 The Vault" is 3 years early (the 50th anniversary will be 2025).

Chris Bentley is a former chairman of the Fanderson fan club and has written several other titles on Gerry Anderson series.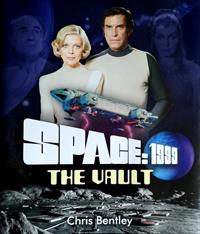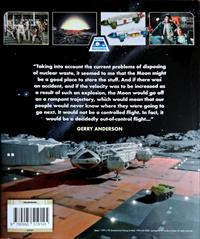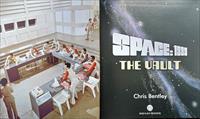 The format is essentially a scrapbook of photos, production material and merchandise. There are two pages on each episode (plus Into Infinity), alternating with short articles about different aspects of the series, such as effects, set design, costumes, furniture and decor, original props. and merchandise.
"This definitive and fully authorised book includes a wealth of previously unpublished images - including new shots of original studio models and vintage merchandise. "
Originally planned for October 2021, the pandemic delayed production, so it was rescheduled for 2022 with 16 extra pages (from 208 to 224 pages).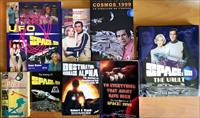 The book was published shortly after two other Space: 1999 reference books, Anderson Entertainment's Moonbase Alpha Operations Manual (December 2021) and the Telos To Everything That Might Have Been (March 2022). Otherwise the number of reference books about the series has been sparse, since the original Making Of Space: 1999 by Tim Heald in 1976.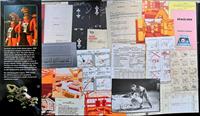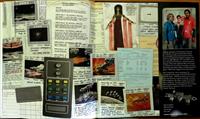 The endsheets contain a nice montage of production documents, but none of these are featured in the text.
The book is broken into very short chapters, typically 2 or 4 pages, each very visually based.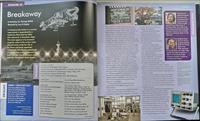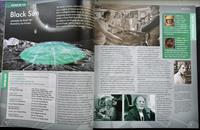 Each episode is covered in 2 pages (including the two-parter, Bringers of Wonder). Into Infinity has the same treatment, and Message From Moonbase Alpha takes 1 page. The episode has a "dataFile" section (production dates, first UK broadcast, guest cast including many uncredited extras) and "guest characters" (short profiles for major guests). The main text normally covers script changes, short biographical profiles of cast, and short remarks on props, music or effects models. Each double-page episode layout is tinted to colour-match the main photos on the pages.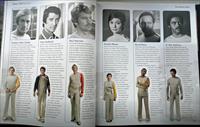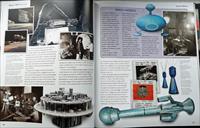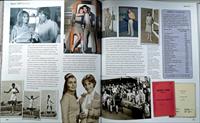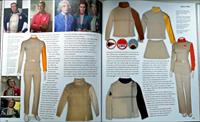 Between the individual episode chapters are digressions on different aspects of the series. Many of these other chapters are predictable, like cast and character profiles, different types of merchandising, and special effects. Some are unusual topics like fonts and Letraset (p72-75), furniture (p80-83) and lighting (p88-91), matte art (p104-107) and costumes (p130-135).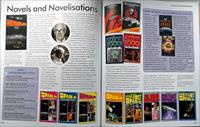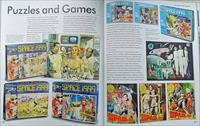 The merchandise covered is mostly 1970s UK and US. There is no mention of European novels or comics. There is a quick summary of video/DVD releases (mostly UK and US, but including some French and Japan releases this time) and a short page mentioning post 2000s releases from Powys, Big Finish, Silva Screen, Sixteen 12 and Eaglemoss. The broadcast history is mostly for major UK and US markets, and there is almost nothing on the rest of the world.
If you read this website, most of the content will be familiar. While some of our coverage is more in-depth, Bentley does add some interesting details for some subjects like props and lettering. The credits for actors are more expansive than ours. For instance, for Michael Boothe, who appears in Mission of the Darians, Bentley expands his unfortunate story and why he caused a major change for gay rights in Britain. In the uncredited cast, we only found one name we don't have, the voice in the black sun as Judi Dench (we're waiting to see if there's paperwork for that). The book misses a few names we have discovered recently, and some are mis-identified (notably Paul Barton is wrongly credited as Paul Kirby in some episodes).
On most episode pages, The Vault shows the script cover and sometimes a (small) script page image, but the description of script changes are very brief. While SFX storyboard shots do appear as illustrations, there are no effects breakdowns like the coverage on this website. The book often remarks on sound effects, which we have not covered, some of which were created by Barry Gray for earlier productions.
There are a lot of typographical nitpicks, but otherwise few mentions of on-screen errors. There are not many science notes (some comments for Taybor mention star catalogues), no critical commentary and very little press coverage (just one piece each from Starlog and TV Times, and a few quotes). These are not problematic omissions, as these topics which explored elsewhere (not least here).
The Vault is not a comprehensive history of the series, but it covers a lot of production detail. The main narrative chapters, (1999 A Space Odyssey; Promotion and Broadcast; Series 2 and the final pages) are concise, but the episode and other chapters also cover more material. There is no real overlap with the To Everything That Might Have Been book. But it does contain some new production facts, including a casting photo for Prunella Gee (later in Coronation Street) and Billy Murray (later in The Bill and EastEnders) in costume as Maya and Tony. It also mentions that American singer Brenda (B.J.) Arnau was proposed for Maya (she sung the Bond song "Live and Let Die", although the captioned photos are actually Cher Cameron).
The Vault is visually stunning, and the text is full of interesting details.
Table of contents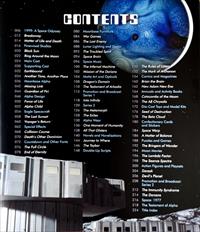 1999: A Space Odyssey

6

Breakaway

12

Matter of Life and Death

14

Pinewood Studios

16

Black Sun

20

Ring Around the Moon

22

Main Cast

24

Supporting Cast

30

Earthbound

32

Another Time, Another Place

34

Moonbase Alpha

36

Moonbase Alpha Personnel

38

Missing Link

42

Guardian of Piri

44

Alpha Design

46

Force of Life

50

Alpha Child

52

Eagle Spacecraft

54

The Last Sunset

58

Voyager's Return

60

Special Effects

62

Collision Course

68

Death's Other Dominion

70

Countdown and Other Fonts

72

The Full Circle

76

End of Eternity

78

Moonbase Furniture

80

War Games

84

The Last Enemy

86

Lunar Lighting and Decor

88

The Troubled Spirit

92

Space Brain

94

Space Music

96

The Infernal Machine

100

Mission of the Darians

102

Matte Art and Opticals

104

Dragon's Domain

108

The Testament of Arkadia

110

Promotion and Broadcast: Series 1

112

Into Infinity

118

Series 2

120

The Metamorph

126

The Exiles

128

Alpha Wear

130

One Moment of Humanity

136

All That Glisters

138

Novels and Novelisations

140

Journey to Where

144

The Taybor

146

Double-Up Scripts

148

The Rules of Luton

150

The Mark of Archanon

152

Comics and Magazines

154

Brian the Brain

160

New Adam New Eve

162

Annuals and Activity Books

164

Catacombs of the Moon

168

The AB Chrysalis

170

Die-Cast Toys and Model Kits

172

Seed of Destruction

176

The Beta Cloud

178

Confectionary [Sic] Cards and Stickers

180

Space Warp

184

A Matter of Balance

186

Puzzles and Games

188

The Bringers of Wonder

192

Moon Movies

194

The Lambda Factor

196

The Seance Spectre

198

Action Figures and Playsets

200

Dorzak

204

Devil's Planet

206

Promotion and Broadcast: Series 2

208

The Immunity Syndrome

212

The Dorcons

214

Space: 1977

216

The Testament of Alpha

218

Title Index

224
---