---
Trafford Publishing, Canada 2001-2002 (US$29.95)
416 pp, cover by Catherine Bujold
Extensive reviews of all 48 episodes and Message From Moonbase Alpha; detailed cast lists for every episode; year 1 filming schedule; commentary from Landau, Bain, Morse, Schell, Merton, Tate, Hancock, Phillips, Byrne, Penfold, Freiberger, Wilson.
The Future Is Fantastic is based on commentary by the actors and production crew, as well as Wood's own discussion. Useful as a reference, invaluable as commentary.
Withdrawn from publication in Feb 2002, apparently due to copyright problems.
Contents:
Introduction & Acknowledgements - p5
Year One - p7

Year One Production Credits - p15
Breakaway - p16
Matter of Life and Death - p30
Black Sun - p37
Ring Around the Moon - p46
Earthbound - p53
Another Time, Another Place - p60
Missing Link - p70
Guardian of Piri - p79
Force of Life - p87
Alpha Child - p94
The Last Sunset - p101
Voyager's Return - p109
Collision Course - p115
Death's Other Dominion - p122
The Full Circle - p130
End of Eternity - p137
War Games - p143
The Last Enemy - p155
The Troubled Spirit - p162
Space Brain - p170
The Infernal Machine - p176
Mission of the Darians - p182
Dragon's Domain - p190
The Testament of Arkadia - p198
Year One Filming Dates - p209

Year Two - p217

Year Two Production Credits - p225
The Metamorph - p226
The Exiles - p240
One Moment of Humanity - p249
Journey to Where - p256
All That Glisters - p264
The Taybor - p270
The Mark of Archanon - p276
The Rules of Luton - p284
New Adam, New Eve - p291
Brian the Brain - p296
Catacombs of the Moon - p303
The A B Chrysalis - p312
The Beta Cloud - p317
Seed of Destruction - p322
A Matter of Balance - p329
Space Warp - p335
The Bringers of Wonder part one - p341
The Bringers of Wonder part two - p347
Dorzak - p354
The Seance Spectre - p363
Devil's Planet - p370
The Lambda Factor - p379
The Immunity Syndrome - p387
The Dorcons - p394

"Space: 1999 has not been cancelled" - p403
Message From Moonbase Alpha - p405
The Space: 1999 Movies - p414
Return to Moonbase Alpha - p415
Additional Information - p416
---
Telos Publishing, UK 26 January 2010 (delayed from September 2009)(£12.99). Website
490pp. A5 paperback book. ISBN 978-1-84583-034-2
Kindle e-book (with updated text), 10 January 2014.
Subtitled "The Unofficial and Unauthorised Guide to Space: 1999". Similar in format to the earlier Future Is Fantastic (2001) book by Wood, the book examines each episode in turn, with detailed reviews, observations and comprehensive quotes from actors and crew.
Destination Moonbase Alpha is the most comprehensive book ever published on Space 1999, including extensive cast lists and detailed reviews of all 48 episodes, as well as the Message from Moonbase Alpha short film. Destination Moonbase Alpha tells the incredible story of the making of a science fiction classic, told by the actors, writers and production crew who created it.
This is the essential guide to Space: 1999 - from critical reaction then and now, through the triumphant 35 year odyssey of Moonbase Alpha since the show debut in 1975 and finally to writer Johnny Byrne's concepts for the return of the series.
"It's a must-have for every Space: 1999 fan - a page-turner packed with facts and informed opinion and seasoned with spicy scuttlebutt." Prentis Hancock, co-star of Space: 1999
Cover art by Iain Robertson. Contents:
p7 Introduction
p9 Foreword by Zienia Merton
p11 Year One
p51 First series episodes
p219 Year One overview
p259 The Metamorphosis of Space 1999
p269 The Disappearance of Victor Bergman
p277 Year Two
p303 Second series episodes
p413 Year Two overview
p449 Movies
p453 Fan-produced episodes
p461 Judgement
p467 Afterword by Barry Morse
p469 Appendix: Books and Merchandise
p477 Cast and crew index
p487 Reference index
---
Editions Yris, France, 20th October 2014 (€22).
256 pages, 300 photos, 17 cm x 25 cm. ISBN 978-2-912215-35-2
The publisher Yris published several books by Liardet in their "Télévision en Séries" series, covering 1960s and early 1970s US and British fantasy/adventure series. It is not authorized by ITV.
The book follows the well-established format of describing the history of the series, profiles of cast, episode guides, and in the annexes, a merchandise guide. Most pages have photos, some in colour; the merchandise guide is particularly well illustrated. The history, actor profiles and episode pages have extensive lists of credits, with French titles and directors noted. Episode guides give story summary, first broadcast dates for ATV (UK) and France, plus a full cast list and notes on the episodes and the cast. The episodes are described following the ATV order (not the production order or French TV order).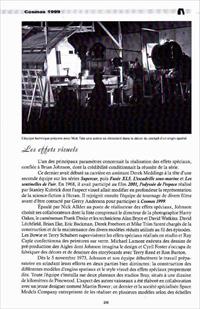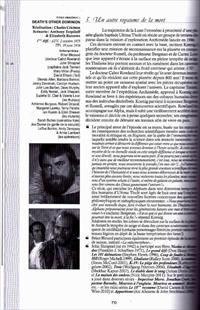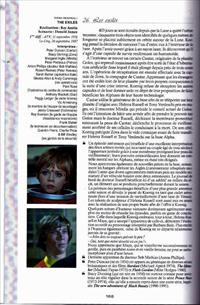 The information is comprehensive, but doesn't uncover anything new. All the information can be found publicly in the Catacombs website, and sometimes Liardet seems to be copying crew names from the Catacombs (people left and joined throughout the series, so it's more complicated that the text describes). Some of the photos, possibly most, are from the Catacombs, some with tell-tale edits, but none are credited. Most blatant is a full-page picture of Brian Johnson and the Meta Probe, which is a composite made by Dean Scott that cuts off the Meta Probe nose cone. A few photos have inaccurate captions, but overall Liardet seems to know the series well.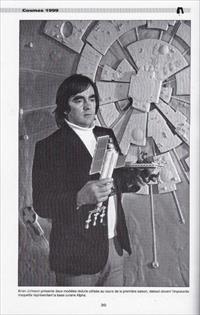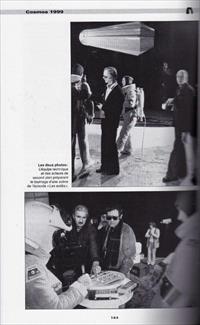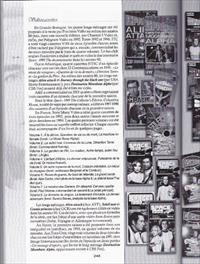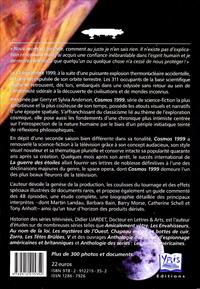 Contents:
Introduction p5
Remerciements p5
Chapitre 1: Historique de la production p7

La genèse du projet p7
Gerry Anderson p8
Le casting p12
Le lancement de la production p16
Les coulisses du tournage p22
Les effets visuels p26
Un impact international p27

Chapitre 2: La conception des effets spéciaux p31

Préambule p31
Une équipe expénmentée p32
Les prises de vue p36
La réalisation des modèles réduits p39
Les créations de Martin Bower p42
Les dernières mises au point p48
La fin de l'aventure p57
Guide des épisodes saison 1 p59

Chapitre 3: Les naufragés de l'espace p101

Martin Landau p101
Barbara Bain p107
Barry Morse p111
Anton Phillips p118
Prentis Hancock p120
Clifton Jones p122
Zienia Merton p124
Nick Tate p126

Chapitre 4: Un nouveau style p131

Une orientation surprenante p131
Une distribution remaniée p134
Les derniers préparatifs p137
Une nouvelle approche musicale p141
La reprise du toumage p142
Une diffusion à étapes p146
Clap de fin p150
Des prolongements inattendus p152
Catherine Schell p154
Tony Anholt p158
Guide des épisodes saison 2 p161

Chapitre 5: Voyage vers l'infini p213

Les sources du récit p213
Un concept particulier p214
Une arche nommée Alpha p218
Le choc des mondes p221
Une thématique plurielle p224

Annexes p227
Index p253
---
Space: 1999 - Episode by Episode (et al), ed Petter Ogland
Lulu Press (self-published), 2014+
Various self-published titles edited by Petter Ogland and the pseudonymous "John K Balor".
Space: 1999 - Episode by Episode (November 2014)
Space: 1999 - the 40th anniversary celebration (September 2015)
Forever Alpha - An Exploration of Space 1999 through the lens of fan fiction (June 2016)
Space 1999 and Critical Theory (October 2016)
Cosmos 1999 - The third year of Space 1999 (February 2017)
---
Destinazione Obbligata: Alpha by Giuseppe Turdo
Topes Edizioni, 11 April 2015 €19.99
464 pages, paperback, 6" x 8.26" (15cm x 21cm), ISBN 978-1-36-21675-7
Italian text. Episodes are described in the original Italian broadcast order, with both UK and Italian broadcast dates, full cast list, plot, notes, comments by cast, review. star rating (out of 5). Format, cast lists and cast comments are closely based on Robert Wood's Destination Moonbase Alpha (2010). The cast comments are translated into Italian, sometimes abbreviated, and there are some additional cast comments from other sources. The plot, notes and review seem to be original, but naturally make similar points.
Contents:
Ringraziamenti xi
Prefazione xiii
Introduzione p1
Genesi Di Un Colossal Televisio p3
Episode Guides: p43+
---
Modelling: 1999
Happy Medium Press, UK, 13 September 2016
100 pages, softcover, 30cm x 21cm, £8.99
Magazine-format special from Sci-fi & fantasy modeller magazine (and the previous title Sci-fi & fantasy models).
Large Scale Hawk Replica by David Sisson p4
Comlock and stun gun by Jean-Marc Deschamps p12
Round 2 Alpha/Imai Eagle Conversions by David Pearson p16
Retro Models Moon Buggy by Chris Rogerson p26
1:24 Scale Moon Buggy by Olivier Cabourdin p30
Original Series Miniatures and Props by James Winch p38
Sci-High Models Swift Kit by Olivier Cabourdin p50
Recreating Gwent by Theo P Stefanski p60
Small Art Works Ultra Probe by Olivier Cabourdin p65
Alpha Spacesuits - the Inside Story by David Sisson p68
The Todd Morton Collection p76
Passenger Pod - the Inside Story by John Reason p82
Small Art Works Alpha Tanks by Olivier Cabourdin p86
The Forgotten Eagle by Robert S LePine p92
Sixteen 12 44" Eagle Project by Steve Walker p97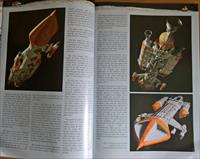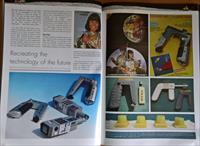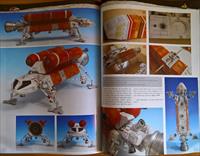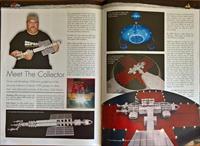 ---
Anderson Entertainment, UK, 17 December 2021, £34.99
272 pages, hardcover, 300 x 230 x 25 mm
The book is an updated version of the Starlog Technical Notebook (like the Keith Young fan blueprints) with digital illustrations and photos in a glossy coffee-table book format. The text is an "in-universe" description, with post-breakaway addenda (see also my own Operations Guide, originally 1980s). It concentrates on Earth technology, with little or no aliens, alien planets or craft covered (possibly material for a second volume).
---
Telos, UK, 18 March 2022 £16.99
324 pages, paperback
ISBN 978-1-84583-196-7
The book contains black and white photographs.
Hirsch wrote the Starlog Technical Notebook in 1977 (his first professional writing) and became an editor for Starlog. Wood wrote Starlog Space 1999- The Future Is Fantastic! (2001) and Destination Moonbase Alpha (2009, also published by Telos)
---
Signum Books, UK, 6 June 2022 (was 29 October 2021, 25 February 2022, May 2022)
224 pages, hardcover, 270 x 230 mm, £29.99
The format is essentially a scrapbook of photos, production material and merchandise. There are two pages on each episode (plus Into Infinity), alternating with short articles about different aspects of the series, such as effects, set design, costumes, furniture and decor, original props. and merchandise.
"This definitive and fully authorised book includes a wealth of previously unpublished images - including new shots of original studio models and vintage merchandise. "
Originally planned for October 2021, the pandemic delayed production, so it was rescheduled for 2022 with 16 extra pages (from 208 to 224 pages).
---