This twenty-second long advert was the only television commercial made for any Space: 1999 merchandising. The psychedelic visuals recall 2001: A Space Odyssey and the narrator has a deep gravelly voice, all very impressive for an ice lolly advert. These ice lollies were popular in the long hot summer of 1976.
Lyons Maid had made ice lollies for many Gerry Anderson series, and some had commercials made by Anderson with original actors, props and special effects. The artist is Frank Bellamy, the British comics artist best known for his work in the 1950s/60s comic the Eagle including Dan Dare from 1959, and the comic strip for Gerry Anderson's Thunderbirds in the comic TV21 in the 1960s. It was produced by Trickfilms Studios Ltd in 1976. Bellamy wrote a note for his records stating 5 separate pieces = £500 1) Rocket & Asteroid, 2) Rocket crashes, 3) Trajectory drawings (X3) 4) Space man, 5) Space man head - 7 pieces but 5 charged.
The animated rocket and astronaut in this advert don't look like anything in Space: 1999, as Bellamy was instructed: the style should be up-dated Dan Dare but not to resemble specifically elements from the Space 1999 series (for legal reasons). (Thanks to Norman Boyd)
The advert is available as an extra on all the Space: 1999 DVD releases.
The amazing new lolly from Lyons Maid. Space Nineteen Ninety-Nine.
Icy lime flavour outside, oozy red centre. Space Nineteen Ninety-Nine.
With free picture cards, from Lyons Maid.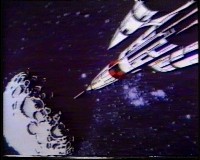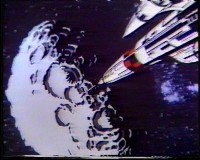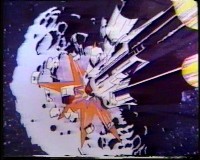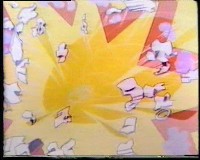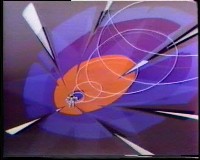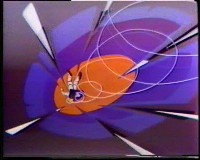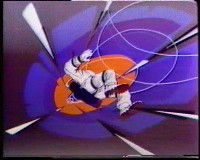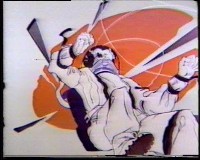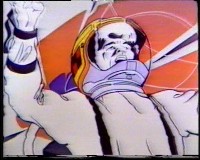 ---
Images copyright ITV Studios Global Entertainment
Page copyright Martin Willey