---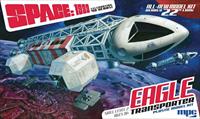 The cover art (by Jamie Hood).
See prototype box art
USA, January 2016, MPC825, $129.95
Special Edition January 2017, MPC874/06, $200 (500 copies).
This is a more accurate version of the Eagle, based on the detailing of the first 44 inch studio model but 22 inches (55cm) in length (twice the size of the MPC Eagle). The model is made of styrene (the same plastic used for regular kits). The plastic is in two colours- white and grey - so an unpainted model will still be a fair representation. The landing gear is sprung, and the front windows are clear, showing two pilots with bulkhead wall (like the filming miniatures, not a studio cockpit replica).
Box text:
In this kit: over 300 parts
2 plastic colors and clear
Researched for accuracy
Cockpit wall detail and pilot figures
Removable pod
Extensive water-slide marking
Spring-action landing gear
Full color deco guide
Decorate 1 of 3 ways
This all-new model kit from MPC showcases years of research of the filming miniatures used in the show's production to provide the most accurate plastic model kit possible. It features authentic detail, like spring-loaded articulated landing gear. The central pod can be removed as well. Its detail is impressive as is its length, which nears 22 inches (59cm).
There are separate aluminium replacement parts. See box art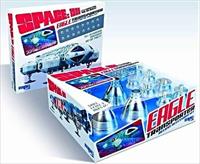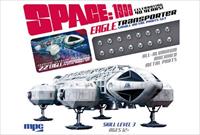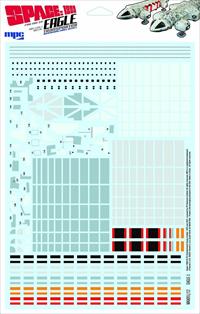 There were two updated weathering and panel decal sets sold separately, to be used with the original 22 inch Eagle, plus the Cargo Eagle. MKA028 was released in 2018; later updated as MKA051 in 2021.
Special Edition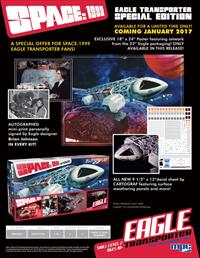 The Special Edition, release January 2017, is a limited edition of 500. More details
18" x 24"/46cm x 61cm poster of box art
Additional 9.5" x 13"/24cm x 33cm decal sheet produced by Cartograf of Italy, with specific panelling and weathering.
Mini-print card signed by Brian Johnson.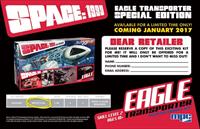 More details
Print: Sci.fi & Fantasy Modeller presents Modelling the Eagle (2016) has articles by Jim Small and Jamie Hood about the development of the kit, and a build article by Mike Reccia.
---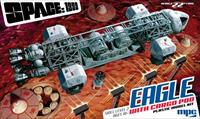 July 2017, MPC838
2nd edition, May 2023, MPC900. $129-$150
A reworking of the 22 inch Eagle transporter kit with a winch/cargo pod. The pod can be built as either the flat-bed cargo pod, or with the winch drums. It includes 4 nuclear waste containers, and the winch is magnetic.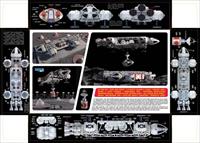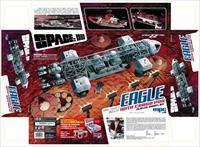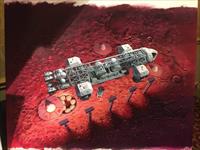 IN THIS KIT: OVER 300 PARTS * 2 PLASTIC COLORS & CLEAR * COCKPIT WALL DETAIL & PILOT FIGURES * REMOVABLE POD * EXTENSIVE WATER-SLIDE MARKING DECALS * SPRING-ACTION LANDING GEAR * FULL COLOR DECO GUIDE * WINCH MECHANISM AND NUCLEAR WASTE CANISTERS * MAGNETIC HOIST

In "Breakaway", the Space:1999 premiere episode, it was clear to see that the Iconic Eagle spacecraft was truly unique. Its utilitarian nature was clearly demonstrated when the central passenger pod was swapped out to perform duties ranging from general transportation to rescue missions, but the feature became even more apparent when the cargo pod was implemented. In this configuration, the ship was well equipped to handle heavy lifting whether transporting nuclear waste canisters on its flatbed or when it was fully rigged with a powerful winch complete with magnetic hoist.

Now MPC presents a 22" model kit with details gleaned from the original miniature used during the production of Space:1999. This edition includes the cargo pod and its winch mechanism along with magnetic hoist and four nuclear waste canisters. It comes molded in two colors with clear parts and includes water-slide decals and assembly guide.
Box art, photos by James Small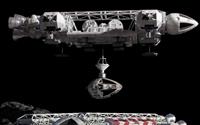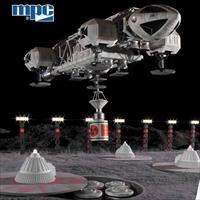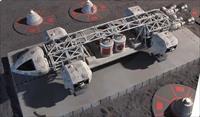 The model at Wonderfest 2017 (June 2017)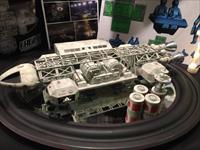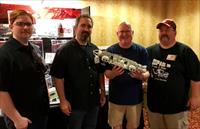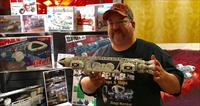 Second edition
Six years after the original release, the 2nd edition is a re-boxing with the same kit parts and a new serial number, MPC900.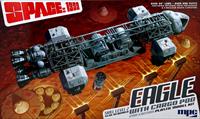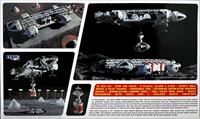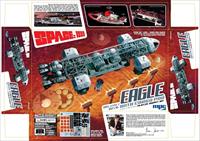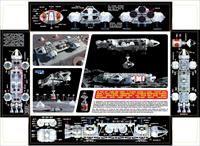 Comparison between MPC900 (2023, top) and MPC838 (2017, below). The 2nd edition makes the cover art brighter and the series logo is now red. The separate kits for waste canisters (MKA025) and aluminium accessories (MKA014 and MKA016) are no longer available, with the decal sheet shown in their place. There are small changes to the information box, such as a new CE registration (France, instead of UK, thanks to Brexit). Back cover and other sides have only slight text formatting changes.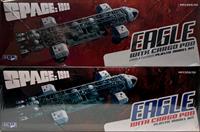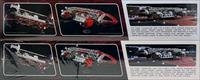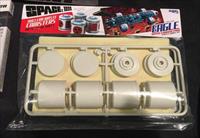 A set of 4 waste containers, available separately to the Cargo Eagle. MKA025/24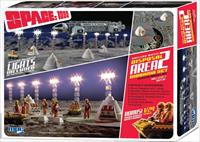 USA, December 2017, MPC 860/06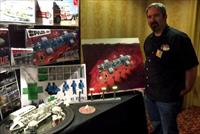 Round 2's Jamie Hood in June 2017. The lamp posts and a waste cover were on display, with a graphic describing the set.
A diorama set available separately to the Cargo Eagle. Mostly 1:48 scale, with some parts 1:24 scale. It is accurate to the studio set, rather than the model sets.
2 x nuclear waste cover cones
2 x waste cover platforms
8 x lamp posts, 4 lamp post bases (perimeter fence)
6 x hexagonal storage boxes (oddly, as the episode didn't have any; they were invented for later episodes)
1 x 1:48 scale moonbuggy
8 x 1:48 scale figures, with 4 poses
1 x 1:24 scale moonbuggy
2 x 1:24 scale figures, seated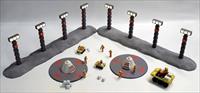 Photos of the pre-production models from the Alpha 2017 convention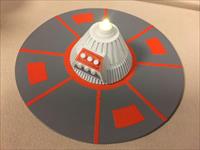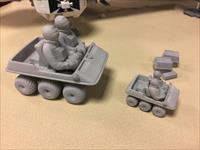 The larger buggy was reissued as a separate kit in 2023.
---
USA May 2020; MKA043; approx $55
The spine boosters (as seen in The Metamorph) to fit the 22 inch Eagle transporter kit and the 22 inch Eagle 2 kit.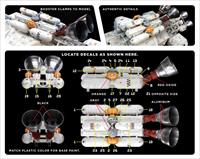 Painting guide on base on box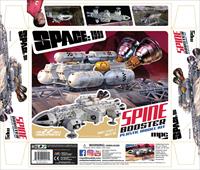 Box art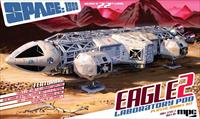 USA May 2020; MPC923; approx. $150
A reworking of the 22 inch Eagle transporter kit with detailing for the second studio effects model, and the "laboratory" (or booster) pod
Eagle 2 details & laboratory pod
New shoulder pods, engines bottles & piping
Soft spring-action landing gear
Season 2 pilot figures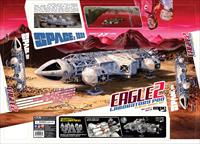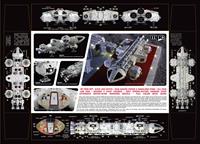 Test from side of box (technically both the "Eagle 2" model and the booster pod were seen extensively in year 1 as well):
The utilitarian Eagles were often fitted with modular pods for various applications. One particular pod was seen throughout the show but highlighted in several episodes of the second series. most notably in "The Metamorph" where the alien shape-shifter Maya was introduced. It was specifically identified as a "specially adapted laboratory section" in the episode "All That Glisters". thereby christening it as the "Lab Pod" among fans.
Text from base of box:
In this kit: over 300 parts * new engine piping & shoulder pods * all-new lab pod * season 2 pilot figures * soft spring-action landing gear
extensive water-slide marking decals * full color deco guide

After a few initial episodes of Space:1999 had been filmed for season one, it became clear that just one "hero" Eagle model would not be enough to fulfil the shooting schedules, so a second model was constructed after filming began. Since the initial model was being used for principal photography, the model makers who were working from a separate location had to improvise most of the minor detailing beyond the critical dimensions that were in the original plans. This resulted in various differences in some proportions and detailing for the second model.

This kit faithfully represents a 1/2 studio scale replica of the second of the 44" "hero" miniatures with measurements gleaned from the original surviving "Eagle 2" model. This second model was interchangeably used with the first for all the shots needed to maintain deadlines as well as scenes requiring two ships to interact with each other directly. Producers doubted anyone would really perceive the difference when broadcast on the low-resolution TV screens at the time. But of course, Eagle fans know better!

This kit also comes equipped with the exclusive "Laboratory Pod" as it has come to be known, also seen extensively throughout the series, characterized by the distinctive trapezoidal outriggers protruding from the sides.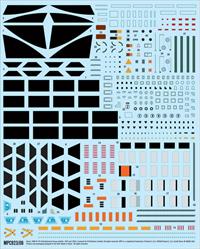 The decal sheet faithfully reproduces the bathtubs, washing basins, urinals and shower stall symbols used on the original studio model.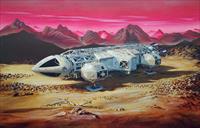 Original box art by Jamie Hood
The Eagle was previously available as a pre-assembled display model (without the lab pod).
---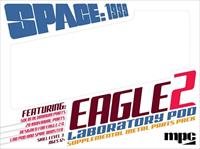 MKA044, released May 2020 ($120)
There were separate aluminium replacement parts for the Eagle 2 kit and the spine booster kit.
Solid Aluminium Parts
20 individual parts
Designed for Eagle 2 & Lab Pod and Spine Booster
Use these all-aluminium, precision machined upgrade parts to take your 22" Eagle 2 Transporter model to the next level. Simply replace corresponding plastic parts included in the kit. Epoxy is recommended to glue these premium quality parts in place on the model.

Large engine bells replace parts P76 & P77
VTOL engine bells replace parts P24 & P25
Laboratory Pod bells replace parts P40 & P41
Oleo Struts replace part 060
Spine Booster bells replace parts 26 & 27

(Eagle 2 with Lab Pod and Spine Booster Accessory kits sold separately.)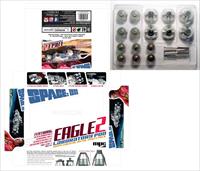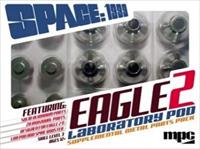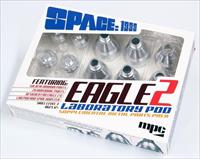 ---
Copyright Martin Willey. Thanks to Gordon Moriguchi, Todd Morton.