by Steven van der Merwe; episode list by Shaqui
Space: 1999 (Y1) was shown in the late seventies by the South African Broadcasting Corporation - at the time the only TV broadcaster in the country and operated by the state, and broadcasting countrywide.
SABC-TV officially started in January 1976, funded by a viewer's license fee (in 1978 it began advertising). Many foreign companies were reluctant to sell to South Africa because of apartheid, but the station was able to show many US and some British shows, mostly dubbed into Afrikaans.
The Afrikaans-dubbed version we saw here was called Alpha 1999 - with just a space in-between Alpha and 1999.
It was shown on Fridays at 5:15pm. At the same time, SABC-TV was showing Thunderbirds on Saturday evenings.
Hover your mouse over the asterisks below for notes *Further comments will appear in a pop up
Steven van der Merwe writes Y2 followed several years later (also dubbed into Afrikaans), but at the time I was unpleasantly surprised by the change of direction in the show, and only watched it on the odd occasion. So I can't remember much of Y2's broadcast.
Shaqui has uncovered the followed short run for Alpha 1999 Year 2 in 1984. This list may not be complete, but no further listings were found into 1985. The first episode was listed as Alpha '99 with the following episodes Alpha 1999, although the 2 June 1984 episode was under the title Alfa 1999. Scheduling information is unknown for 14 July 1984, and the 21 July slot was taken by the pilot of T J Hooker. Just 11 or 12 episodes were shown. Rules of Luton was shown (or at least scheduled) twice (just a month apart).
Steven van der Merwe writes As far as I can recall, there was never much merchandising over here, but I do recall a S1999 cartoon strip published for a short period in the SABC's own weekly magazine called Family Radio & TV, as well as in its Afrikaans language counterpart Radio & TV Dagboek. (Dagboek = Diary). Neither magazine exists any more. The cartoon strip was almost certainly purchased on a syndication basis from overseas. One cartoon scene rings a bell - the Alphans encounter a planet which they think might be Earth, but the planet has been taken over by giant ants. (Perhaps this will assist you in establishing which cartoon series was published here.) [Ed: This was the John Burns Look-In strip, not the Farinas-Cardona Zack comic story).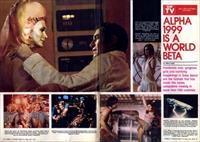 From the SABC's English weekly magazine Family Radio & TV, pages 8-9, dated May 2-8, 1977 (around the time of the 4th episode). "Alpha 1999 is a world beta" by Allen Leider. "Handsome men, gorgeous girls and horrifying happenings in Deep Space are a formula that made this series compulsive viewing in more than 100 countries". Note two of the pictures of Year 2, which would not be seen for another 7 years.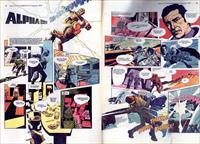 From SABC's Afrikaans magazine Radio & TV Dagboek, pages 74-75, dated 8-14 August 1977. This is the second strip of story 2 of the Look-In strip.
---