---
---
Unstoppable Series 2
A second set was planned for "Winter 2016"; promo cards started to appear in July and August 2017, announcing "Coming in 2017". In February 2018, a page on Unstoppable's website stated "mid 2018".
On 18 June 2018, they announced the release date as 9 July 2018, with pre-order offers available on 24 June 2018. Dealers obtained their packs from around 11 July, but individual orders were not sent until 16 July or later.
Some autograph and sketch cards were not available until after the release date. Some of these were held back as promotions for dealers. Others were issued with a Summer Yearset on 26 August 2018.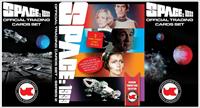 The second series consisted of:
36 "base card set" (set 1 was 54 cards)
Autograph cards. Each box contains 2 or 3 autograph cards. There are 23 different actor signatures (there were 18 in set 1)

39 standard-sized cards (7 are set 1 designs; 1 is an Andy Fry sketch card)

2 cards, Blair and Glover, are exclusive to 3 box deal
1 card, SJ1, Jameson, is an exclusive case topper (10 boxes)

2 double-signature cards (Blair/Glover and Tate/Rimmer; the latter is a set 1 design)
15 cut signatures (old autographs cut and pasted into new cards)
2 "Black velvet" facsimile cards (NB: these are printed signatures, not original)

Barry Morse is an exclusive with the binder
ML1 (Martin Landau) is an exclusive case topper (a case is 10 boxes)

Sketch cards. Only some boxes contain a sketch card. There are 11 artists (there were 34 in set 1)
Metal printing plates are an exclusive case topper (10 boxes)
Binder - limited edition of 199, co-branded with UFO, with 2 "black velvet" facsimile cards (Morse and, from UFO, George Sewell)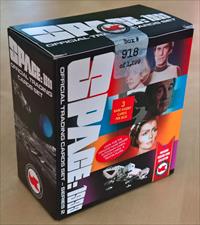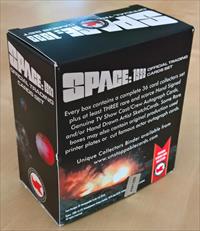 Each box is 9cm x 10cm x 5cm, with tape over the top flap indicating the number ("box # 918 of 1,299"). The front has tags "3 rare insert cards per box", "Look for the genuine hand signed autograph cards, sketch cards & printer plates". The back text reads (with inconsistent capitalisation) "Every box contains a complete 36 card collection set plus at least THREE rare and scarce Hand Signed Genuine TV Show Cast/Crew Autograph Cards, and/or Hand Drawn Artist SketchCards. Some Rare boxes may also contain original production used printer plates or cut famous actor autograph cards."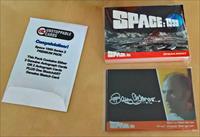 The box mostly contains polystrene peanuts plus the 36 base card set (in cellophane wrapper) plus an envelope with the 3 bonus cards (autographs or sketch). Unlike set 1, the cards are not in individual packs (set 1 had 120 cards per box).
A case contained 10 boxes. In total there are 1299 boxes (set 1 had 1999 boxes). The boxes are also sold as a set of 3, or in a case of 10 boxes, or a triple case (30 boxes), each with additional bonus cards.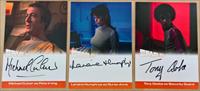 Each box contains 3 autograph cards or 2 autograph cards and a sketch card or cut autograph card.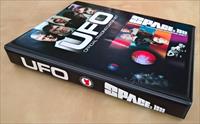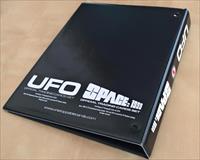 The binder is co-branded with UFO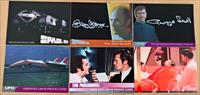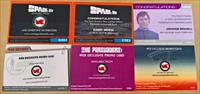 The binder-exclusive cards, front and reverse.
Prices shown include VAT for UK and EU.
Trading card box (box of 36 cards + 3 bonus cards)

£69.99 (pre-order £59.98)

Binder, with 2 black velvet facsimile cards (Morse and Sewell). Limited to 199.

£29.99 (pre-order £27.98)

Box and Binder

£99.97 (pre-order £79.98)

3 Boxes, Binder, cards IB1 Blair + JG1 Glover

£237.96 (pre-order £179.99)

Case with binder (10 boxes, case topper: ML1 Landau black velvet card, SJ1 Jameson, pair of print plates)

£625.99 (pre-order £549.99)

Triple case (as above + BB3, Tate/Rimmer card, Blair/Glover card, DP1 or DP2 Prowse card)

£2097.00 (pre-order £1617.00)

Summer Yearset (also "Summer Deal"), on 26 August 2018.

3 sealed boxes from 4 sets ("Avengers", "Prisoner", "Space 1999" set 1 and set 2)
3 bonus cards (3 autographs or 2 autographs and 1 sketch, which may include rare set 1/set 2 1999)
4 promo cards (1999 "WEB1" plus 3 other series)
10 packs contain a complete 1999 or Prisoner autograph set.

£149.99

Summer Yearset Deluxe Deal, on 26 August 2018. As above plus

2 additional Gerry Anderson series boxes
Bonus autograph card from The Saint
Bonus preview sets of 4 cards for "UFO" set 2 and "Thunderbirds" set 2
Bonus autograph card from 1999, UFO, Gerry Anderson or Horror sets - 1999 cards include Bain, Tate, Blessed, Leon, Schell, Jameson

£169.99
---
Contents copyright Martin Willey. Thanks to Patrick Zimmerman.