---
---
Unstoppable Series 3
On 3 March 2019, Unstoppable released their UFO series 2 set with new promo cards for future sets- the Complete Avengers Collection, Thunderbirds Ultimate Complete Collection and The Ultimate Space: 1999 Complete Complete Collection, the last announced for September 2019. There are no details of how "Ultimate Collection" differs from a regular card issue. The three promo cards are numbered PR1-3 (there was also a PR1-6 in 2016 and two different PR1 cards plus another PR2 card in 2017 and 2018, and a PR1 autograph card).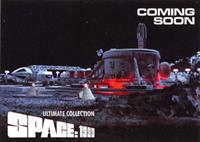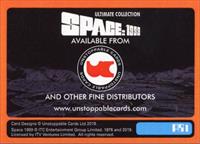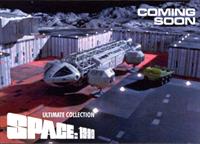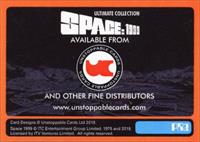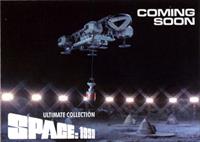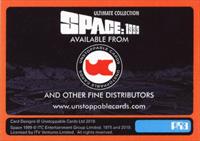 On Sunday 29 September 2019, Unstoppable held an on-line pre-order sale for their limited numbered edition of 200 sets- it sold out in a few hours. The pre-order price was £299.99 (discounted from £399.99) per set; or £1,599.94 (from 2,399.94) for a case of 6 boxes.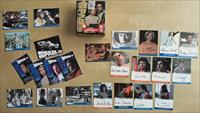 The set contains:
For comparison, the pre-order price for series 1 in 2016 was £39.98 (54 base cards, 2 autograph cards, 0 or 1 sketch card); series 2 in 2018 was £59.98 (36 base cards, 2 or 3 autograph cards, 0 or 1 sketch card).

The cards began to arrive around 15 November 2019.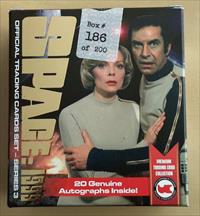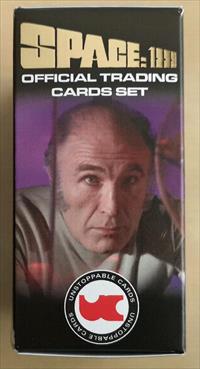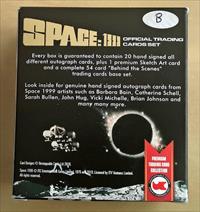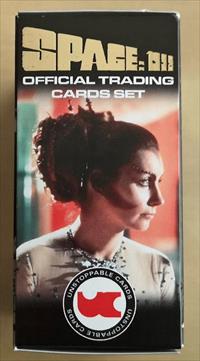 The box is the same size as the series 2 set (9cm x 10cm x 5cm), and has the series logo in the same left-side vertical position. The back text:
Every box is guaranteed to contain 20 hand signed all different autograph cards, plus 1 premium Sketch Art card and a complete 54 card "Behind the Scenes" trading cards base set.

Look inside for genuine hand signed autograph cards from Space 1999 artists such as Barbara Bain, Catherine Schell, Sarah Bullen, John Hug, Vicki Michelle, Brian Johnson and many many more.
In October 2019, after the original 200 boxes had sold out, Unstoppable offered 40 Platinum Boxes to dealers. swapping them for the type B boxes (they did not have enough series 2 autographs).
On Sunday 17 November 2019, Unstoppable held another on-line sale to the public for an additional 10 boxes, labelled Platinum Box. The pre-order price was £299.99 (discounted from £399.99; all the original 200 went for the same pre-order price). This seem to be the remaining 10 of the original 40 Platinum Boxes sold to dealers. Each box includes:
54 base card set (behind the scenes photos). Now listed as 1/250
one art sketch (see more)
16 autograph cards per set
Metallic web promo card
1 cut autograph card
1 Metallic copper autograph card (as featured in the multiple-case orders)
The difference to the original single box set is 4 less autograph cards, plus 1 cut autograph and 1 metallic autograph.
The limited edition of 200 seems only to refer to the complete set of 20 autographs including the 5 series 2 autographs. The existence of the Platinum Boxes shows that the base set and most or all of the series 3 autograph cards are probably 1/250.
In late December 2019, Unstoppable released a Year Set to dealers, cards from which shortly began to appear on ebay.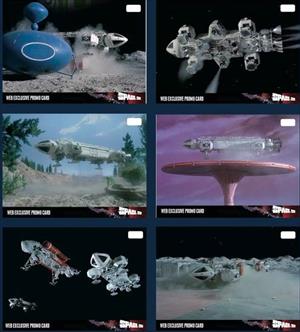 On 29 November 2020, Unstoppable released their UFO series 3 set with 6 new Space 1999 "web exclusive promo cards", plus 6 Avengers cards. There were 2 designs per box, or all 6 with a triple box. All 6 card designs were screenshots of Eagles.
---
Contents copyright Martin Willey. Thanks to Patrick Zimmerman.