Born 26 July 1937, Jamaica. He was 1.77 m (5'10") tall.
Jones came to Britain in 1954, aged 16, to study at the Italian Conti Stage School. His first role on stage was in the 1956 play The Good Sailor, directed by Frith Banbury at the Lyric, Hammersmith before a European tour in 1957. The play, known as Billy Budd when it was on Broadway, starred Philip Bond as Billy with Leo McKern as Claggart; Sean Connery was in a supporting role. He appeared on television in the play First Night: The Road (63) and as a regular in the series Emergency Ward Ten (1961), and a guest in The Persuaders (1971). While serving in the RAF he was given leave to appear in Green Pastures, his big break on television. He also had small parts in films, including The V.I.P.s (63), Decline and Fall (68) and Innocent Bystanders (1973).
After Space 1999 he appeared in Survivors (1977), The Professionals (197?) and as a regular in 1990 (1978).
In 1979, he may have appeared in Star Trek The Next Generation in two minor roles. Although the (uncredited) actor may have been named Clifton Jones, and he did look similar, we cannot definitively say it was the same actor.
Jones appeared in 23 episodes of the first series, first appearing in Matter Of Life And Death, replacing Lon Satton's character Ouma from Breakaway.
He says of the series an intelligent, professional, technical, well put together piece of space fantasy about relationships between people and imaginative concepts about what could be and what could happen in space. I was very fortunate to take part in the programme.
He attended the 1978 Alliance convention in the U.S.A.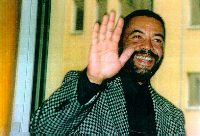 Anton in 1998
Born 1943, Jamaica.
Phillips was born in Jamaica, studied drama in New York, then returned to Jamaica to work in radio. He moved to London where he worked first as a book keeper for Equity, the actor's union, then as a passport officer in the Jamaican High Commission. He left to write a play, which won a prize in a Jamaican festival. He then studied drama at the Rose Bruford College and took some stage work and some television, including Warship (1973) and Barlow At Large (1974).
He was cast as Bob Mathias in the first series of Space 1999, and his wife (Judith Hepburn) also appeared as a nurse. They have two children. After the first series he was a guest in Softly Softly (1975). After the first two episodes of Space: 1999 he moved on to a recurring character in the series The Crezz (1976).

Later work included Return Of The Saint (1979). He then became a director of stage plays, setting up the Carib Theatre company in 1980 which developed black talent, including both theatre productions including James Baldwin's The Amen Corner, the first black directed play to transfer to the West End, and schools and education. He appeared in Casualty (1993) and The Bill (2007).
Phillips appeared in 21 episodes of Year One (excluding The Last Enemy, Mission Of The Darians and The Infernal Machine). He appeared in the first two episodes of Year Two only: The Metamorph and The Exiles. Dissatisfied with his minor role in these episodes and having not been given a contract he left the series.
He has attended several conventions: 1979 in the U.S.A, 1998 convention in Lyon, France, 1999 and 2012 conventions in Los Angeles, 2014 in Britain. He joined internet conventions in 2021 and 2022.
In 2015, he received a Life Time Achievement/Trailblazer Award from the Screen Nation Film and TV Awards.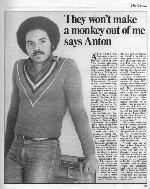 TV Times article on Anton Phillips from October 1976. Thanks to Shaqui Le Vesconte
Born 30 August 1942, Berlin. She was 1.64 m (5'5") tall, and had brown eyes and hair.
Roquette attended drama school in Berlin and has worked in German and British stage, television and film. Films include Sperrbezirk (1966, lead), Der Arzt von St Pauli (1968). She came to Britain for the educational German language series Karl und Christa and Wie Bitte. Her first film in England was Vengeance Of Fu Manchu (1967), followed by International Velvet (1978), Sahara (1983) and Indiana Jones and the Last Crusade (1989, her scene was cut). Her British television work includes episodes of Special Branch (1974), Hadleigh (1976), Airline (1982), Sorry! (1982), Lovejoy (1993) and the panel game Call My Bluff. In 2001 she appeared as the wife of a concentration camp commander in the Steven Spielberg/Tom Hanks mini-series Band Of Brothers.
Her favourite episode was Black Sun.
She died in 2020, aged 77.

She attended some conventions: 1981 in the U.S.A. 1987 Mini-Con in Leeds, Britain and 2014 in Peterborough, Britain.

Born 1946. He was 1.77 m (5'10") tall.
After school Hug worked for 6 months in Boulogne selling car ferry tickets, before travelling to Canada to read French and German at McGill University for four years. He was active in student drama and after graduating he spent the summer in a repertory company in Montreal. He returned to England to act in theatre and some tv. Space: 1999 was his first film series.
He tested for the role of Tony Verdeschi before being cast as Fraser. Hug appeared in 9 episodes (The Metamorph, The Taybor, The Mark of Archanon, Brian the Brain, AB Chrysalis, The Beta Cloud, A Matter of Balance, Devil's Planet and The Immunity Syndrome).
"Everyone who worked on Space: 1999 was totally committed to it, and they made me feel completely at home. Nobody was standoffish, they were all very friendly and it made for a pleasant working environment. I think we ALL thought Space: 1999 was good. It looked polished, it was well-made, the sets were good and it was fun to do. That's what I basically remember about it. It was an enjoyable summer."
(working with Brian Blessed in The Metamorph): "There was one scene where I had to rush in, say something to Brian and leave. I remember going in and saying something like, 'The Commander's waiting,' and then running away. He turned to me and asked, 'What are you doing? Stay there and get your screen time. Don't rush off. You don't have much to do in this, so stay there after you say your line and I'll tell you when to go.' So, I came in, he grabbed my shoulder, and I said my line. He waited for a moment and then pushed me away. Afterwards, he said to me, 'Don't be afraid to stay there a second longer so that somebody sees you.' I thought that was very kind of him."
Kissoon was born in Trinidad in 1947, but moved to England as a child. He trained as a school teacher. He was fresh out of drama school when he joined the cast of Space: 1999 as Dr Vincent. He has appeared as a regular in the children's series Grange Hill (1985-87), and also appeared in the Peter Brook film/ TV movie The Mahabharata (1989). He has done much acting in the theatre, with Peter Hall at the National, and extensively at the Royal Shakespeare Company. On film, he was in Kenneth Branagh's 1996 Hamlet, Dirty Pretty Things (2002) and Star Wars The Force Awakens (2015); on TV in episodes of Holby City (2002 and 2006) and Casualty (2008). He is a devout Muslim. His first name is credited either as "Jeffrey" or "Jeffery"; on Space 1999 it was the latter.
Says Kissoon: "They had this idea that by 1999 there would be flying cars and communities in space," said Kissoon in 2000. "They squeezed me into this tight suit, so I'd bulge all over it. And I had a huge Afro hairstyle."
Kissoon appeared in 7 episodes (Journey To Where, The Taybor, Catacombs of the Moon, Seed of Destruction, Space Warp, The Bringers of Wonder parts 1 and 2).

Born 1943, Tokyo. The name "Yasuko" is pronounced "Yasko". Nagazumi appeared in You Only Live Twice (1967) and the sitcom It Ain't Half Hot Mum (1975, 1976). She married director Ray Austin, and was a minor regular in The Protectors (1972-3), and played a character called Yasko in an episode of The New Avengers (1977) directed by her husband. They divorced in 1983.
She replaced Sandra's character in 8 episodes (Journey To Where, The Taybor, The Rules of Luton, New Adam, New Eve, Brian the Brain, The A B Chrysalis, The Mark of Archanon, and Dorzak).
She moved to Hollywood with Austin in the late 1970s. Dissatisfied with acting roles, she worked in the fashion industry as an art director and campaign manager, responsible for campaigns with top brands such as Armani and Donna Karan. Her daughter, Miki, born 1967 by husband Ivan Berenyi, was lead singer of the UK pop band Lush (1988-1996).
She joined internet conventions in 2021 and 2022.
Porteous appeared in The New Avengers (1976). Films include Octopussy (1983), Lifeforce (1985) and The Living Daylights (1987). He was the husband of costume designer Emma Porteous.
He appeared in 3 episodes (The Metamorph, The Exiles, Space Warp).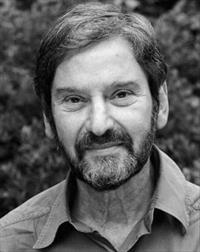 Born 1941, India. He was educated in the UK. In 1960s he joined the National Theatre. In his early work he is credited as "Saam Dastoor".
Dastor has appeared in episodes of Van Der Valk (1977) and Blakes 7 (1980). In 1989 he was in a radio production of Isaac Asimov's The Caves Of Steel. He also appeared in I Claudius (1976). He has starred as Gandhi twice: in 1987's Lord Mountbatten, The Last Viceroy, and 1998's Jinnah. Other film and TV: The Life and Death of Peter Sellers (film, 2004), Spooks (2005),
He was in 3 episodes of Space 1999: Dorzak, Devil's Planet, and The Immunity Syndrome.
He joined the internet convention in 2021.

Born 1945 in Los Angeles, USA. For a while she lived in Italy and Spain, doing films and theatre. In Italy she appeared in Treasure Island (1972) starring (and written by) Orson Welles, and in Spain A Long Return (1975) starring Lynne Frederick. She was visiting friends in London and planning to travel to New York when she was offered a regular role in the BBC series Gangsters (1976-1978). She appeared in Hammer House Of Mystery & Suspense (1984), Dr Who (story Mindwarp, 1986 alongside Brian Blessed), Bergerac (1989), Casualty (1990) and the films Aliens (1986), Biggles (1986), Incendiary (2008). She also appeared on TV in Randall & Hopkirk (Deceased) (2001), Waking the Dead (2004), 9/11: The Twin Towers (2006), Casualty (2008). On radio she was in the BBC's No 1 Ladies Detective Agency (2004, 2007),
She appeared in 3 episodes of Space 1999, Devil's Planet, The Immunity Syndrome and The Dorcons.
Parsons was a guest of the 1990 AlphaCon convention in Britain, and appeared in the AlphaCon Documentary (1991).
The Canadian actress was born in 1924 and came to England in 1949 with her husband Bernard Braden, and regularly joined her husband on his radio shows Breakfast With Braden. They got equal billing on their TV debut, An Evening At Home With Bernard Braden And Barbara Kelly (1951), and B-And-B (1968, with their daughter Kim Braden, who has since appeared in Star Trek TV and film). She continued to appear on her husband's shows throughout the 1950s and 1960s, and frequently as a panelist on the game show What's My Line? (1951-1963). In the 1970s she established an agency booking conference speakers, and in 2000 a consultancy training people for public speaking. She died in 2007.

Born in 1950, Bullen is the youngest of an equestrian family. Space 1999 was Bullen's first role. She has since narrated a David Macaulay documentary Castle (1983), and appeared in The XYY Man (1977) and The Sandbaggers (1978). She appeared in John Le Carré's A Perfect Spy (1996) and Inspector Morse (1998).
She was in many first series episodes from Force Of Life onwards. In Year Two she was only in some episodes (The Metamorph, The Exiles, Journey to Where, The Taybor, The A B Chrysalis, The Bringers of Wonder parts 1 and 2).
Finally, after weeks of working on the second series I finally got a name. I got a note from the producer saying 'You're to have a name, choose what you want to be called', along with a bottle of champagne on the dressing room table. So I became Kate and I got my first line.
She appeared at the 2014 convention in Peterborough, Britain.
Other Alphans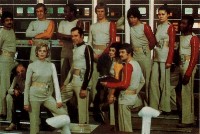 Most of the actors who played Main Mission Alphans were present throughout the series. Loftus Burton (named as Lee Oswald in Space Brain) and Andy Dempsey stayed for the entire Year 1. June Bolton played Operative June from Earthbound to Force Of Life. Quentin Pierre played a guard in many episodes of both Year 1 and Year 2 (named Quinton, N'Dole, or Pierce depending on episode!); Tony Allyn appeared in many Year 1 episodes as Guard 1 (named Tony Allan).
Other actors playing Main Mission operatives included Christine Donna, Christopher Matthews, Raymond Harris, Jeremy Anthony, Maureen Tan, Robert Phillips, Mike Stevens, Andy Sutcliffe and Lynda Westover.
---
Copyright Martin Willey. Spotlight images thanks to Shaqui.