Space Doctor
by Steven Eramo
Starlog Science Fiction Explorer, No. 10 - December 1995
Article provided by Curt Duckworth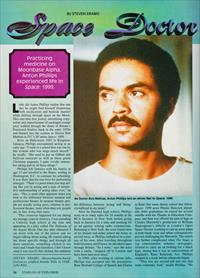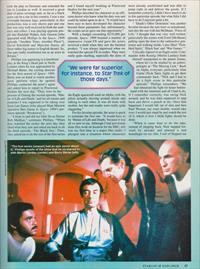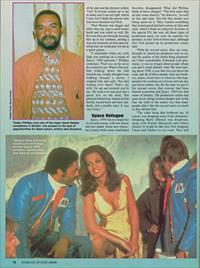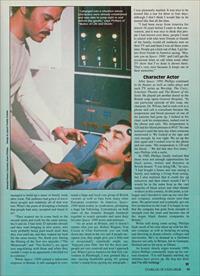 Practising medicine on Moonbase Alpha, Anton Phillips experienced life in Space: 1999.
Little did Anton Phillips realize that one day he might find himself dispensing both medication and bedside manner while drifting through space on the moon. This one-time disc jockey, advertising copywriter and manufacturer of packaged orange juice walked through the doors of Britain's Pinewood Studios back in the early 1970s and blasted into the cosmos as Dr. Bob Mathias in ITC's SF series Space: 1999.
Born on Halloween [October 31] 1943 in Kingston, Jamaica, Phillips encountered acting at an early age. "I went to a school that was run by this woman who was stage-struck herself," he recalls. "She used to put on Gilbert and Sullivan musicals as well as these grand Christmas pageants. I quite vividly remember taking part in all these things."
Phillips left Jamaica with his family at age 13 and travelled to the States, settling in Washington, D.C. to continue his schooling. It was there that his true love for performing emerged. "There's a point when you stop acting like you're acting and a type of instinctive understanding of acting takes over," he says. "This is most often apparent when you look at the difference between amateur and professional theatre. In amateur theatre, people are usually acting parts, whereas in professional theatre, more often than not, people are, in fact, LIVING their parts.
"This crossover happened for me during my teenage years in America. I was attending a Catholic high school at the time and appearing a play called The Teahouse of the August Moon. One day after rehearsal, I sat down with one of the priests and we began talking about acting. He started asking me about specific things and through all these questions, something clicked in my mind and I made that transition. I don't know what it was EXACTLY that clicked, but suddenly the difference between "acting" and "being" crystallized in my mind."
After he finished high school, Phillips went on to study radio for 18 months at the RCA Institute in New York before going back to Jamaica for a time and working for an ad agency writing radio commercials. Returning to New York, the actor found most of his friends had either joined the Army or moved away, so Phillips embarked on a journey of his own. After travelling throughout both Germany and France, he decided to pass through Britain. "So I went," says the actor with a smile, "stopped off in London and have been here ever since."
In 1969, after working at various jobs, Phillips was accepted into the prestigious Rose Bruford College of Speech and Drama in Kent (the same drama school that fellow Space: 1999 actor Prentis Hancock attended). After graduation, he toured for several months with the Theatre in Education Company and then was offered the part of Iago in Charles Marowitz's production of William Shakespeare's Othello at London's Open Space Theatre. Looking to cast an actor adept at both blank verse and urban colloquialisms proved challenging for Marowitz. The search was further complicated when The Stage, a top entertainment industry newspaper, refused to carry an ad looking for a black Iago, stating that it was in contravention of England's Race Relations Act. Phillips stepped in a week before rehearsals began.
"This was my second job and one that went extremely well," recalls Phillips. "We took the play to Germany and extended the run in London as well. It received a great deal of press coverage and, so far as a black actor can be a star in this country, I was a star overnight because Iago, particularly in this production, was a very showy part and one that was very well received by both the audience and critics. I was playing opposite people like Rudolph Walker, Judy Geeson (who appeared with Phillips in the Space: 1999 episode "Another Time, Another Place"), David Schofield and Malcolm Storry, all these rather big names in English theatre. So, that part really established me as an actor in Britain."
Phillips was appearing in a lunchtime play at the King's head pub in North London when he was approached by Michael Barnes, the casting director for the first season of Space: 1999. Barnes was on hand to watch another actor perform when he spotted Phillips, contacted the actor's agent and asked him to report to Pinewood Studios the next day. "They were in the process of filming the second episode, "Matter of Life and Death," and for all intents and purposes I was supposed to be taking over from Lon Statton (who played Main Mission operative Ben Ouma in Space: 1999's premiere episode "Breakaway).
"I went in and did my little bit as Dr. Bob Mathias," continues Phillips. "When they watched the rushes the next day, they liked what they saw and asked me back to do the third episode, "The Black Sun" [NOTE: Actual title is "Black Sun]. Then, they asked me to do the rest of the first series and I found myself working at Pinewood Studios for the next year.
Phillips describes his character as an efficient doctor who knew what his duty was and could be relied upon to do it. "It would have been nice to have developed the character beyond these parameters but, unfortunately, the scripts never gave me that opportunity."
With a budget exceeding $275,000 per episode, Space: 1999 boasted a number of impressive visual FX [effects] and gave the actors involved a thrill when they saw the finished product. "I was always impressed when we watched the special FX in rushes. They were really quite startling, especially the shots of the Eagle spacecraft used on Alpha, with the pilots actually moving around inside and talking to each other. It was all done with models, but the end results were really quite staggering."
For his favourite episode, the actor is quick to nominate the first one, "It would have to be 'Matter of Life and Death,' because it was all so new to me. Although I had previously done film work on location for the BBC, this was my first time in a major film studio. I plunged into a situation where characters were already established and was able to jump right in and deliver the goods. If I remember correctly, I didn't have much to do in this particular episode, but what little I did have to do I enjoyed quite a bit.
"'Death's Other Dominion' was another favourite because the sets were so sensational, and also the one with Ian McShane, 'Force of Life.' I thought that was very well written, particularly the scenes with Zoref (McShane) pulling open the door to the radioactive generator and walking inside. I also liked 'Troubled Spirit,' 'Black Sun' and 'War Games.'"
Critically injured in an Eagle crash, Commander John Koenig (Martin Landau) finds himself transported to the planet Zenno, where he's to be studied by an anthropologist as "The Missing Link." Back on Alpha, everyone, particularly Alan Carter (Nick Tate), fights to get their commander back. "Nick and I had to do a fight scene in this particular episode," Phillips remembers. "We had rehearsed the fight for hours beforehand with the stuntmen and all I had to do, if I remember correctly, was swing Nick around, and he was then supposed to step back and throw a punch at me. Once that happened, I would fall out of shot and then Paul Weston, my stunt double, would take over. I would just stand by and watch the rest of it, which is how I think fights SHOULD be done.
"When it came time to do the take, instead of stepping back, Nick stepped forward by mistake and planted a real humdinger on my chin. I sort of flopped out of the shot and the director yelled, 'Cut!' Everyone rushed up to me to make sure I was all right, which I was, but I think the person who was most shocked was Nick.
"Paul Weston was bigger and taller than me, had a much better build and was white as well. By the time they got through dressing him up in my costume, putting a wig and moustache on him and colouring him, he could pass for me at a glance.
"I remember when my wife Judy was working on a couple of Space: 1999 episodes," Phillips continues. "Paul was on the set to do a stunt for me. When I first saw him walking down the hall towards me, I really thought I was walking towards a mirror. I stopped him and said, 'See that woman over there? That's my wife. Go up and pretend you're me.' He went over and gave her a quick kiss on the neck. She glanced behind her, looked at him briefly, turned back and then suddenly did a double take! It was very funny."
SPACE REFUGEE
Space: 1999 was revamped for its second season, with new music and sets added. Some new characters joined while some established favourites disappeared. What did Phillips think of these changes? 'The first series had an epic sense about it," he observes, "as well as size and scale. You felt that money was being spent on it. They wanted something that looked good and had a sense of class and style, which I think we achieved. In terms of the special FX, the sets, all these types of production areas, we were far superior, for instance, to Star Trek of those days, although Star Trek picked up its production values later.
"With the second series, they cut costs, brought in American producers and so on, and the quality of the whole thing plummeted, I feel, considerably. It became a bit gimmicky; it was no longer about people whom you and I could identify with. We were talking about 1999, a year that was just down the road, and all of these people were our brothers , sisters, loved ones or whomever, who happened to be working out of town and one day got blown further out. By the time we got to the second series, that concept had been blurred somewhat and Space: 1999 lost that sense of identity. The production values had gone down, things looked cheaper and, in the end, the truth of the matter was that many people DIDN'T like the second series as much as they did the first.
"The other thing that bothered me, of course, was dropping some of the characters. Dropping Barry [Morse] was disastrous, along with Prentis [Hancock] and Clifton [Jones]. It would be like Star Trek dropping Uhura and Chekov to cut costs. They had managed to build up a sense of family week after week. The audience had gotten to know these people and suddenly all of that was lost. What's the point of disrupting a formula that people had seen, accepted and tuned in to?
"They wanted me to come back to the second series and work for the same money, but I said no. I had done 23 episodes already and they were bringing in new actors, who were probably being paid much more than they ever paid me, and they wanted me back for the same money. No, thank you. During the filming of the first two episodes ["The Metamorph" and "The Exiles"], my agent was negotiating with them and when they couldn't come to an agreement, I decided NOT to continue."
While Space: 1999 earned a lukewarm response in Britain, it still managed to command a large and loyal core group of British viewers as well as fans from many other European countries. In America, Space: 1999 aired widely in syndication, prompting a huge fan following. Conventions on both sides of the Atlantic brought hundreds together to watch episodes and met their favourite Space: 1999 actors and actresses.
"As an actor in Britain, and it doesn't matter if you are, Robert Wagner, Tom Cruise or Clint Eastwood, you can walk down any street in the city and if people recognize you, they might give you a little nod or occasionally somebody might say, 'Enjoyed your film,' but for the most part, people are very reserved and won't approach you. When I got to America for that first convention in Pittsburgh, I was greeted like a star- having flashbulbs going off, getting writer's cramp from signing my autograph- I was pleasantly startled. It was nice to be treated like a star for three or four days, although I don't think I would like that all the time.
"I had been away from America for almost 18 years before I came to that convention, and it was nice to think that people I had known over there, people I went to school with who were friends or friends of the family, would all suddenly turn on their TV sets and there I was all these years later. People got a kick out of that. I got letters from friends in America saying, 'Hey, saw you on Space: 1999,' and I still get the occasional letter or call when some other TV show that I've done is shown there. That's very nice because it keeps me in their memories."
CHARACTER ACTOR
After Space: 1999, Phillips continued to do theatre as well as radio plays and such TV series as Warship, the Crezz, Armchair Theatre, and The Return of the Saint. He played yet another doctor in the British soap opera General Hospital. "In one particular episode of this soap, my character, Dr. Wilson, had to rush over to a phone and call a consultant because the temperature and blood pressure of one of his patients had gone up. I looked at this chart, took his temperature, rushed over to the phone and said, 'His temperature is 120 and his blood pressure is 99.6!' No one noticed it until the next day when someone mentioned it. We looked at the tape and sure enough, he was right. We set up the shot again and I rushed over to the phone and out came, 'His temperature is 120 and his blood...' We did that shot five times," says Phillips with a smile.
In 1980, Phillips finally realized that there were not enough opportunities for black actors, writers and directors in British theatre. "I was doing okay," he says, "I had bought a house and was raising a family and making a living from acting, but I also realized that it could dry up tomorrow and then were would I be? I would be in the same boat as the vast majority of black actors and other theatre workers in this country. At this point, a colleague and I decided to start up our own theatre company, something easier said than done. We persevered and eventually got our first production on the road. I'm happy to say that the company has gone from strength to strength over the years and become one of the major black theatre companies in Britain."
While still doing some acting, Phillips finds much of his time taken up with his theatre company as well as lecturing on acting and directing at drama schools, colleges and universities. He's in demand as a freelance director not only in Britain, but in Germany, Holland and as far away as Ghana.
As history slowly edges towards 1999, Anton Phillips contentedly sums up his current situation. "I'm still happily married, my children have grown up, the dog has died, and I'm still working."