Man on the Moon
by Steven Eramo
Starlog Science Fiction Explorer, No. 9 - October 1995
Article provided by Curt Duckworth
---
Years ago, John Hug experienced tomorrow on the runaway home of Space: 1999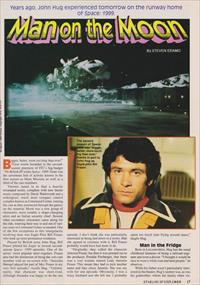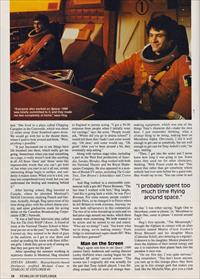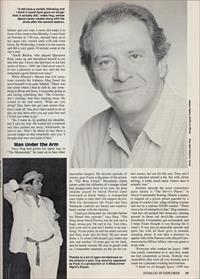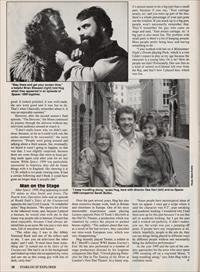 "Bigger, better, more exciting than ever!" These words heralded in the second-season premiere of ITC's big-budget 1970s British SF series Space: 1999. Gone was the cavernous hub of activity known in the first season as Main Mission, as well as a third of the cast members.
Viewers tuned in to find a heavily revamped series, complete with new theme music composed by Derek Wadsworth and a redesigned, much more compact control complex known as Command Center. Joining the cast as they journeyed through the galaxy on the runaway moon was a new group of characters, most notably a shape-changing alien and an Italian security chief. Several other secondary characters came along for the ride, weaving their way in and out of various seats in Command Center as needed. One of the few exceptions to this intergalactic revolving door was Eagle pilot Bill Fraser, who took up semi-permanent residence.
Played by British actor John Hug, Bill Fraser piloted his Eagle in several second season Space: 1999 episodes. One of the series' more popular semi-regulars, Fraser also had the distinction of being the only cast member with an on-screen wife. "Anouska Hempel played the part of Mrs. Fraser in my very first episode," recalls Hug. "Unfortunately, that character was short-lived. Although Anouska was happy to do the one episode, I don't think she was particularly interested in being tied down to a series. Had she agreed to continue with it, Bill Fraser probably would have had more to do.
"Originally, they called the character Antonia Fraser, but then it was pointed out to the producer, Freddie Freiberger, that there was REAL woman named Lady Antonia Fraser. This meant they had to pick another name and they chose Annette. She was my wife for one episode. Obviously, I was a lousy husband and she left me. I probably spent too much time flying around space," laughs Hug.
MAN IN THE FRIDGE
Born in Leicestershire, Hug had the usual childhood fantasies of being a railroad engineer and even a doctor. "I thought it would be nice to wear a white coat and heal people," he observes.
While his father wasn't particularly interested in the theatre, Hug's mother was, as was his godmother, whom the family often visited. "She lived in a place called Chipping Campden in the Cotswolds, which was about 12 miles away from Stratford-upon-Avon. We would go with her to the theater there where I used to look around and think, "Wow, ANYTHING'S possible.'
"It just fascinated me to see things have life breathed into them, which really got me going. Sometimes when you read something on a page, it really doesn't look like anything at all. All those 'thees' and 'thous' seem like impenetrable words that you can't et hold of, but when you start to act it all out, certain interesting things begin to surface, and suddenly it makes sense. When you're a kid, you may not comprehend every word, but you can understand the feeling and meaning behind it."
After leaving school, Hug travelled to Canada, where he attended Montreal's McGill University studying French and German. Actually, though, Hug spent most of his time doing plays with the school drama society, and upon graduation made his acting debut on the Canadian Broadcasting Corporation (CBC) Network.
"It was a half-hour television play called You Are the Only Wasp I Know. A friend of mine at the National Theatre School in Montreal put me up on the part," he recalls. "When I turned up, they seemed to be short of guys at the audition, so I got to stay there and ended up reading the scene with three different girls. I think they got so sick of seeing me that they just gave me the part."
After spending the summer working in repertory theater in Montreal, Hug returned to England to pursue acting. "I got a 50-50 response from people when I initially went for castings," says the actor. "People would ask, 'Where did you go to drama school?' I would tell them that I hadn't and some would say, 'Oh dear,' and some would say, 'Oh good.' After you've been around a bit, they eventually stop asking."
Along with various stage roles, including a part in the West End production of Saturday, Sunday, Monday, Hug worked with both the National Theatre and the Royal Shakespeare Company. He also appeared in a number of British TV series, including The Cedar Tree, Tom Brown's Schooldays and Crown Court.
And Hug worked in a memorable commercial with a pre-007 Pierce Brosnan. "The last time I worked with him," Hug laughs, "and this is going back a while, he was Piers Brosnan. For some reason, people couldn't handle Piers, so he changed it to Pierce when he left Britain to work overseas. Anyway, we were both refrigerators in this commercial. The two of us were dressed up in suits and we had price tags around our necks, which these women were examining. We both wanted to be actors and he turned to me and asked, 'WHAT are we doing?' I said, 'You know what we're doing, we're making money.' From fridge to international super-sleuth 007. Who would have guessed?"
MAN ON THE SCREEN
Hug's agent sent him to see Space: 1999 creator Gerry Anderson and casting director Lesley DePettit when casting began for the retooled SF series' second season. "The screen test I originally did was actually for the part that Tony Anholt played. I was fiddling around with all sorts of strange beer-making equipment, which was one of the things Tony's character did- make his own beer. I just remember thinking, what a STRANGE thing to be doing, making beer on Moonbase Alpha. Obviously, I did it well enough to get cast as somebody, but not well enough to get cast for Tony Anholt's role," he says, smiling.
"Then, I got into the series and I never knew how long it was going to last. Some times they used me for the characters, thinking, 'Well, Fraser could do that.' This meant that rather than get somebody whom nobody had ever seen before for a guest role, they would say to me, 'You can come in and do that.' I was either saying, 'Eagle One to Moonbase, come in please,' or, 'Moonbase to Eagle One, come in please.' I moved around a lot."
Hug's first episode, "The Metamorph," brought the Alphans in contact with an alien scientist named Mentor (Flash Gordon's Brian Blessed) and his daughter Maya (Catherine Schell, also debuting as a regular). Unknown to his daughter, Mentor planned to drain the Alphans of their mental energy and use it to transform their planet back into the paradise it once was.
"On my first day, I was quite nervous," Hug remembers. "You don't know anyone, you turn up I this strange place, they dress you up in this strange garb that makes you look like the Michelin Man, give you a crash helmet and you wait. I never did make it in front of the camera that Monday. I came back on Tuesday at 7:30 a.m., dressed back up in my space suit, waited until 4:30 and went home. By Wednesday, I made it to the camera and did a very quick ten minute scene at day's end.
"Sarah Bullen, who played Operative Kate, came up and introduced herself to me that first day. I knew she had been in the first series of Space: 1999, but I had never seen it. It was a pleasure to meet her, and she has remained a good friend ever since."
While Blessed's Mentor had evil intentions towards the Alphans, Hug found the actor himself to be quite helpful. "There was one scene where I had to rush in, say something to Brian and leave. I remember going in and saying something like, 'The Commander's waiting,' and then running away. He turned to me and asked, 'What are you doing? Stay there and get your screen time. Don't rush off. You don't have much to do in this, so stay there after you say your line and I'll tell you when to go.'
"So, I came in, he grabbed my shoulder, and I said my line. He waited for a moment and then pushed me away. Afterwards, he said to me, 'Don't be afraid to stay there a second longer so that somebody sees you.' I thought that was very kind of him."
MAN UNDER THE ARM
Once Hug had gotten his space legs in "The Metamorph," he went on to face other interstellar dangers. His favorite episode, of course, gave Fraser a big piece of the action. In "The Beta Cloud," Moonbase Alpha comes under the influence of a strange cloud that incapacitates most of its crew. An alien creature played by David Prowse (later renowned as Darth Vader), is transported onto Alpha to steal their life-support device. With few alternatives left, Fraser and Tony Verdeschi (Anholt) are forced into hand-to-hand combat with the intruder.
"I had just dislocated my shoulder before we filmed that episode," says Hug. "The thing about David Prowse was he was such a huge, strong guy. He said to me, 'Just relax, tuck your arm in and don't bother to do anything.' At one point, he had me under one arm and Tony leapt onto his back. He just stood there, a 12-stone (168 pound) guy under one arm and another 12-stone guy on his back, and he barely moved. He was so gentle with us. I remember stuntmen on the set for certain scenes, but not for this one. Tony and I were chucked around a bit, but with clever editing, it looks much more violent than it actually was."
Another episode the actor remembers quite clearly is "The Devil's Planet," in which Commander Koenig (Martin Landau) is trapped on a prison planet guarded by a group of scarlet-clad, whip-wielding women and run by a sadistic female warden. "There were a lot of stuntgirls in that," Hug explains, "and they all seemed like Amazons, running around in these red devil-like costumes. Somebody, I remember, got incinerated, and I think Fraser thought it was Koenig abut it wasn't. It was just an enjoyable episode and quite fun with all those girls in leotards charging about. It was also a pleasure to appear with Alibe Parsons (who played Communications Officer Alibe), who was great to work with.
"Everyone who worked on Space: 1999 was totally committed to it, and they made me feel completely at home. Nobody was standoffish, they were all very friendly and it made for a pleasant working environment.
"I think we ALL thought Space: 1999 was good. It looked polished, it was well-made, the sets were good and it was fun to do. That's what I basically remember about it. It was an enjoyable summer."
However, after the second season's final episode, "The Dorcons," the moon continued its journey through the universe without any television audience around to watch it.
"I don't really know why we didn't continue, because, as far as I could work out, the series seemed to be successful," the actor observes. "People were going around and talking about a third season, but, eventually, we heard it WASN'T going to happen, so that was that. I was slightly surprised, because there are some things that seem to keep getting made again year after year for no real reason. While Space: 1999 was particularly successful in America, they did do funny things with it in England, like showing it at 11:30, which is NOT peak viewing time. It had a certain following and I think it could have gone on longer than it actually did."
MAN ON THE STAGE
After Space: 1999, Hug appeared in such TV series as Alias Smith and Jones, The Fourth Arm, Operation Julie and an episode of Roald Dahl's Tales of the Unexpected opposite the late Cyril Cusack. "A wonderful actor," Hug declares. "We spent a lot of time in the rehearsal room, and because I played a barman, he would chat with me in that funny way people talk to barmen. I found that most enjoyable, because I had always admired him as an actor. He was just a very nice man, full of anecdotes and humor.
"The other day, I was in the Abbey National Bank and one of the tellers said to me, 'I saw you on television the other night,' and I said, 'It must have been something old.' It turned out to be Tales of the Unexpected. She had it on in the background and looked up when she recognized my voice and saw me as this young guy with lots of dark, curly hair."
Over the past several years, Hug has also done extensive theatre work, both in Britain and elsewhere in Europe. One of his most memorable experiences came playing Lennox opposite Peter O'Toole's Macbeth at the Old Vic Theatre, a production which was slammed by critics but played to packed houses nightly. "The sadness about that was as a result of the bad reviews, they cancelled our nine-week European tour, which was very disappearing."
Hug recently played Trotter, a soldier in R.C. Sheriff's classic WWI drama Journey's End. He has also performed in a number of stage productions directed by his long-time companion Dee Hart. "I loved playing Petruchio for Dee in The Taming of the Shrew at London's New End Theatre. In a funny way, it's almost easier to do a big part than a small part, because if you say, 'Your carriage awaits, sir,' and you mess up part of the line, there's a whole percentage of your part gone out the window. If you muck up in a big part, people won't necessarily remember that. They'll remember the guy who came on stage and said, 'Your awaits carriage, sir.' A big part is also more fun. The problem with small parts is there's a lot of hanging around. Most people prefer being busy and having something to do.
"I also worked with her on A Midsummer Night's Dream playing Puck, which is a role I didn't expect to play at my age because the character is a young fairy. Or is he? How do people see him? Fortunately, Dee saw him as a kind of retired ex-Colonial let over from the Raj, and that's how I played him, which was fun.
"Some people have stereotypical ideas of how we appear. I once got a script where it said the character was 6'2", pipe-smoking and academic looking. I wondered why I had been sent up for this part because I'm not that tall or academic looking, but I got the part and it worked out perfectly. It didn't matter; you see, the script was just a jumping off point. If people have any imagination at all, which, hopefully, people in the arts do, they can see things being played in different ways by different people without one necessarily being the definitive performance."
As the year 1999 and the turn of the century approaches for the actor who once spent 1999 zooming off on a wayward moon, "I keep trundling along," says John Hug with a confident smile.