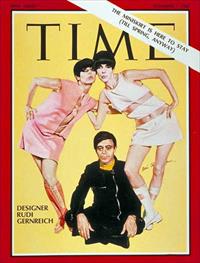 Born in Vienna in 1922, Gernreich escaped the Nazis by emigrating to the USA in 1938. In 1942 he joined a modern dance company, as a dancer and designer. In the 1950s the clothing manufacturer Walter Bass employed him to create original designs. In 1960 he formed his own company, with a New York showroom. In designed his own experimental clothes, and a lower priced line for Harmon knitwear. He even designed for the department store Montgomery Ward, an unprecedented move for a top designer. Gernreich strived for a "futuristic look" in his designs, combining minimalism, bright colours and geometric shapes. His innovations included cut-outs, the use of vinyl and plastics, prominent zippers, and unisex clothing for men and women. Gernreich worked closely with model Peggy Moffitt and her husband, photographer William Claxton. Caxton's photos of Moffitt wearing Gernreich's designs were very influential.
In 1964 he designed a "monokini" or topless swimsuit. Women's Wear Daily published a photo of Moffitt wearing the suit that year which became a controversial iconic image of the 1960s. For the Osaka Expo 1970 he caused a sensation with his "unisex fashion" for the year 2000, featuring bald-headed models of both sexes wearing identical outfits. In 1967 he appeared as himself in an episode of Batman.
Barbara Bain knew Gernreich since her days as a model, and suggested his name to the Andersons and Abe Mandell to design the Moon City costumes. The name "Rudi Gernreich" was stamped on the inside of the uniform belts.
Gernreich died in 1985.
Sylvia Anderson on Rudi Gernreich: It was always my contention that the futuristic look had to be simplified, so we didn't have buttons and bits and pieces, it had to be futuristic. When we first met Martin Landau and Barbara Bain in Hollywood, discussing the show, I mentioned that I thought that Rudi Gernreich was an interesting designer. And it so happened that he was a personal friend of Barbara's. So I made another trip to Hollywood, and Rudi collected me in this fantastic limousine. He was a wonderful character. The general look for the series was simplified, and I think it worked well. We did have some problems, because it meant everyone had to have a perfect figure. And there were a few occasions when Martin Landau was not wearing the suitable undergarments, shall I put it that way. Generally we wanted our cast to look young and fit and attractive, so the costumes really worked alongside that.
Barbara Bain on Rudi Gernreich: [Sylvia] said the only American designer that she would be interested in having a chat with, was Rudi Gernreich. I said, oh, I know Rudi. He was retired at the time, but I said I'm going to go talk to Rudi if you want me to. Rudi was really a philosopher. He had very deep thoughts about the world. When I asked him, what's life going to be like? And what are people wearing in 1999? And Rudi's first answer was 'armour', which was kind of startling at first. And then when you think about it, well, it was pretty prescient, wasn't it?
Born 1936, India. After designing in Paris for 10 years, Porteous entered television design with Emergency Ward 10. She has worked on the films Leo The Last (1969), Performance (1970), Branigan (1975), Clash Of The Titans (1981), Octopussy (1983), Supergirl (1984), A View To A Kill (1985), Aliens (1986), and The Living Daylights (1987). She was costume designer for the series The Gravy Train Goes East (1991), the film Judge Dredd (1995), and the miniseries Around the World in 80 Days (1989, nominated for an Emmy "Outstanding Costume Design for a Miniseries or a Special"). She was the wife of actor Peter Porteous who played Petrov in Space: 1999.
"One of the most interesting things I did for television was Space: 1999. The budget and time to do things were considerably less (than film). It was a question of designing a new planet every two weeks with very little money and it was pretty hard work. The first series had no costume designer as such, and in the second series everyone was a bit older and I was brought in to try to make it look a bit more fashionable using the basic garments. And that's the only reason I was taken on at first. They said they'd got Francesca Annis who played one of the alien ladies in it - Maya, the lady who changed shape. - and would I do a costume for her? So I did, and the one for her dad, and then they said would I like to stay and do the series? Maya had an extraordinary hairstyle and eyebrows which were just little dots, and wonderful make up. That was fun to do, although it was very limited, but we did some good things."
She was interviewed in TV Zone no 9 (June 1993), and on film in The Space: 1999 Documentary (1996).
Print: Starburst Number 89 (Jan 1986); Emma Porteous interview p20-21
Print: TV Zone Special Number 9, Supervillains Special (June 1993); "Emma Porteous, Costumes: 1999" interview by David Richardson p9-13 Catacombs
---