Spacecon 11
La Mirada, Los Angeles 17-19 July 1992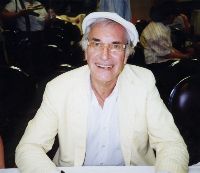 I arrived in Los Angeles after a week's travelling in San Francisco and Yosemite. The Gateway Plaza at La Mirada is a typical anonymous big hotel, in a typical anonymous suburb of Los Angeles. There was nothing very close to the hotel, although we coordinated some excursions between us. Unlike the Fanderson conventions in the UK, this was a small gathering of fans, largely informal and relaxed. There were no film prints of episodes (just some video tapes), no dealers room (two small tables with fanzines and books), no model room (all the models are in Britain). What it did have were Martin Landau, Barbara Bain and Nick Tate- major stars which no British convention could hope to afford to fly across, who of course live in Los Angeles. Landau and Bain appeared on separate days and gave long talks; Martin in particular is fond of long rambling stories. Both asked where everyone was from (Barbara remembered visiting my area of the country- the west country- when she was living in Britain filming Space 1999). The stars were very approachable and down to earth- Martin Landau joined a queue of fans for hotdogs. We also taped a greeting to Barry Morse, who wasn't able to make it.
This was a very international gathering: there seemed to be as many foreign fans as Americans. There were fans from Canada (Bob Wood of Alpha League), New Zealand, Britain (myself, Mark Shaw, Mick Hawkes and Richard Stockton), France (Chantal and Richard from the French Cosmos 1999 fan club, and Karine), Belgium (Mary Lou) and Sweden (Katerina). Organisers included John and Kathy von Kamp, Rosie Badgett and Terry Bowers. The weekend convention actually spread out over almost a week, giving us ample opportunity to explore the Los Angeles attractions together.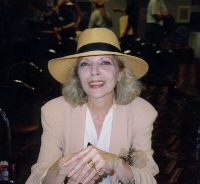 Among our trips was a day at Disneyland (where are you, Mary Lou?), and another at Universal Studios (roller-coaster rides don't really interest me, but the real flames and explosions in the Backdraft "ride" impressed me). There was also a trip to Hollywood (which apart from the Chinese Theatre is very seedy) and a drive through Beverly Hills looking for the Landaus' former house. A few of us also took a couple of days to drive to Las Vegas, and flew over the Grand Canyon (with Yosemite, probably the highlight of my American holiday). Nick Tate provided us with a further excursion- a night at the theatre on Sunset Blvd! He gave the convention a number of free tickets to the play he was appearing in, which were allocated by a draw. The play, starring Helen Mirren with Nick Tate, was Woman In Mind by Alan Ayckbourn. A black comedy of mental disintegration as Helen Mirren, ignored by her boring husband Nick Tate, invents a perfect fantasy family. Nick introduced us to Helen after the play, then took us to a nearby diner where he chatted with us at length.
Spacecon 11 was a very different experience to the British conventions I have attended. In fact it was a holiday, not a convention- a social gathering, a chance to meet new friends and take in the sights. The only difference is we also got to meet Martin Landau, Nick Tate and Barbara Bain. It was a fitting culmination of a fantastic holiday.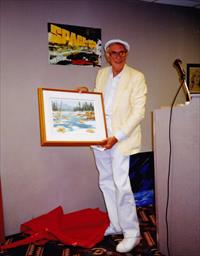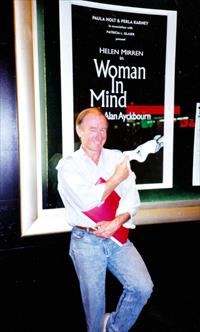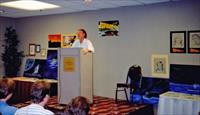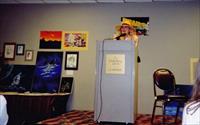 Below: Saturday and Sunday schedule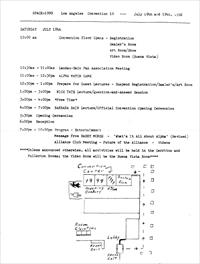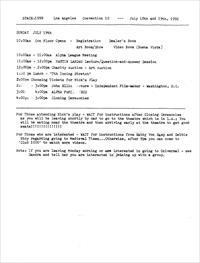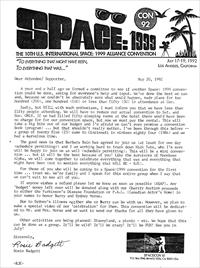 20 May update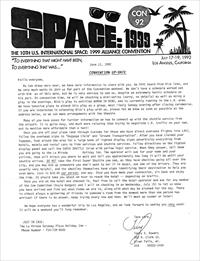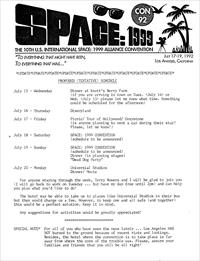 11 June update and provisional schedule