SpaceCon V was held in Springfield, Massachusetts, USA, in July/August 1982. It featured the only major display of original models seen in the US (dubbed "Space City USA"). The models were brought over by collector Phil Rae. Thanks to Gordon Moriguchi for the photos. Some of these photos are by David Hirsch.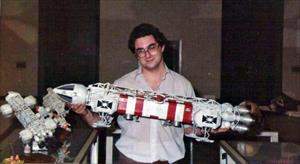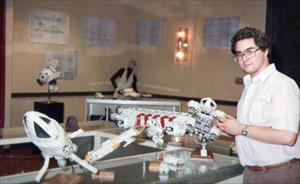 David Hirsch was a journalist on the science fiction magazine Starlog, and was one of the organisers of the US Space: 1999 conventions. His articles in Starlog brought the model maker Martin Bower to public attention. He also worked on the Super Space Theatre compilation movies for ITC.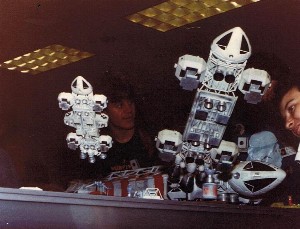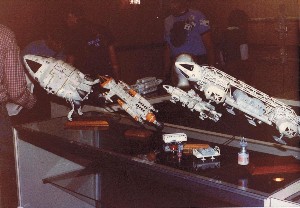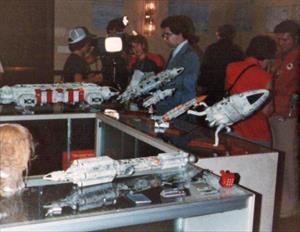 In the UK, Fanderson conventions have always had superb model displays, mostly thanks to Phil Rae; this was the only time US fans got to see so many models in person.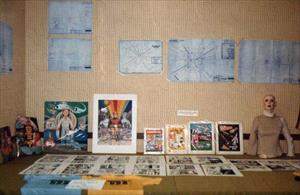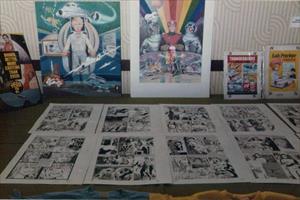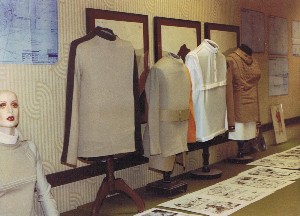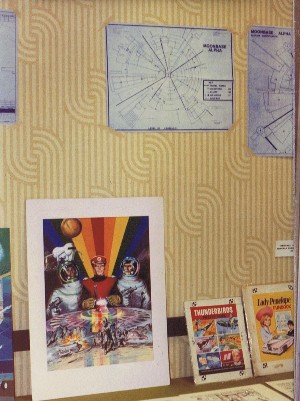 Original artwork from various Gerry Anderson books, the ITC Super Space Theatre compilations, and costumes (including a Battlestar Galactica tunic).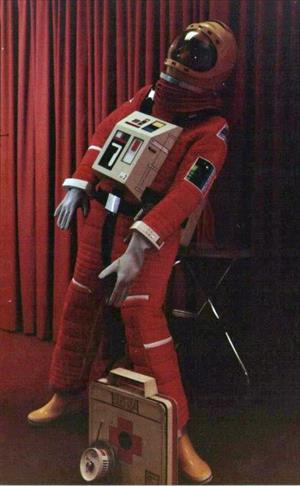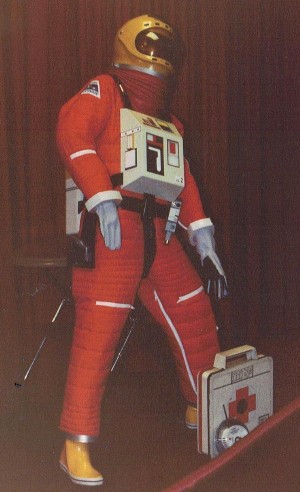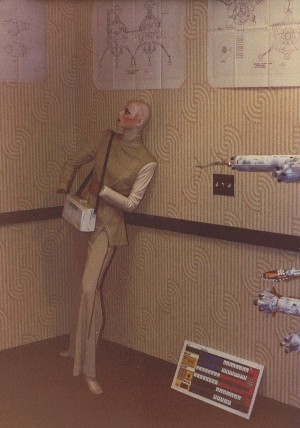 Original spacesuit, with red cross pack and Taybor limpet, and original Helena costume. The art on the walls are Stephen Corbett's blueprints of the Voyager model (Voyager's Return).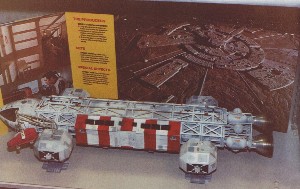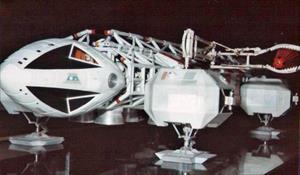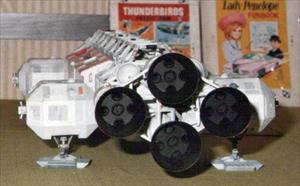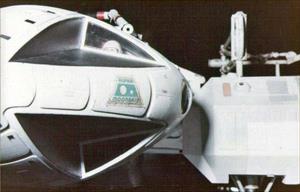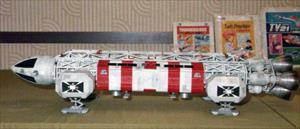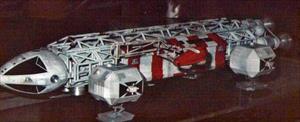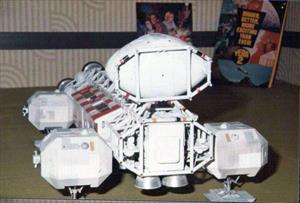 There were also two 22 inch Eagles on display. One is the Martin Bower 22 inch Eagle, used for some publicity photos but never filmed in the series. It is seen here with a winch pod; the pallet platform and waste can are original, but the winch mechanism is a replica by Phil Rae. Phil intentionally made the winch drums darker grey, as they were not original. Not realising the photos of this model show a partial replica, Product Enterprise in 2005 made their Eagle Freighter with a dark grey winch. The second 22 inch Eagle was made by Tom Hudson.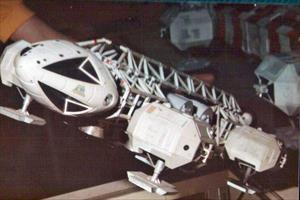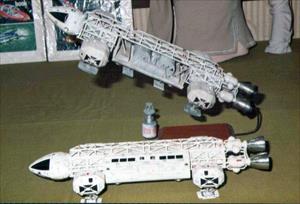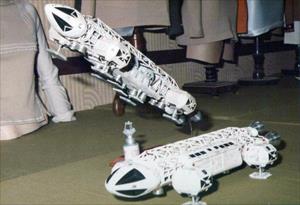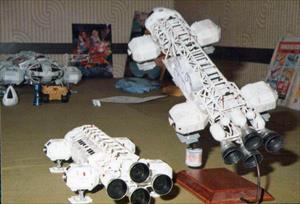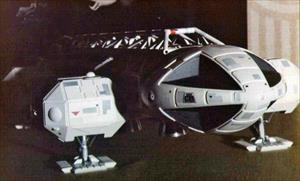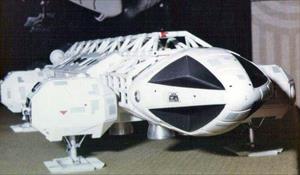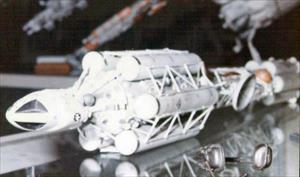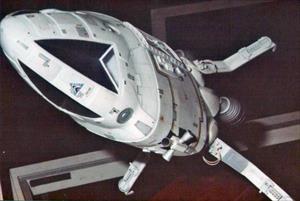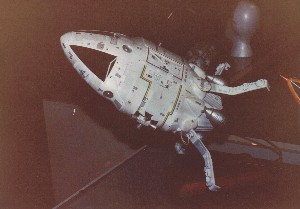 The smaller (2.5ft) Ultra Probe and the Ultra Probe command module.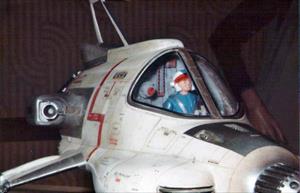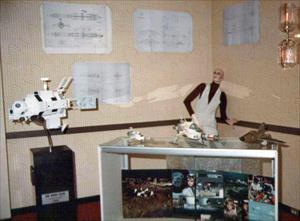 The UFO interceptors were shown. The big interceptor was another early model acquired by Phil Rae; it had been kept by Dinky Toys who produced their green toy version. Like the Eagle, the model had been damaged and Phil restored it.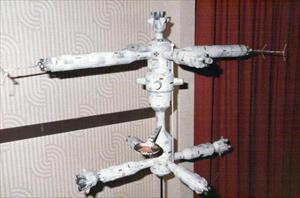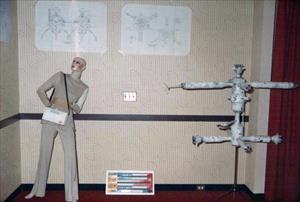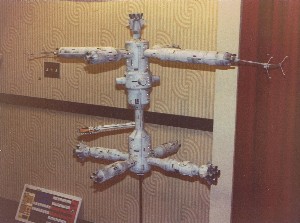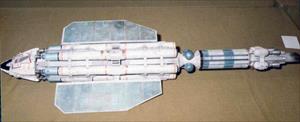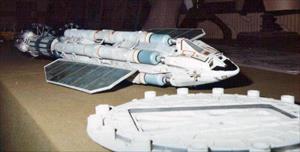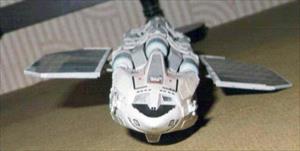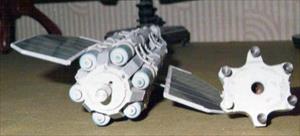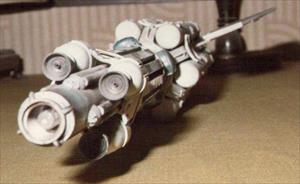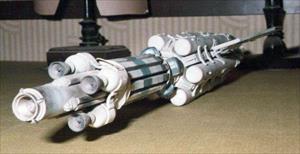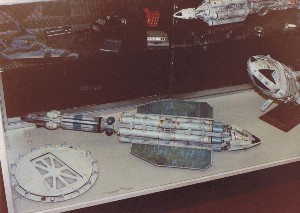 There were a number of other small models. Among them: Travel Tube door, moonbuggy with Alphan figure, Dione's lifeboat (Last Enemy), Eagle nose cone (Missing Link), alien derelict (Metamorph), Last Sunset capsules, Collision Course mine, small Gwent (Infernal Machine).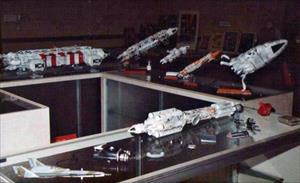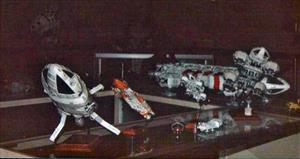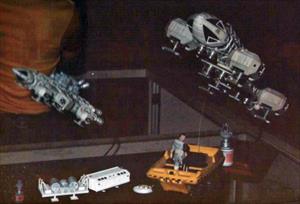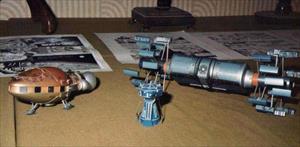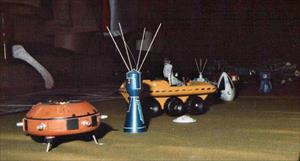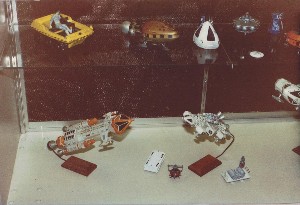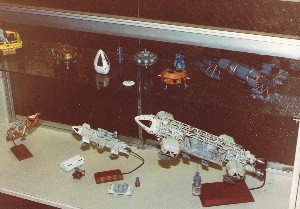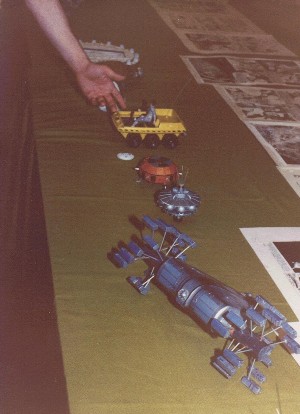 ---
Page copyright Martin Willey