Publicity and stills was handled through the company Davidson Dalling Associates Ltd, an entertainment public relations consultancy formed in 1970 by Dennis Davidson. The unit stills photographer, present on almost every day, was Bert Cann. The number of photos taken per day was recorded in a Daily Progress Report. In addition to Cann, other photographers were brought in for special publicity photo sessions, including Patrick Lichfield, Curt Gunther and Michael Putland.
Born in 1939, died 2005, the professional name of Patrick Anson, 5th Earl of Lichfield. Lord Lichfield was a cousin of the British royal family, and became known for society portraits, especially the official wedding photographs of Prince Charles and Diana Spencer in 1981. By 1999 he was a pioneering advocate of digital photography.
He took formal photos of Martin Landau and Barbara Bain at the start of Year 1.
Curt Gunther, Year 1 publicity photos
Born 1923, died 1991. Gunther was famous for being the official photographer on the Beatles 1964 tour of America, and celebrity photos of Marilyn Monroe, Elvis Presley and Frank Sinatra
Gunther took photos of Landau and Bain in Main Mission and on the lunar surface during the filming of Black Sun.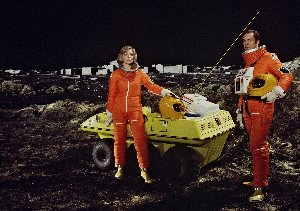 Born 1947, Putland is famous as a music photographer, especially as the official photographer for the 1973 Rolling Stones tour.
At the start of Year 2, photos of Landau and Bain in front of the Command Center doors were taken by Putland. He returned later to take pictures during the filming of Seed of Destruction
Bert Cann, Unit stills photographer
Born 1917, died 1982. He was the father of television presenter Sally James. His pictures of Sean Connery in Dr No (1962) became famous, and one is included in the collection Britain's National Portrait Gallery. He worked as a stills photographer on much TV and films in the 1960s and 1970s, including The Boys From Brazil (1978)
David James, Year 1 publicity stills
Born 1941. He began his career in the MGM stills department in the UK, later relocating to the US. Worked as still photographer on Battle of Britain (1969),Fiddler on the Roof (1971), The Man Who Fell to Earth (1976), The Far Pavilions (1984), Highlander (1986), A Fish Called Wanda (1988), The Bonfire of the Vanities (1990), Schindler's List (1993), The Lost World: Jurassic Park (1997), Saving Private Ryan (1998), Minority Report (2002), Batman Begins (2005), Indiana Jones and the Kingdom of the Crystal Skull (2008), Mission: Impossible - Ghost Protocol (2011), Star Wars The Force Awakens (2015), Star Wars The Last Jedi (2017), Top Gun: Maverick (2022).
James did a photo session with portraits and the first costume photos at Pinewood on 21st November 1973, shortly before filming started.
---