Three different companies published Space 1999 books in 2002; two (Eagle One and Fanderson) were reprints of novels originally published by Pocket/Futura, one (Powys) was a series of new original novels and omnibus reprints.
---
1 paperback reprint title
31 January 2002; $5.99
Artwork cover by Michelangelo Cicerone; photographic back cover of lunar surface and Eagle.
Reprint of the original Space 1999 novel "Alien Seed" by E.C.Tubb. 196 pages, plus a new 4 page introduction by Tubb, one page guide to Moonbase Alpha (with illustration plan) and one page guide to Eagles (with illustration plan).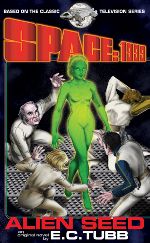 Original cover design, with red series logo and book title at the bottom.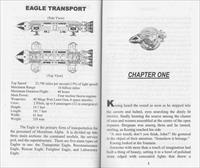 The "Eagle Transport" profile. Chapter headings have a small black and white Eagle photo.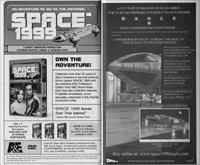 At the end of the book are adverts for the A&E DVD release and the Bergeron posters
---
Series of paperback titles
2002-3
The fan club Fanderson published two books under their Century 21 Books imprint, available exclusively to fan club members (due to licensing restrictions). In 2002 they republished the original Space 1999 novel Earthfall by E.C.Tubb. The next year they published Earthbound by E C Tubb, with new adaptions of the three episodes. One is based on the actual episode, Earthbound (using the catacombs transcript); the other two were based on early scripts, The Exiles and Face Of Eden.
Both Earthfall and Earthbound were republished by Powys in 2022.