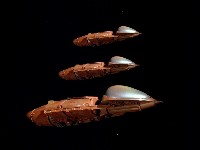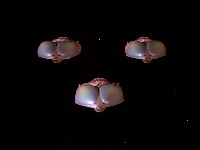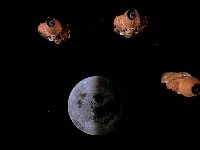 The Sidon ship as it appeared in Voyager's Return. There was only one model, shot three times onto the same film to create the Sidon fleet.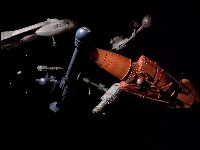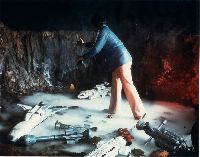 It is also seen in the spaceship graveyards of Dragon's Domain (from the underside) and The Metamorph (seen from front and rear).
Martin Bower in Sci-Fi and Fantasy Models Number 13: [It was made] from one half of an Eagle nose pressing, two underside pressings I had left over from the Hawk, two Triumph Herald car tail lights stuck back to back, a "Caddymatic" tea dispenser and a yoghurt pot for the rear jet exhaust!
The 44 inch Eagle nose pattern is only one half of the nose cone, and did not have the windows cut in. The shape is flattened in the back for this model. The striped section between the main body and the rear Caddymatic tail is a Blue Band margarine pot, with counters from a children's game as fins. Kit parts include the AMT car transporter.
The model was display at the Space City exhibition from 1977 to 1980. All the photos show it has a different, longer, nose antennae than in the series, and one of the side braces is missing. After the exhibition it disappeared.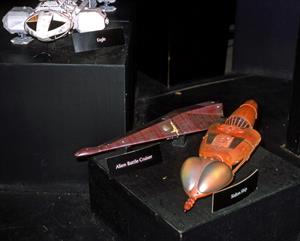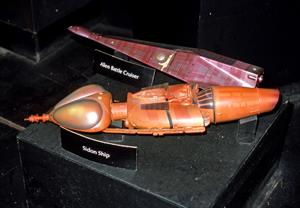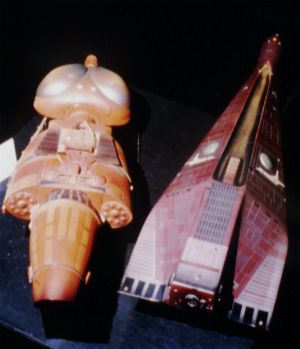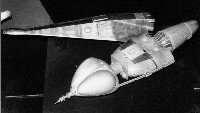 Psychon ship (from The Metamorph) and Sidon ship (from Voyager's Return). This is the smaller version of the Psychon ship. Photos by Robin Hill and Phil Rae.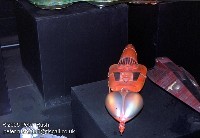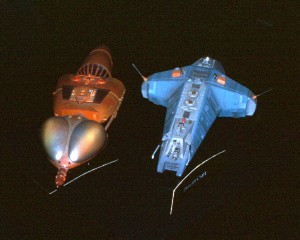 Photos by Peter Rush (left), and Dave Martin (right)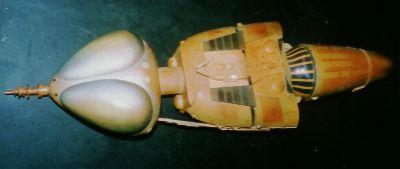 Sidon ship.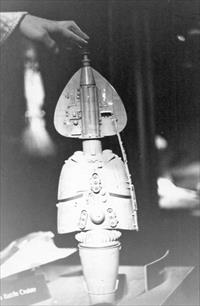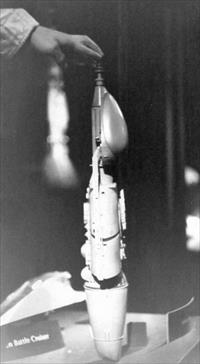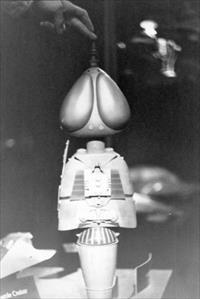 Photos by Phil Rae.
---
Copyright Martin Willey