---
A set of publicity photos of Brian Johnson, Nick Allder and art director Cyril Forster in the model room at Bray Studios.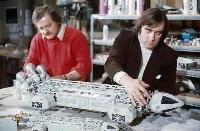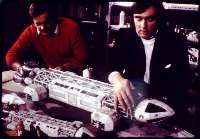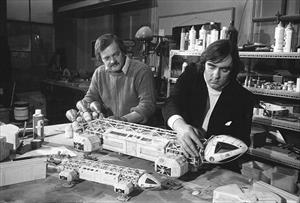 Nick Allder, in red sweater, and Brian Johnson, in brown blazer, fitting the engines and command module of the first 44 inch Eagle, with the 22 inch Eagle immediately in front of it.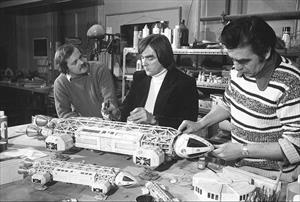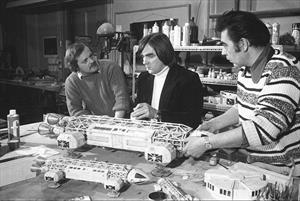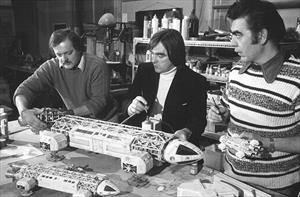 Allder, Johnson and Cyril Forster with the 44 inch Eagle, the 22 inch, and the 11 inch, which Forster holds in one photo. On the shelves behind Johnson is a box from the Revell 1:24 scale Gemini kit, parts of which were used on the Eagle and other models.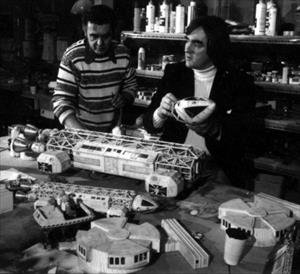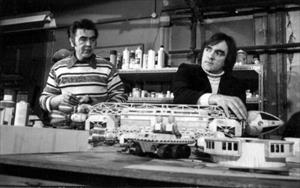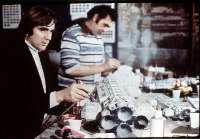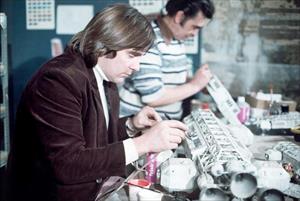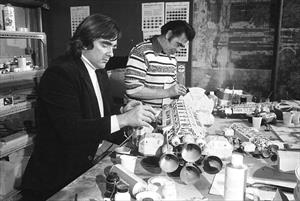 On the wall by Forster is a folder labelled "Letraset". Letraset, founded in 1959, produced dry rub-down lettering and lines, which were used extensively in the 1960s and 1970s in commercial printing and advertising, before computers. Their range of fonts became industry standards. Letraset lines were used to detail many of the models. There are several colour charts on the Bray wall- "Rowney Oil Colour Chart" and "Georgian water colour chart" are readable. The Rowney Company was founded by Richard and Thomas Rowney in 1783, initially selling perfume and wig powder, and then artists' paints, supplying Constable and Turner. In 1837 it became the George Rowney Company. In 1983 it was sold to Daler, becoming Daler-Rowney. The Georgian colours were produced by Rowney, named after their 1837 owner.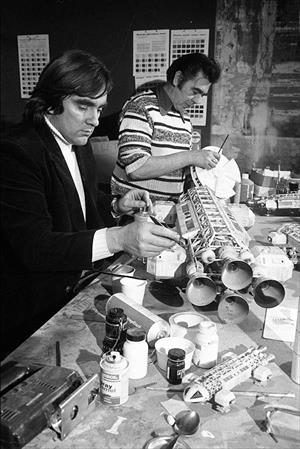 The models are rearranged between each shot- the 11 inch Eagle moves to the foreground so it can be seen in these shots. Johnson holds an airbush. The paint is Humbrol spray enamel, with "frisk air" air propellent cans. Forster uses a fine brush on one of the nuclear waste depot buildings, and the tiny moonbuggy.
---
Contents copyright Martin Willey;
Space: 1999 copyright ITV Studios Global Entertainment